White label Marketing Automation Software
Small agencies and self-starters welcome!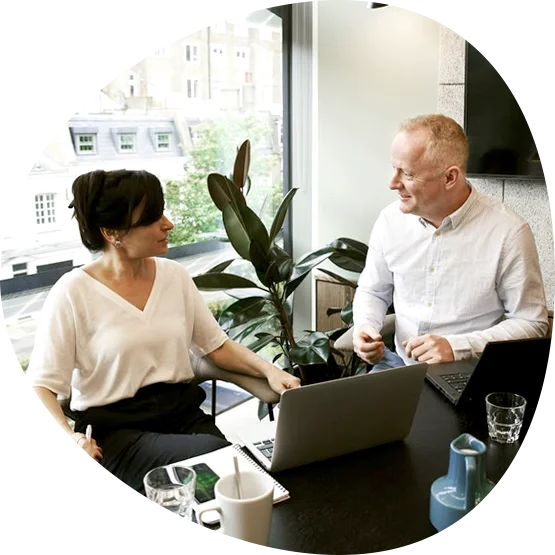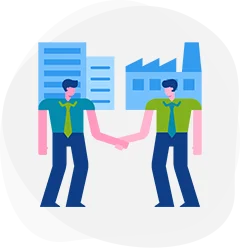 Increasing client retention?
The key is execution, your brand the answer. 
End-to-end control over hosting, website, blog, SEO, reviews, PR, social and more
Works as self-service or co-managed marketing platform
Private label both our marketing software platform and services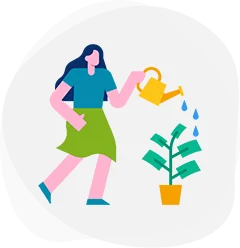 Nail more and larger deals now
Go get them tiger, we have your back
Resell-ready packaged website design services to complement your in-house staff
Integrated mobile websites, blogs, online stores, affiliates systems, directories
Perfect for individual consultant and small agencies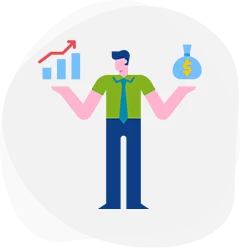 Improve predictability and ROI
Lowering the cost of client acquisition 20x
Centralized online URL and SEO rule engine that executes across remote websites
Manage exceptions down to page level
Distribute content and apps to blogs, PR, social and API's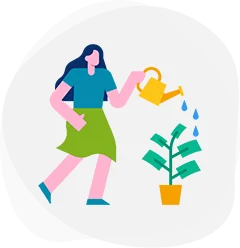 Build lasting recurring revenues
Entrenched in your client's most valuable assets
A-la-carte subscription-based infrastructure and marketing services
Cost that does not price you out of the small business market
Enables performance-based marketing 
Whether you wish to add an instant off-hand digital revenue stream to your top line or are looking at a co-sourcing approach that lets you develop your own resources, SeoSamba's marketing platform, and the people behind it, are here to make it happen for you across 14 different languages.
Web, Marketing & Sales Solutions
Web Designers & Developers
SeoSamba has developed the only content management system (CMS) combined with a blog, a shopping cart, and a CRM with sales automation technology in full compliance with search engines' SEO best practices.
Marketing & Web Agencies
SeoSamba Marketing Operating System allows web agencies, marketing, business & industry solution specialists to develop recurring revenues through innovative and competitive solutions.
SeoToaster CMS:
Open source & business-ready 
As the name implies, SeoToaster is the only content management system (CMS) to integrate SEO and web marketing automation technology in full compliance with the industry's best practices. Enriched by loads of templates, plugins and widgets, SeoToaster ensures a rapid deployment while cutting down development costs. Natively integrating inline edition and optimization, SeoToaster also reduces support and maintenance costs.
SeoToaster benefits
Open source CMS with local or cloud deployment
Integrated Google News blog engine
Integrated membership system
Integrated shopping CART & CRM
Hundreds of website templates & themes
Advanced native SEO functions
100% flexible no-limit UI design
Easy inline editing
Extensible with 100's of plug-ins
Fast parallel media server (x5)
100% scalable OOP core

Open source & scalable CMS
SeoToaster is an object-oriented, open source solution, expandable at will. It offers an incredibly satisfying experience to users, web developers, and SEO experts alike.

Easy creation, fast inline editing
Built-in inline editing capabilities simplify websites daily content updates while ready-to-use widgets bring functionalities to life in a breeze. Simply log on to your site and add/modify content at will while maintaining vital code integrity.

Search engines-ready mobile sites
SeoToaster's framework is mobile responsive, bypassing complex development issues for mobile platforms, providing both adaptive and responsive solutions with mobiles templates including geo-localization and direct call features.
SeoToaster E-commerce: optimized for online success
Integrating natively SEO, blog, texting, e-mailing, product-level remarketing, Google & Facebook Ad retargeting, B2B sales,social networks and media management, SeoToaster is a powerful and scalable e-commerce solution matching all online marketing needs for online businesses up to 100,000 products. SeoToaster E-commerce enables fast and reliable deployment for businesses of all sizes, optimizing each product for search engines while providing a smooth experience to online shoppers.
SeoToaster E-commerce features 
Open source shopping cart
Integrated sales quote
Digital products support
Multi-shop support
Plug & Play templates
Integrated text & email remarketing
Advanced microdata SEO
Groups pricing
Built-in discounts & coupons
Inventory management
100's of plug-ins

Plug & pay e-commerce
Steer clear of programming overload and third-party plug-ins : SeoToaster natively blends all necessary components of a successful e-commerce solution, from website design to payment integration.

100% SEO-ready online shops
SeoToaster E-commerce provides unlimited products implementation, making each product a SEO-friendly gate for search engines, ensuring qualified leads, optimal conversion rates and ROI.

Integrated B2B & offline sales
Built-in automated quotes engine, text and e-mail remarketing or offline sales (phone, PoS) allows merchants to deliver to all complex vending channels including for B2B, affiliation and franchises.
SeoToaster CRM Ultimate: built to grow your business
Ever wished you could offer your own CRM and sales automation solution to your customers?
Private-label SeoToaster, and you can offer an advanced CRM solution on par with the best at a price-point that you control.
World-class features under
your brand
Drag & drop pipeline management,
Lead scoring & more..
Collect digital signature & deposit
payments on proposals
Award-winning mobile CRM &
Social app
Actionable built-in sales lead
intelligence with browsing, clicks
etc..
Extensible at will with our REST API, plug-ins and 1500 apps via Zapier
Sync up with Outlook, Gmail etc..
Record incoming calls in contact
timeline
Creates leads from calls, emails,
forms, download, text
Automate text & email drip
Match CRM contacts with Google
and Facebook audiences
automatically

Omni-channel superpowers
Reach prospects and consolidate customers interaction across all channels: website visit, proposal views, telephone, email, text messaging, social media, Google and Facebook Ads.

Automate sales success
Find out if a prospect with an open proposal is visiting a specific page on your website. Chat with a prospect while they are looking at your quote. Gamify your sales process with a text message contest. 

Sales and marketing alignment
Save thousands of dollars in integration and licensing fees over other CRM's thanks to built-in functionalities and the powerful SeoSamba Cloud Marketing Operating System to align your sales and marketing teams. No-cost integrated digital signature proposal and deposit payment support.
SeoSamba MOS:
Simplify digital marketing 
SeoSamba's MOS or Marketing Operating System is an All-in-One marketing automation platform, allowing web agencies to develop new recurring revenue streams with a turnkey cloud-based service.
SeoSamba MOS combines $1,000's worth of monthly licenses fess for ad-hoc marketing software into a cost-effective unified platform that simplifies execution across SEO, Paid, Social, Email, Reputation management and other digital marketing activities. 
Replace BirdEye, Hootsuite, Constant Contact, CallRail, Yext, Hubspot Marketing, Vandasta and more.. all with a single subscription and truly integrated platform that delivers outstanding benefits to your clients, and great margins to you. 
SeoSamba Marketing OS in a nutshell
Multi-sites marketing dashboard
Multi-sites automated SEO for WordPress & SeoToaster
Social Media Marketing posting & curation
Social Media Marketing mobile app
Review Management for 100+ industry & business sites
Replace Yext with our citation builder
Built-in Newsletter/E-mailing with automated blog digest creation
Built-in Press Release distribution & centralized Blog system
Website analytics and SEO Rankings
VoIP telephony with Text, Call, DNI & Lead tracking

Twenty software in One
SeoSamba Marketing Operating System simplifies social, email, paid and organic marketing, as well as reputation management across any number of clients and websites through a single cloud-based interface.

Centralized execution & reporting
SeoSamba empowers you and your clients with a centralized platform for everything digital.
While other agency solutions offer merely more than a consolidated ordering system, SeoSamba let you and your clients execute to impact results.

Automated multi-sites SEO
SeoSamba enables agencies to update their multi-sites clients on a large scale, protecting them against brutal changes in search engines indexing policies. Proven and ideal for franchises marketing brands.
SeoSamba Partners:
Our experts at your service
Partner with SeoSamba and increase your margins by leaps and bounds while ensuring higher satisfaction from consistent execution and longer client retention.
You always keep full control of your projects, our open source framework guaranteeing portability of your web projects at all times.
Contact us to discuss how our flexible service delivery model can meet your needs. We mean to earn your trust by ensuring your success. 
Partnership Benefits 
Generous commissions on software licenses
Aggressive high quality W3C, ADA compliant SEO website creation pricing
Direct help-desk services available
Clients access from your site
On-demand outsourcing
White label platform
Commercial support
Volume discounts
Presales, bids support
Online technical support
Co-marketing actions
Consulting & Training available
Online project management

Take advantage of our expertise
Stand apart from competition thanks to our agency partner program. Expand your in-house capabilities, and ensure consistent high level of satisfaction with the latest digital marketing techniques.

Enjoy new recurring revenues
Augment your agency visibility, and reduce leads generation cost by offering freemium/premium services, or rebranding our social media mobile app. Increase subscription-based software and services billing and reduce churn with SeoSamba.

The white label advantage
Leverage SeoSamba years of investment under your own name and branding to propel your agency to greater profits and stability.  Delight customers with state-of-the-art software and services solutions.
Private Label SeoSamba Marketing OS + SeoToaster Ultimate and Mobile Apps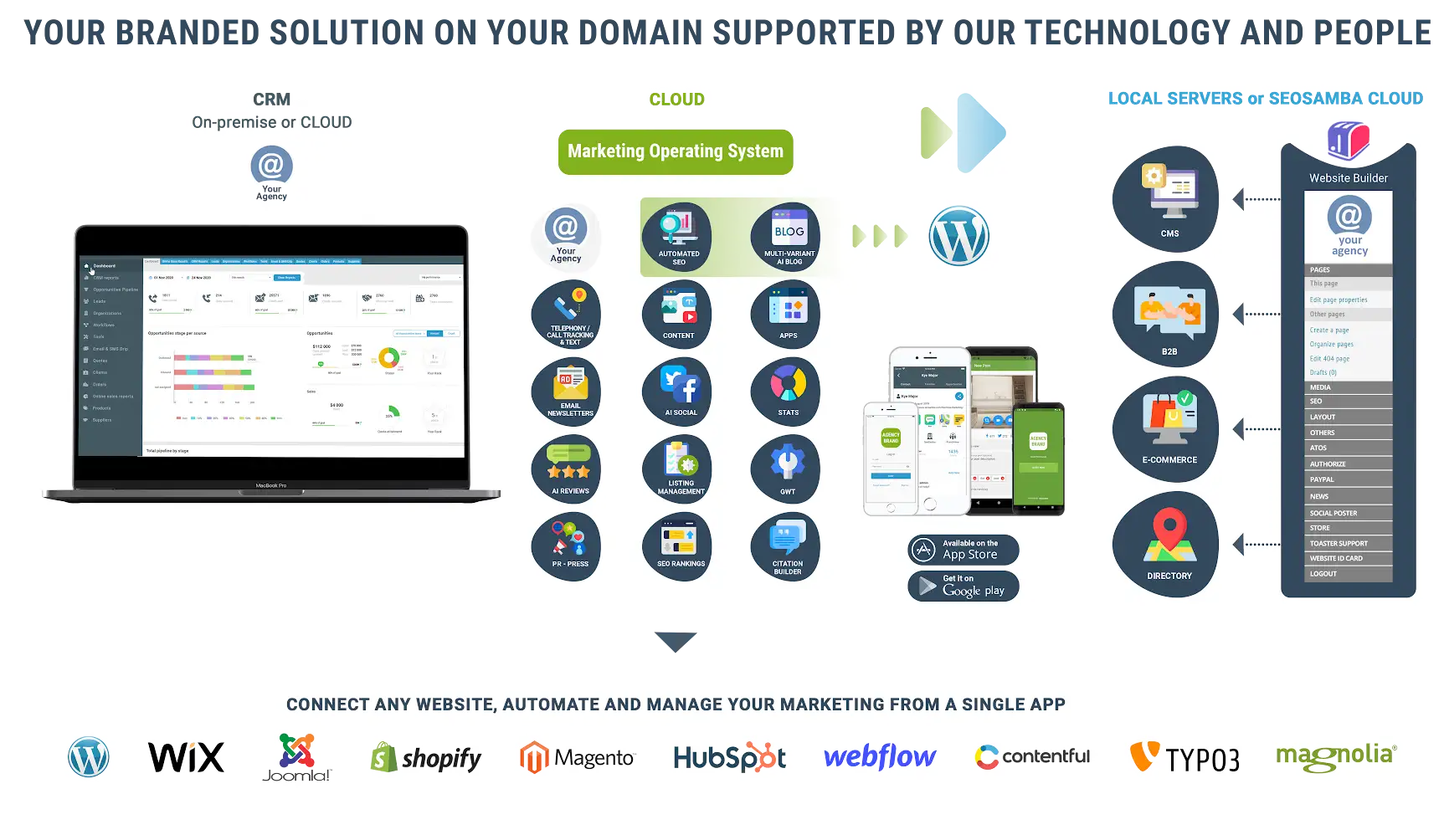 GET A DEMO