Marketing Synced
The All In One Marketing Automation Platform
Turnkey Services with performance guarantee
Connect SeoToaster Ultimate, Wordpress built websites but also any other website platform to bring your marketing to the next level
Manage an unlimited number of websites and execute your content marketing strategy from a centralized dashboard
View performance metrics for your entire distributed organization regardless of your website domain architecture; domain, subdomain, or subfolders while empowering local managers or franchisees
Avoid lawsuits with our integrated American Disability Act compliance tool
Track and impact organic and social media traffic thanks to modern apps
Monitor your brand reputation with Google, Facebook and across 100 reviews supported platforms
Store and share marketing, sales and operational templates
Automate SEO and social marketing execution across websites through a centralized, multi-tenant, cloud-based interface.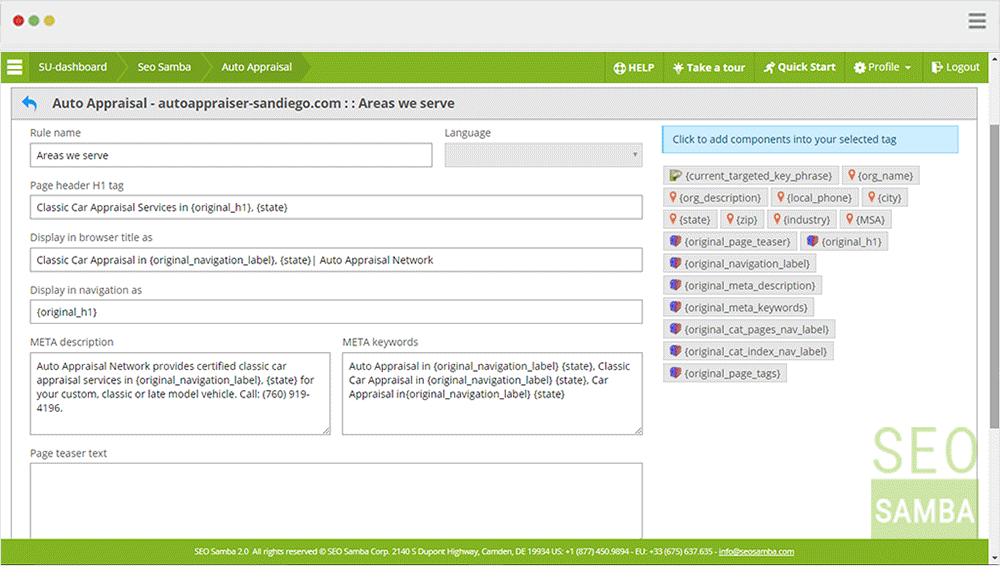 Multi-Site Automated SEO Execution
Design a network wide rule-based SEO strategy with unique page URL's and meta data
1-click network-wide deployment for SEO and linking strategies
Restore previous SEO versions
Automatic optimization for new webpages
Social Media Management
Consolidate and manage all of your social accounts under one roof
Create updates and distribute to Facebook, Instagram, Twitter, Linkedin and Google at once
Schedule updates for future distribution
VIew and approve content scheduled on your behalf 
Monitor analytics and audience growth
Monitor your online reputation
Manage reviews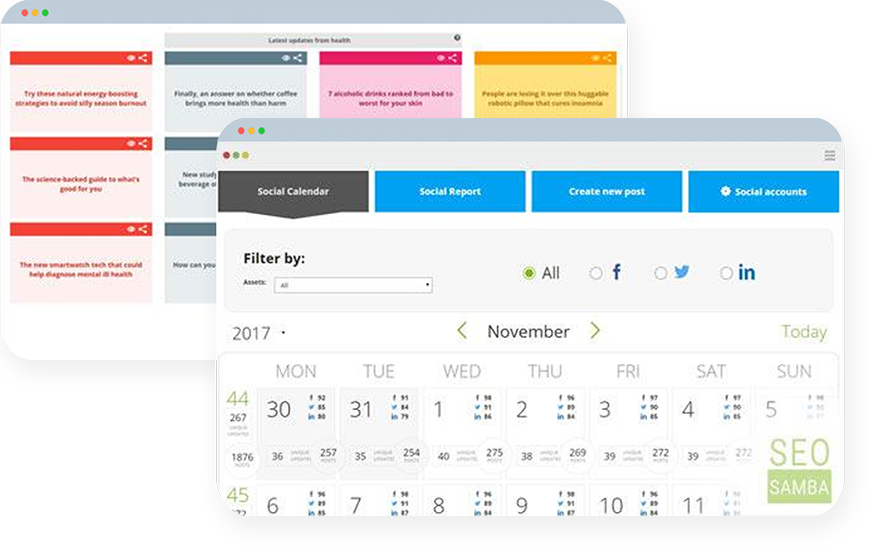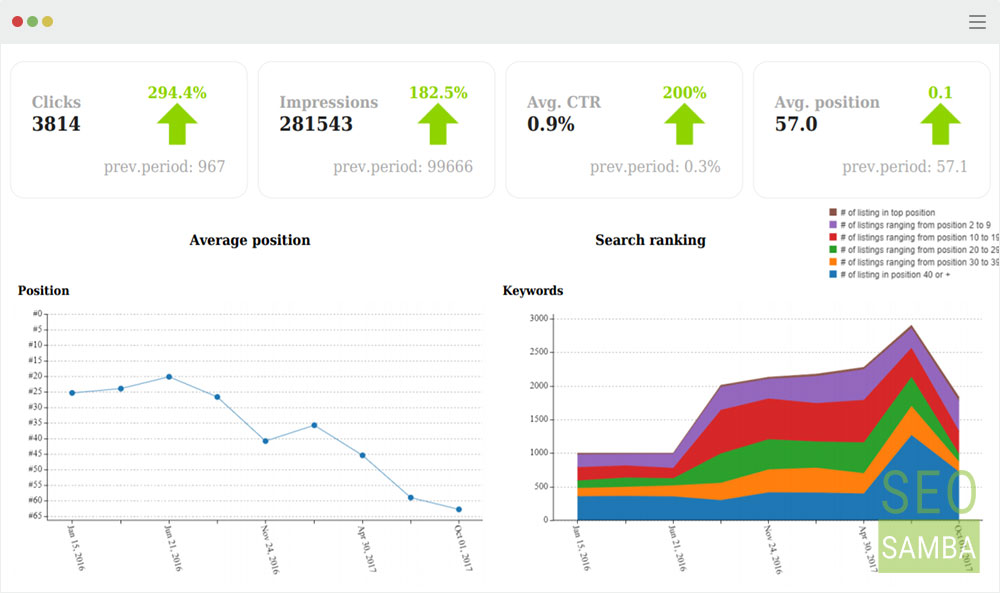 What keywords/phrases bring people to your website?
SeoSamba's Marketing Operating System Knows, and you will, too, once you subscribe!  When you do, you will gain access to:
Lifetime search ranking history
Top rankings, newly listed keywords, top 5 movers, aggregated across 1 or more websites
The value of the "free" clicks you're getting with our organic ROI calculator
Align your search targets automatically with the automated optimization engine then view them automatically with tracked key-phrase reports.
Correlate your actions to traffic variation and send the data straight to your CRM
Integrates with Google Analytics and other analytics tools
Monitor paid ad campaigns, too!
Vertically integrated marketing stack meets you where you are at
Improve your social presence now, in 5 minutes or less
Open a free account
Connect your social networks
Create unique or curate content
Post updates Facebook, Instagram, Twitter, Linkedin and Google at the same time
Schedule posts for future distribution
No limit on number of social pages you connect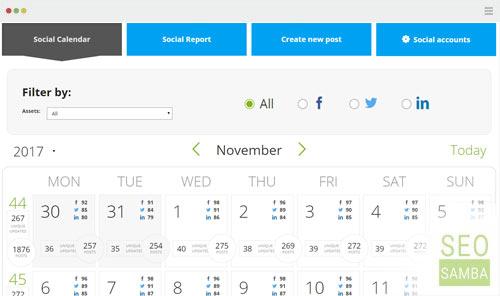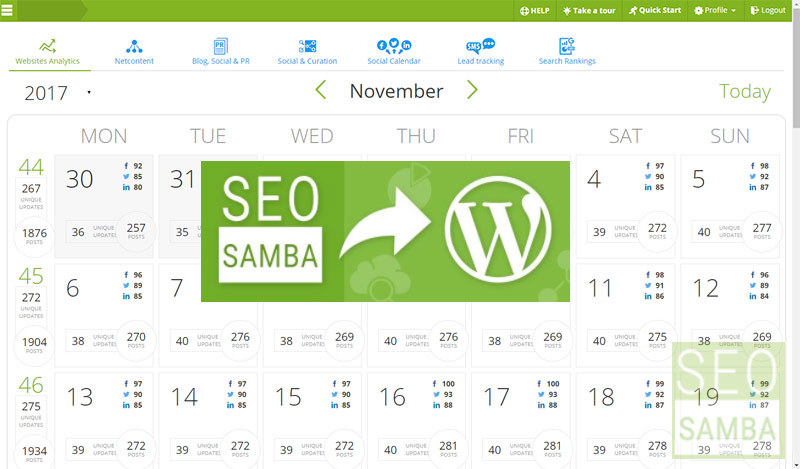 Use With Your Wordpress Site
Not into moving to a new platform? No problem. SeoSamba Marketing OS works with Wordpress templates. Adding the SEO layer to your Wordpress website is so much easier with SeoSamba! Plus, new pages and content are automatically optimized. It is SEO optimization innovation at its finest.
Subscribe now to see for yourself!
Do you need to build a website or have one built for you?
Check out the SeoToaster CMS website builder with dozens of ready to use templates to help you build your new website, webstore or campaign landing pages.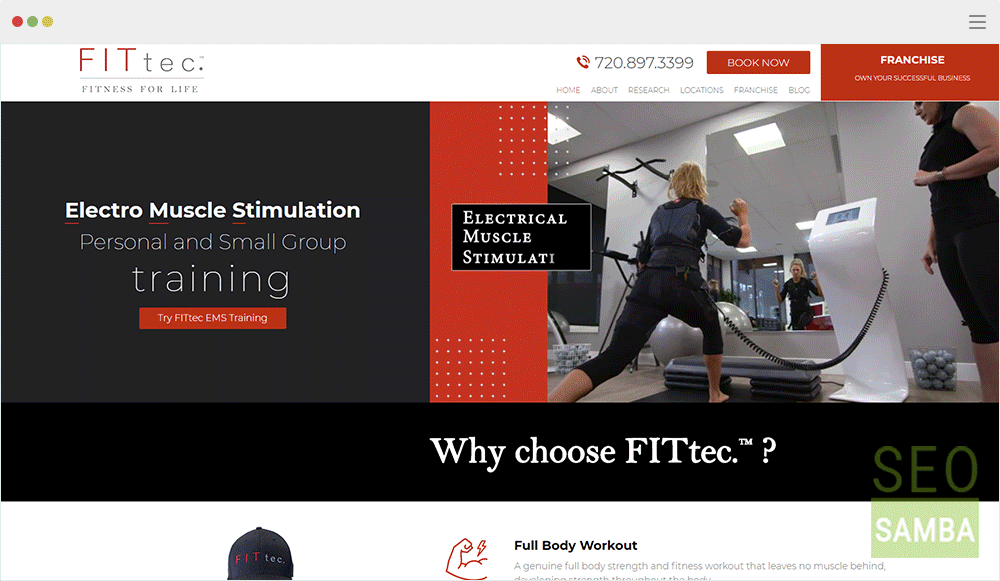 Need help? SeoSamba offers complete turnkey website packages. Contact us today and tell us about your project!
SeoSamba helps agencies, franchising brands, enterprises, multi-site e-commerce and service-based businesses create a powerful digital presence.
Contact Sales
Re-platforming your website or starting a new project?
Consider a turnkey, performance-guaranteed service package from SeoSamba today!
No non-sense e-commerce, B2B or B2C local marketing, which balances immediate results needs with a longer-term, momentum-building outlook. Save yourself thousands of dollars in integration, consulting, or rework costs, and hours of headaches. We're the team with a plan.
One partner, accountable for it all
And there's still more to SeoSamba...