Marketing Synced
Attract
At least 30% more organic search traffic**
Social traffic with curation and calendars
Blog and press release readers 
Visitors with email drips and newsletters
Track
Positions in search results
Users behavior across sites
Adword accounts performance
Ad campaigns keywords level
Inbound calls and forms contacts
Unite
CMS, Cart and CRM 
Sites for a powerful network effect
Content, SEO, Email, and Social
And save $$$ in time and fees
Simplify
SeoSamba is the all-in-one marketing platform that automates SEO execution for any size and number of websites.
Rely on our turnkey services and benefit from our performance-guaranteed project delivery.
Great services, collaborative as much or as little you need it to be thanks to your access to the SeoSamba MOS social marketing web dashboard and mobile app. 
Automate SEO and social marketing execution across websites through a centralized, multi-tenant, cloud-based interface.
The only large-scale, multi-site SEO execution & automation technology
Optimize once, for all. Save time, money and aggravation
Devise SEO strategies that work 
Create any of number URL's, meta data, and content rules then apply to any number of pages
Deploy SEO and linking strategies across websites with one click
Restore previous SEO versions 
Automatic new content optimization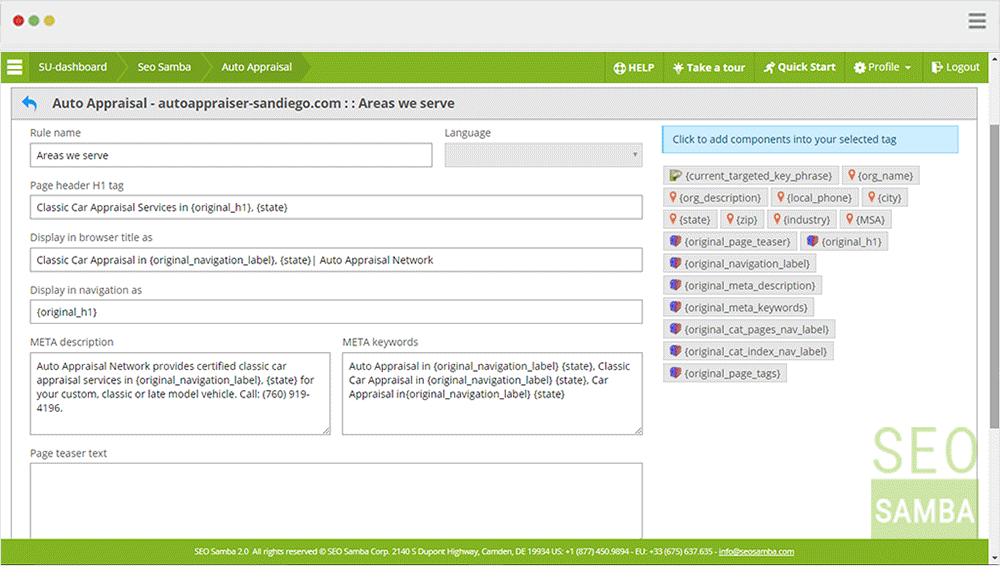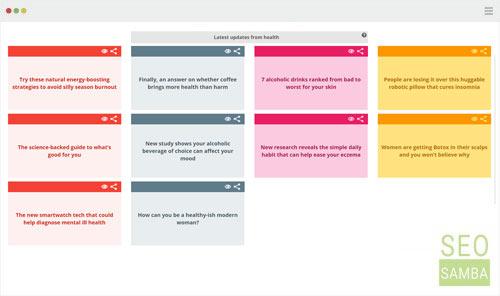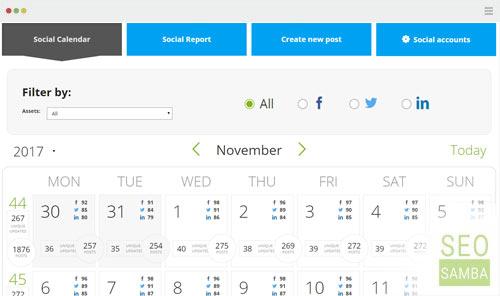 Social Media Marketing Management
Choose the easy way
In a globalized social world, community management is no longer optional. From a marketing standpoint, it's vital. You need a way to efficiently monitor and update all your professional social networks
             SeoSamba has the answer
Grow your fan base and get a higher return on your investment by consolidating all your business and personal social accounts under one roof. Monitor your online reputation and your competition. Publish posts, at will, to all your social accounts at once from one place and leverage our powerful social posts scheduler to bring your business to a new dimension.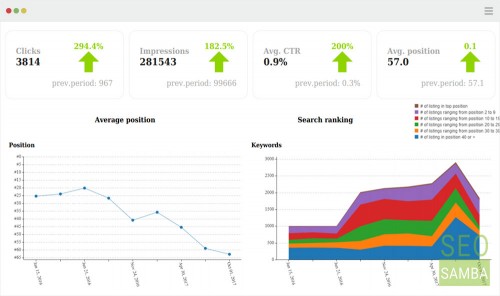 Unlike classic reporting tools, SeoSamba's Marketing Operating System automatically reports on key-phrases on your websites that are appearing on Google search result pages. There's no need to create and manage lists of key-phrases with our keyword ranking checker.
Accurate search rankings from Google
Creating key-phrase lists is a thing of the past
Simply connect your Google Webmaster account and you're set
Lifetime search ranking history database 
Top rankings, newly listed keywords, top 5 movers, agreggated across 1 or more websites
Know the exact value of the "free" clicks you're getting with our organic ROI calculator 
Align website search targets automatically  using our automated optimization engine then, view them automatically in your tracked key-phrase reports.
Flexible, vertically integrated marketing stack
We meet you where you are
Why wait? Improve your social life now.
Open your free account, add a project name, and connect your social network accounts in 5 minutes or less.
Curate content and post updates directly to Twitter, Facebook and LinkedIn from our powerful social calendar.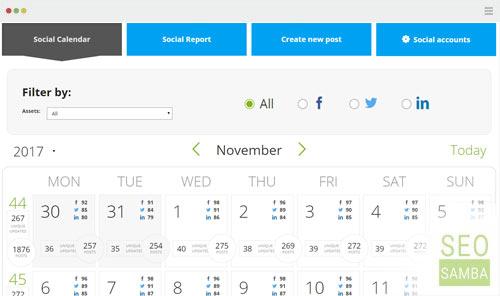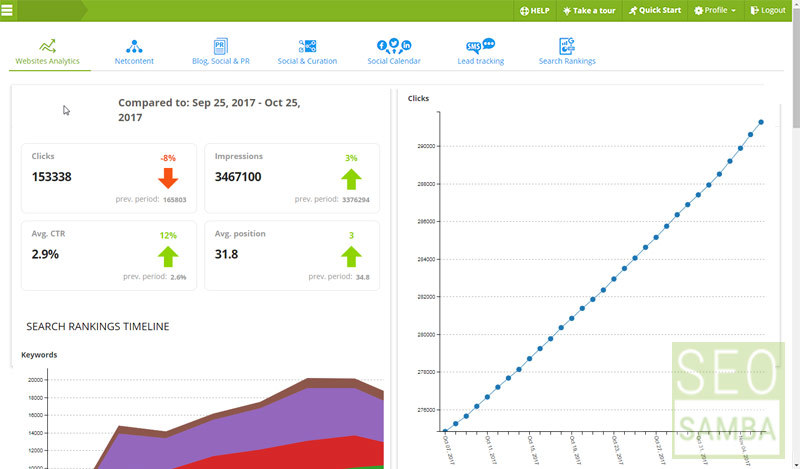 Connect your Google Webmaster Tool's  account and start tracking your search    rankings like a pro.
 Add our analytics code to your site to view all your websites key-traffic metrics.
Click "Access full analytics" to view in-depth data.
Integrates easily with all other analytics tools, including Google Analytics.
 Correlate your actions to traffic variation and send the data straight to your CRM.  
Have the convenience of having everything at your fingertips with SeoSamba.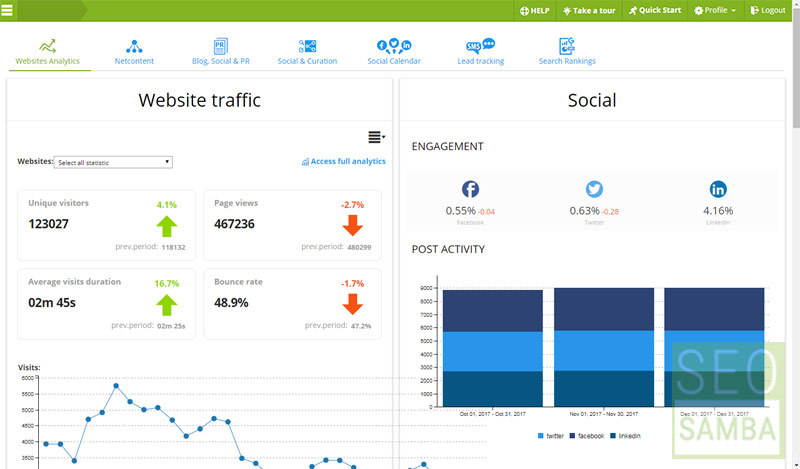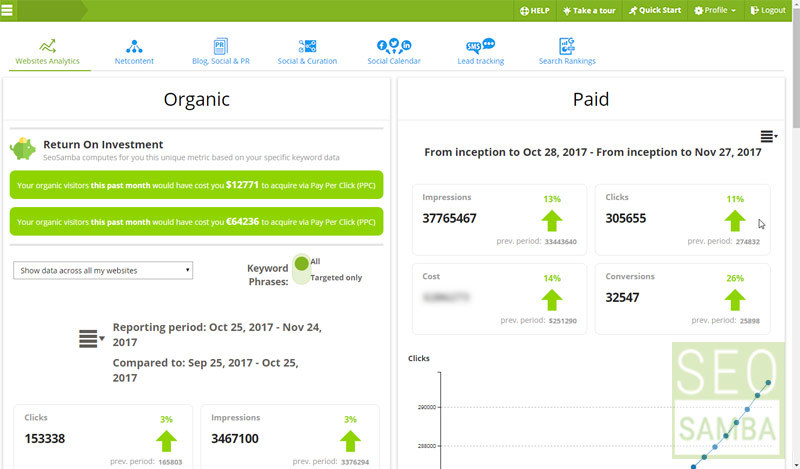 Get high-level, pay-per-click account performance reports right from your dashboard.
Worldwide call tracking numbers for $5/month 
Track your website, collaterals, marketing and advertising campaign performances from a single screen
Leads quantity per channel, with the ability to listen to sales calls. Powerful stuff.
As a free bonus, download our widget and offer a click-to-call button to your website visitors.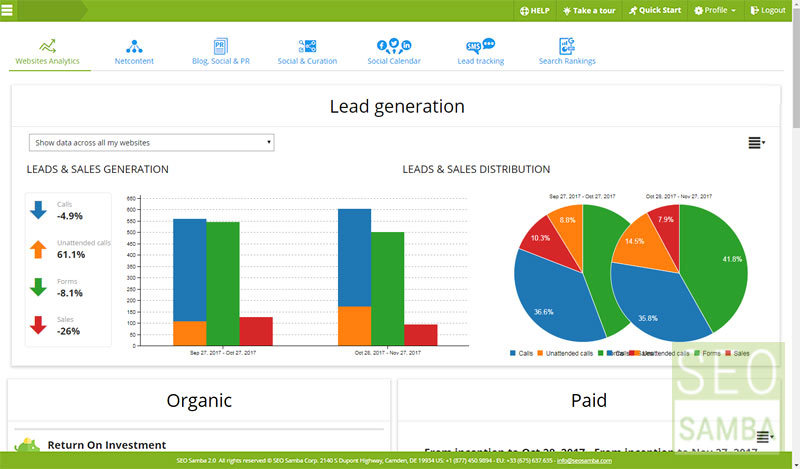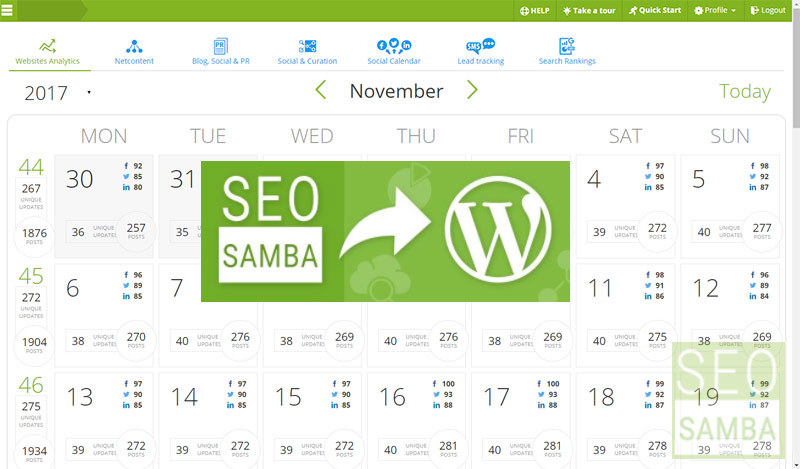 Connect your existing WordPress site(s) and optimize any number of web pages for top search engine performances, in one sweep.
New content is automatically optimized as it's created.
Got a site that's over 500 pages? 
For a limited time, SeoSamba will help you optimize your websites' templates and customize optimization rules.
Build your next website(s), webstore(s) or campaigns landing pages using our all-in-one, open source, CMS/Shopping Cart/Customer Relationship Management (CRM), SeoToaster.
Connect InfusionSoft and/or SalesForce to easily transition away from these legacy tools, then, install it on your web host, or, rely on our cloud.
Do it yourself or let us deliver everything, turnkey, for you.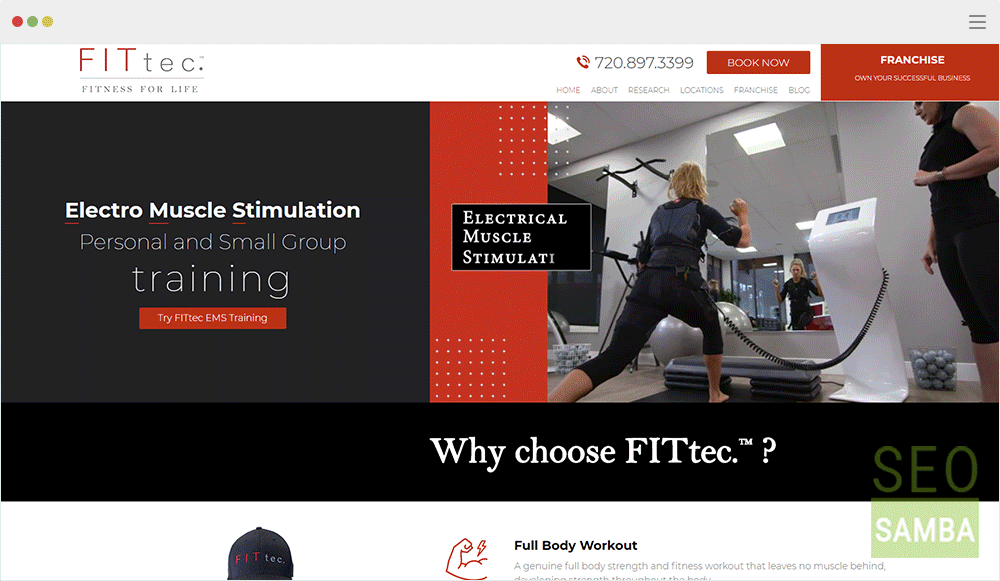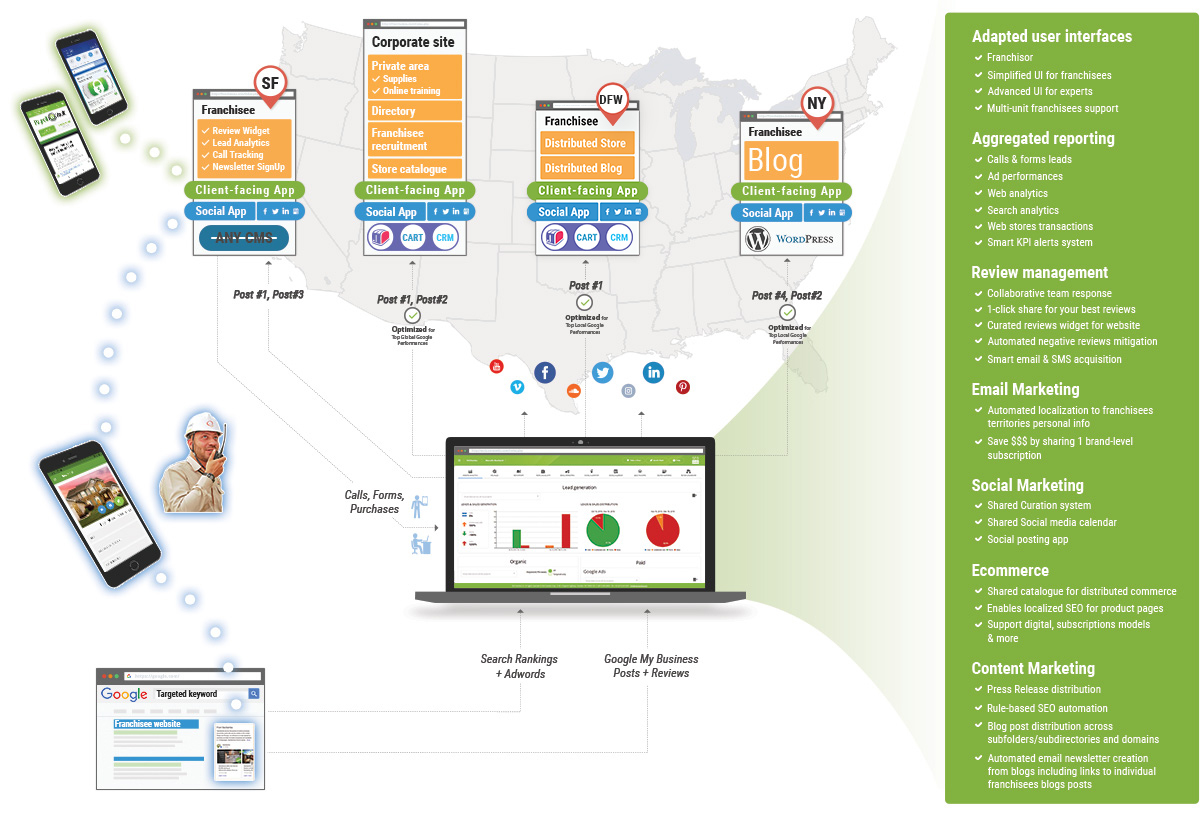 SeoSamba helps agencies, franchising brands, enterprises, multi-site e-commerce and service-based businesses create a powerful Internet marketing presence.
Re-platforming your website or starting a new project?
Consider a turnkey, performance-guaranteed service package from SeoSamba today!
No non-sense e-commerce, B2B or B2C local marketing, which balances immediate results needs with a longer-term, momentum-building outlook. Save yourself thousands of dollars in integration, consulting, or rework costs, and hours of headaches. We're the team with a plan.
One partner, accountable for it all
And there's still more to SeoSamba...