SeoSamba CRM Real Estate Edition
The ideal IDX website, CRM, and marketing solutions for ambitious & multi-location real-estate businesses
Your entire organization at your fingertips
SeoSamba's CRM is the only system offering all distributed office contacts in the palm of your hand from a single app.
Every agent gets its own mobile app, every regional centre gets a view of all offices in their region, while corporate headquarters can get access to everything!
Your mobile app recognizes incoming callers, or creates a contact, and brings up their information on-screen for you, yet this is just the tip of the iceberg. Scroll down to uncover other gems below!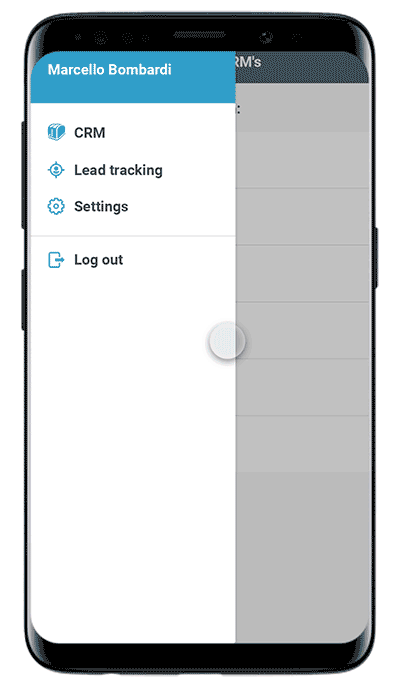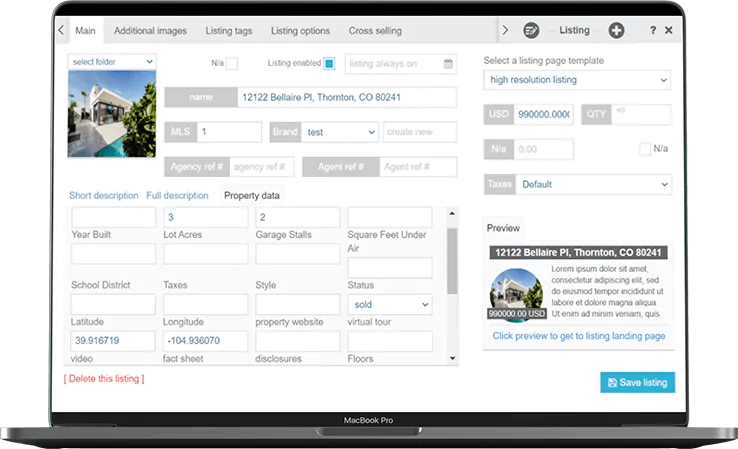 Manage your listings
Our system lets you feature properties you have captured into your MLS / IDX right onto your website. No double-entry of data, seamless integration that lets you further customize your listing with high-resolution images, videos and a lot more. Use your catalogue to send online quotes straight from CRM, and measure interests in properties and be notified in real-time when folks check out public or private listings.
Automate follow-ups
Subscribe prospects to email and text messaging sequences based on properties they have looked at. Gamify your sales process with SMS, we show you how!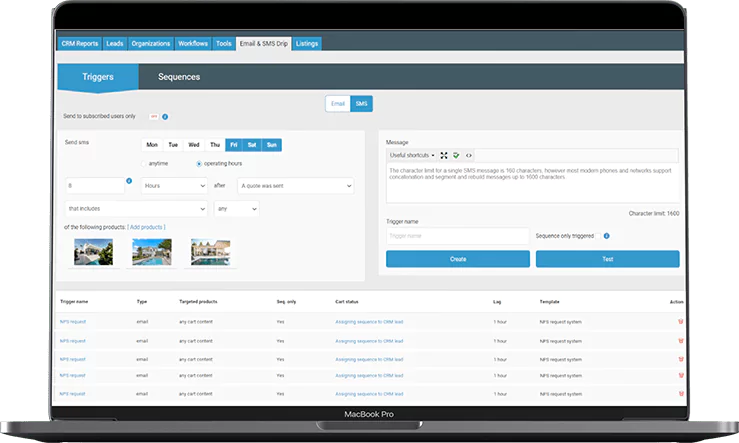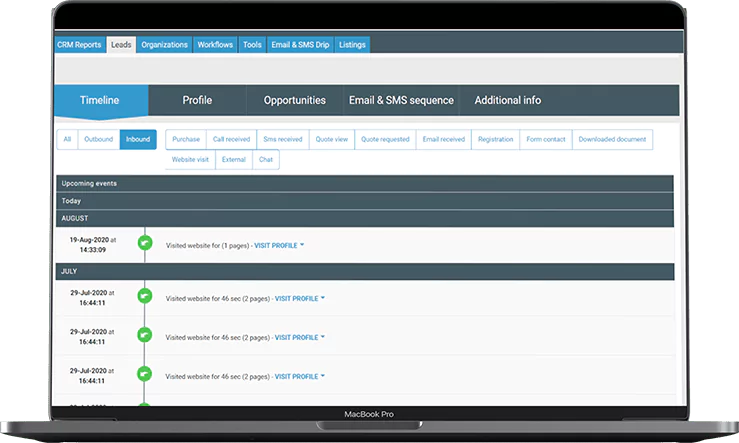 Get detailed lead intelligence
Website visits, opened and clicked emails, chat, received and sent SMS, downloaded documents, everything at your fingertips.


Automate Advertising with Facebook and Google Ads
Back in the old days of last month, your remarketing efforts were limited to only those people who had previously visited your website. Not anymore! You can now strategically show remarketing ads to your saved contacts in your CRM system while they browse Google or Facebook, whether or not they've been to your website already.  Fact: Retargeting people who've already interacted with your brand can Increase conversion rates by up to 150%!
Google and Facebook's algorithm will search all user-profiles and in an attempt to match your saved contacts from your CRM to a user profile on their platform. If the algorithm successfully finds a match, your retargeting ad will be displayed to them while they surf. It takes targeted advertising to the next level!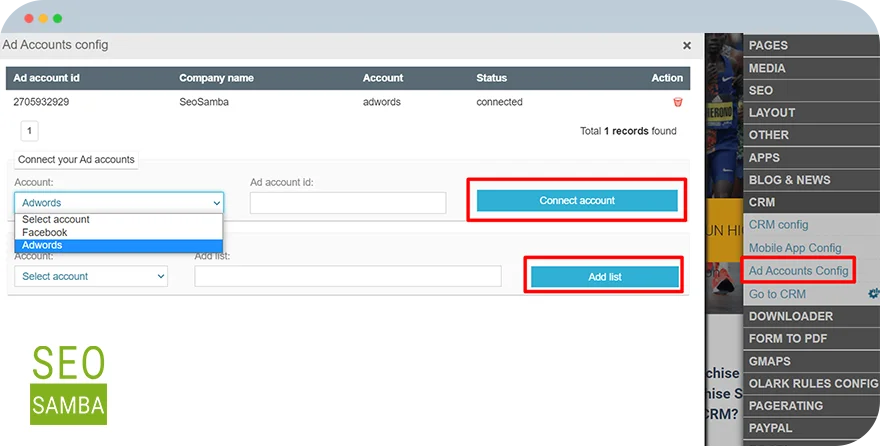 Centralized yet Flexible
If you are a franchise, or have multiple websites and offices, connect them all in your SeoSamba Marketing Operating System, and manage your entire network of assets from a single system, including call, sms, web forms tracking, but also social media, Facebook and Google review management, newsletter marketing, and more. Social media app included!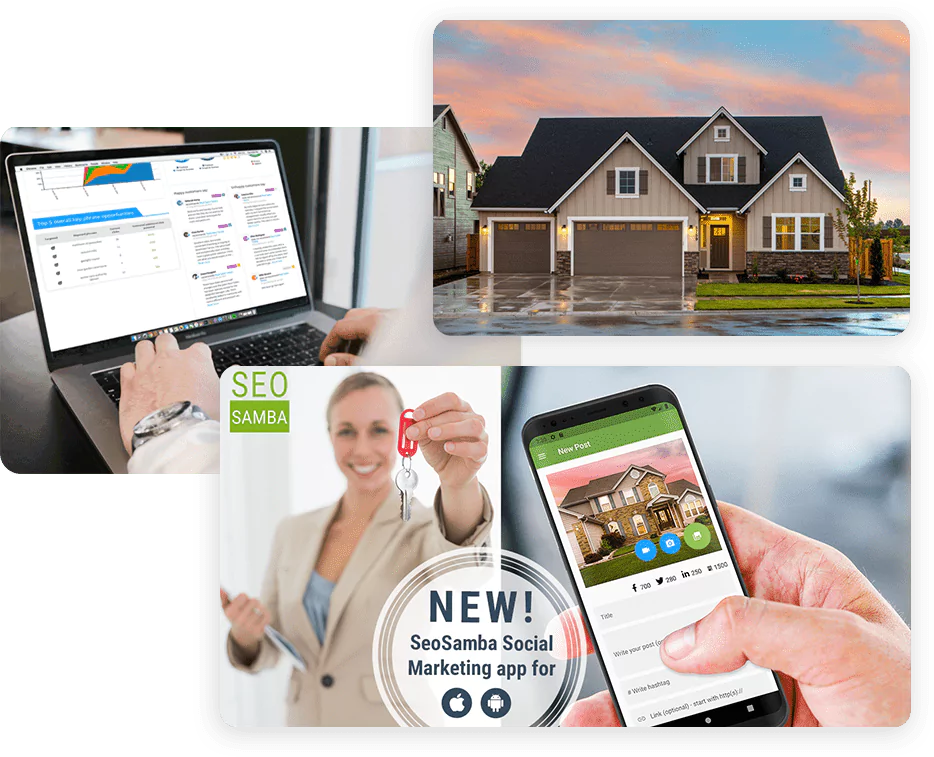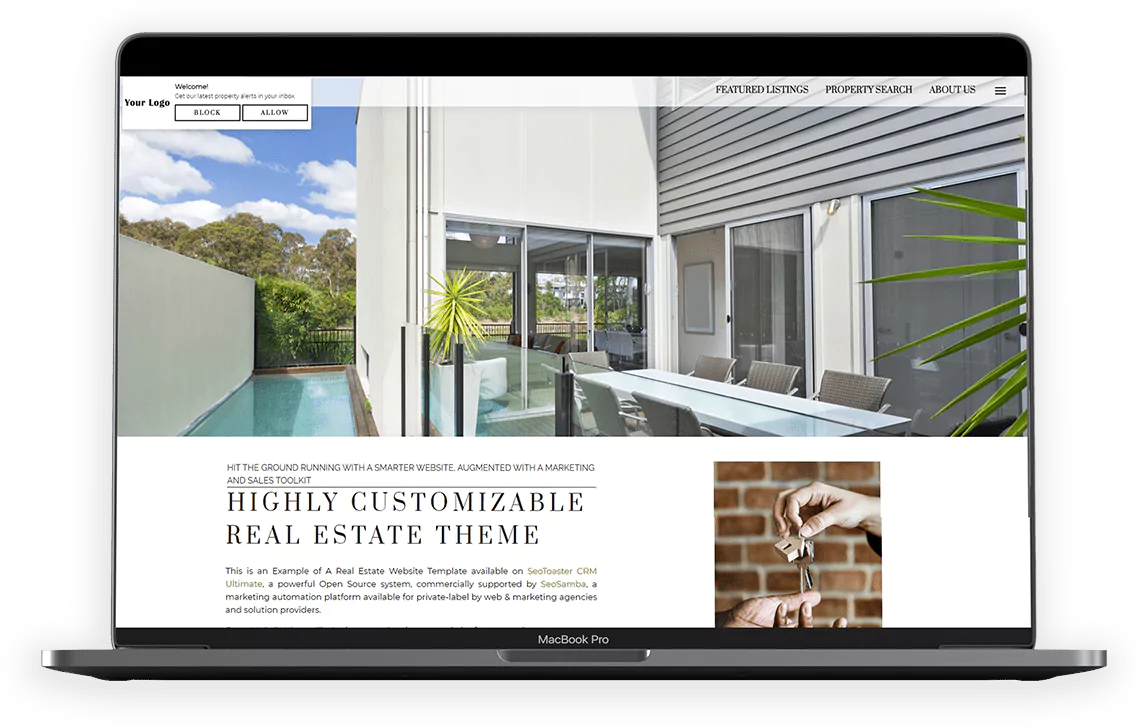 High-performance real estate website included
Add to your own website or get a ready-to-use IDX website
Your CRM comes with a great looking real estate website packed with features;
Mobile responsive, and delivered with its own mobile app to let you send notifications straight to your audience mobile phones.
It is professionally built, fast-loading, and WCAG AA American Disability Act compliant to help keep you out of legal trouble. It also features an integrated Google News and Yahoo News compliant blog system, quote system paired with a shopping cart that lets users select properties to request multiple viewing at once, review management system, mortgage tools and more.