Franchise Marketing Operating System
CENTRALIZED FRANCHISOR MARKETING SERVICES
FLEXIBLE FRANCHISEE MARKETING & SALES TOOLSET
MARKETING AGENCY AGNOSTIC SYSTEM-WIDE KPI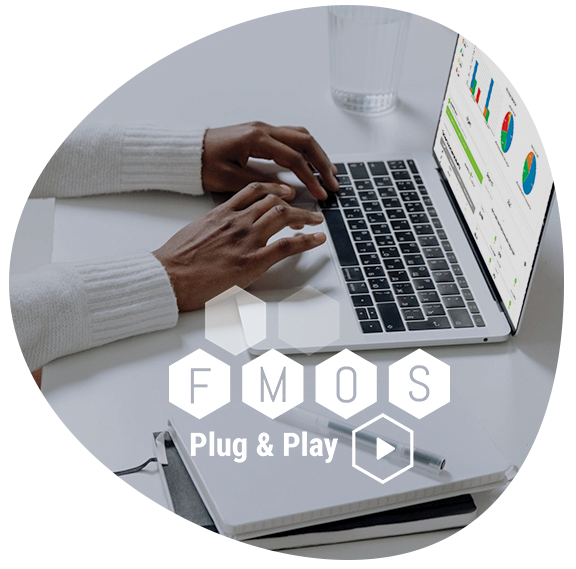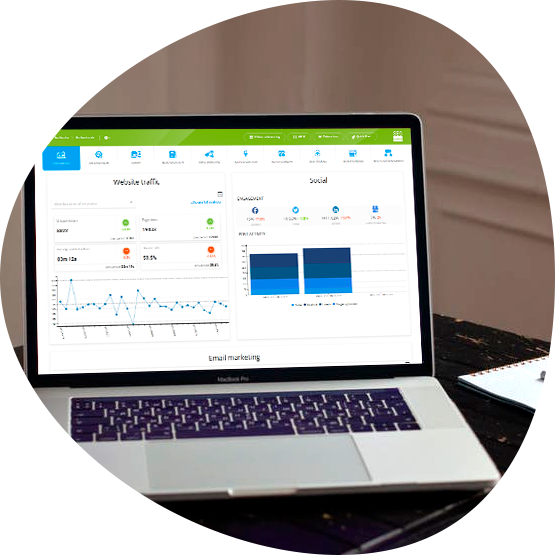 Centralized digital KPI's
Get your entire brand performance on 1 screen
SeoSamba's Franchise Marketing Operation System, or MOS, is an integrated marketing automation toolset that lets you combine all digital key performance indicators (KPI's) on the same dashboard, and reach your target audience through a vast number of online channel, including through paid ad campaigns, email marketing, social media, organic web traffic acquisition, phone calls, text messages, chat and online forms.
Brands, multi-unit and single unit franchisees can manage SEO, social media, performance and content marketing efforts across any number of territories, locations, websites from a single cloud-based interface while empowering local management.
Social Publishing
Increase Franchisee Engagement Yet Keep Control
SeoSamba's Franchise Marketing Operating System helps you deploy a social marketing strategy through a shared calendar and associated mobile app for your entire network.
One license allows posting to unlimited social pages
Automate a posting schedule for Facebook, Instagram, Twitter, LinkedIn and  Google My Business for your entire network  
Share images, videos, social posts, blogs and newsletters templates from your FMOS media library with your franchisees instantly 
Save your favorite resources to franchisee dashboards for easy-to-find content they can share to social media
Enforce brand communication policy, approve franchisees posts from your corporate desktop or mobile phone.
Do all this and more from your desktop or from the award-winning SeoSamba Social Marketing app on your mobile device.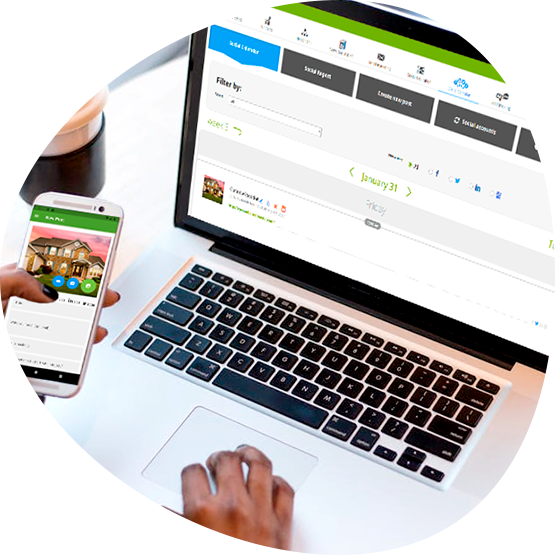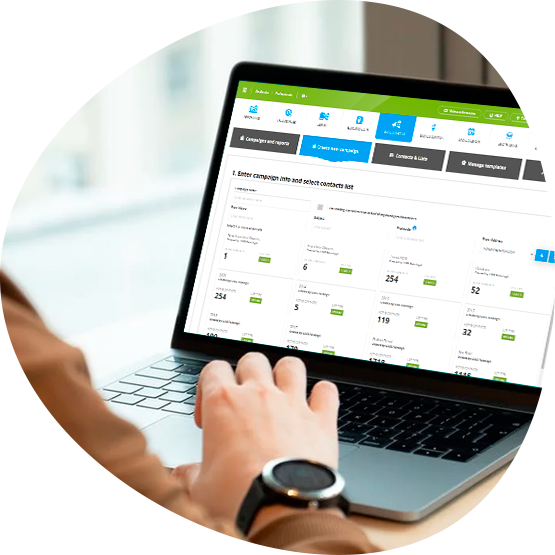 Localized Newsletters
Drag & drop editor you also use for blogging 
SeoSamba's groundbreaking turnkey Email Marketing Software Platform is the ideal email marketing solution for franchises and distributed organizations. From mobile-friendly templates to easy-to-use drag & drop editor, SeoSamba makes it easy to understand what's clicking with your audience, and enjoy a bird's-eye view while local offices add their contacts, and send emails on their own. 
Territory localization franchisees love
Automatically localize emails using relevant franchisees data; including name, email, territory name and contact information when you email their contacts.
Automatically localize embedded links to relevant pages and blog posts on your franchisees own websites.
Cost-effectiveness
Priced per numbers of emails being sent every month instead of per contact stored on the platform.
Pay for a single subscription for your entire network.
Control
Design, approve and release email templates to your franchisees
Get metrics across all franchisees-ran campaigns.
Productivity
Email all your franchisees contacts from a central interface while personalizing all communications as coming from your local offices.
Select blog posts, and create your newsletter automatically from your best performing content.
Resend emails to anyone on your list who has not previously opened your communication in just one click, and augment your open emails rate by 8 to 10%
On top of reports accessible on SeoSamba Email Marketing platform, all emails, read, opens appear directly in the contact timeline when your franchisees website and/or CRM are powered by the SeoToaster Ultimate CRM system which includes a website, blog, CMS, CART and CRM.
Review Management
Need More & Better Reviews on Facebook, Google, Yelp and 100+ sites?
Keep a pulse on customer reviews across all locations, and across 100+ directory and industry leading websites
Never miss a review with robust alerts and workflow 
Respond collaboratively to reviews with franchisees
Mitigate chances of unfavorable reviews thanks to our automated appeal system
Share your best reviews automatically with your social calendar and mobile app
List automatically 4 and 5 stars reviews or hand-select reviews for inclusion on your websites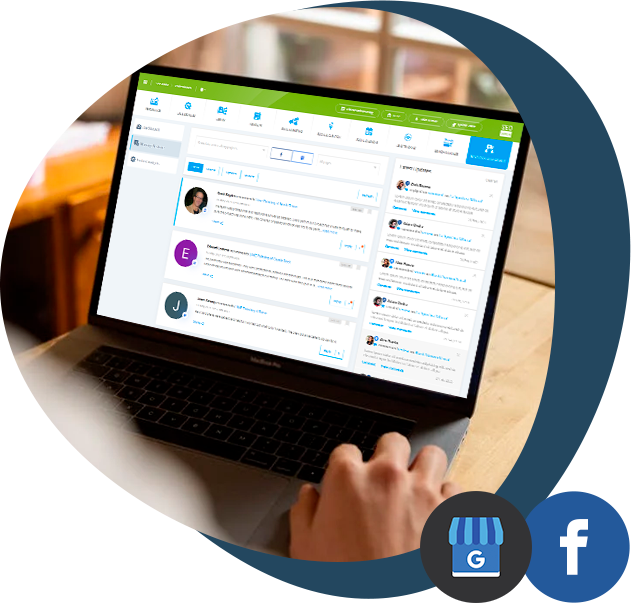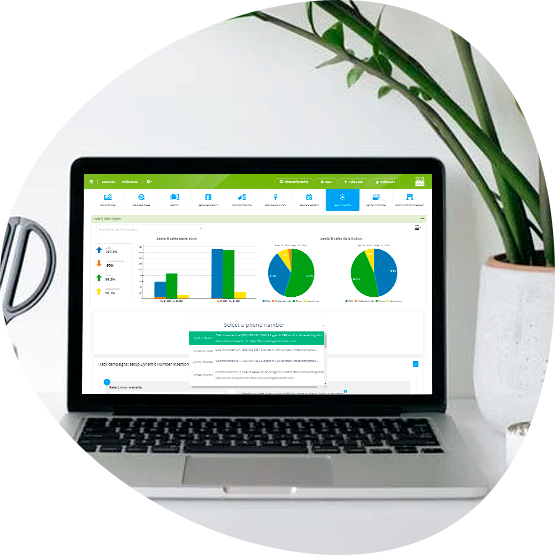 Call, Lead Tracking, Texting & VoIP
Track marketing campaigns & sites effectiveness
Great to track calls from brochures, TV, radio, web ads, or lead generating websites. SeoSamba's lead tracking solution is available to anyone. You don't even need a website, you just need a web browser to operate it.
Imagine for a moment having all your inbound sales lead generation activity available in one screen. Regardless of the number of websites you operate, or simultaneous marketing campaigns you run, all data is readily available at your fingertips.
Get local or toll-free phone numbers worldwide
Phone calls, web leads and web stores purchases on a single screen 
Dynamic Number Insertion 
Text, Voice-mail, music-on-hold and VoIP SIP for direct call connect to VoIP phones, or soft console
Natively integrated with SeoToaster CRM Ultimate for lead intelligence, remarketing, calling and texting automation 

Accurate search rankings from Google
No need to create and manage key-phrases lists
Quick and simple: connect your Google Webmaster Tool account, and you're all set
FMOS knows which keywords you are optimizing your websites for, flip the switch, and visualize progress against your targets. 
Unlimited search ranking history database vs. Google Webmaster Tools 90 days limit
SeoSamba Top rankings, newly listed keywords, top 5 movers aggregated across 1 or more websites
Compare franchisees cohorts performances, create neat pdf's in 1-click
FMOS also provides you with the ROI on your organic efforts by computing cost-savings over paid ads.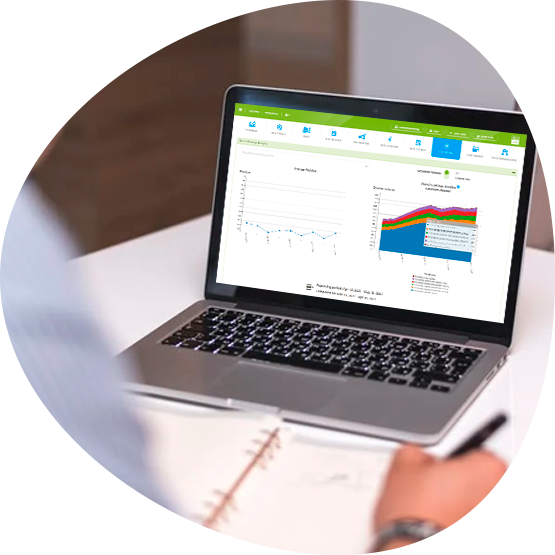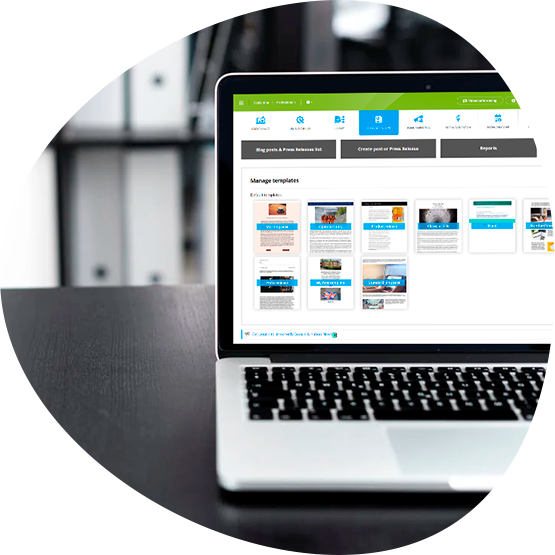 Blogging
The must-have tool for distributed domains
Are you trying to beef up your content marketing strategy? Have you been meaning to support your franchisees but are afraid of duplicate content penalties or haven't got the time and don't know where to start?
SeoSamba has the perfect solution! Our centralized blogging system
Works with any combination of both WordPress and SeoToaster Ultimate CMS/CART/CRM powered website;
Lets you build content centrally and deploy automatically localized versions when selecting destination websites or select a canonical version on a post by post basis;
Allows you to select associated social marketing accounts and our Press Release channels to cast a wider net for your content;
Recycles your blog content into newsletters aimed at local contacts list, including links to individual franchisees websites posts in 5 minutes flat. 
Marketing library
Sharing files, images, videos, documents, company collateral is just a lot easier with SeoSamba FMOS
You probably already have cloud drives to store marketing material, but doesn't it make lots of sense to offer ready-to-use material right at the point of consumption?
Share with your franchisees approved images, videos, documents, handbooks, FDD's, company collateral. Your library contains a collection of assets you can share within your organization or keep private to yourself and that is accessible across the blog, email, and social tools, right when and where it is needed.
Franchisees and location managers can share blogs, ad campaigns, email templates, and ideas with you and each other in one commonplace.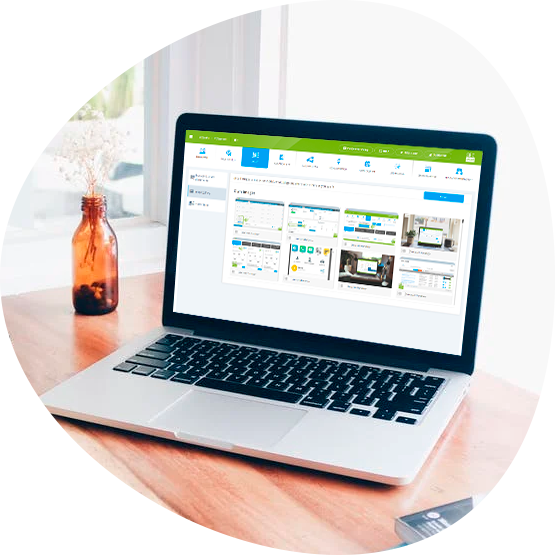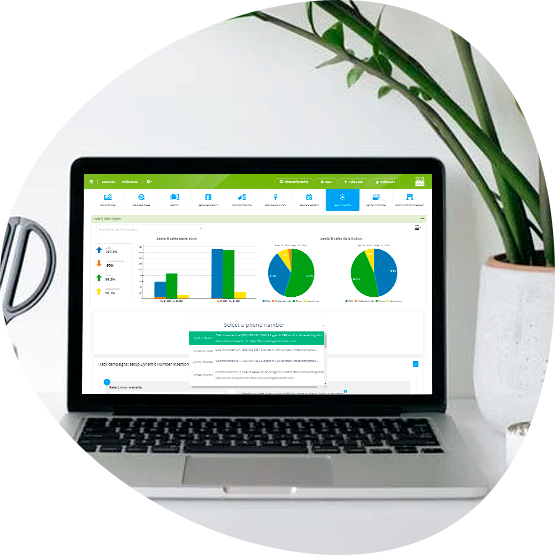 On-site SEO Execution
Break free from the costly decay/audit/fix circle
SeoSamba FMOS automatically optimizes WordPress and SeoToaster powered websites for top Google performances. Optimize all your websites with one sweep: No errors, and no pages left inadvertently un-optimized.
A superior solution to WordPress multisite as it let you deploy, manage and SEO websites regardless of their hosting, while giving you full flexibility to customize each website and domain as you see fit.  And with our continuous automated rule-based system, SeoSamba provides on-site search engine optimization for content as you publish it.
Automate execution and reporting for SEO across any number of websites through a centralized, multi-tenants, cloud-based interface.
Design a network wide rule-based SEO strategy with unique page URL's and meta data  
1-click network-wide deployment for SEO and linking strategies
Come back in time, and restore previous SEO versions of your websites
Set and forget; Automatic on-site search optimization for new webpages and content
And Also High Performance Websites as Required
We build websites with beauty, brains, and lots of love
Your secret shortcut to online success
SeoToaster is SeoSamba's flagship all-in-one open source CMS, Ecommerce and CRM solution to build, optimize, manage, and market your website for for top search engine performance. All websites built with SeoToaster ship with a progressive mobile web app to push notifications to your audience's mobile phones, and a Lead & CRM mobile app to manage and communicate with your contacts on-the-go.
SeoToaster combines the strengths and features of proprietary solutions while enjoying all benefits of an open source framework, from reduced support costs to easy portability, unfettered flexibility and long term scalability. SeoSamba's proprietary process includes between 130 and 180 points to deliver high performance websites every time on SeoToaster or WordPress.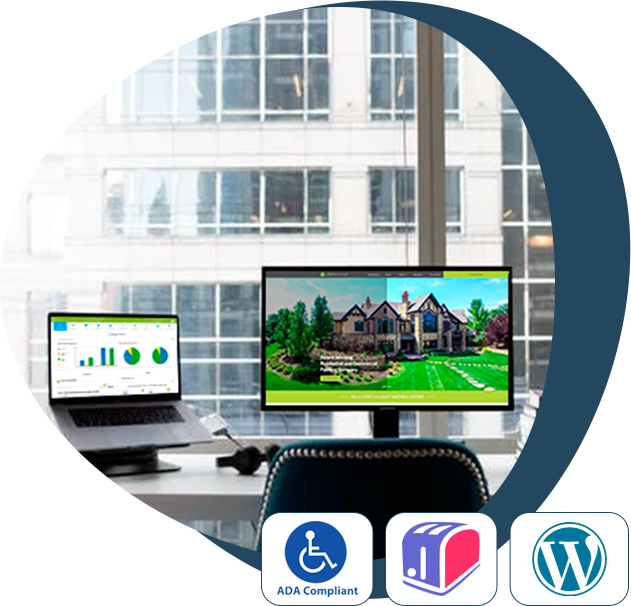 Improve user engagement and enforce full technical compliance across all platforms and devices.
Website positioning & strategy brief
Keyword research & analysis report
Original content development
Content & link building strategy
Site structure & website map strategy
SEO content writing guidelines
301 redirects implementation
Website theme build
Email template build
Form replies build
Templates optimization: Index/Categories/Products/Services
SEO implementation: URl, on-page variables, Meta Tags, Alt Tags, HTML & XML sitemap, deeplinks, RSS feeds, Web semantic objects, canonicalization & more...
W3C project delivery compliance report
Web analytics deployment
Social profile setup / deployment
Authorship setup/deployment
Local directory setup / deployment / optimization
Launch PR included
1 on 1 essential training session
Opt-in weekly group web training sessions
Geo-localization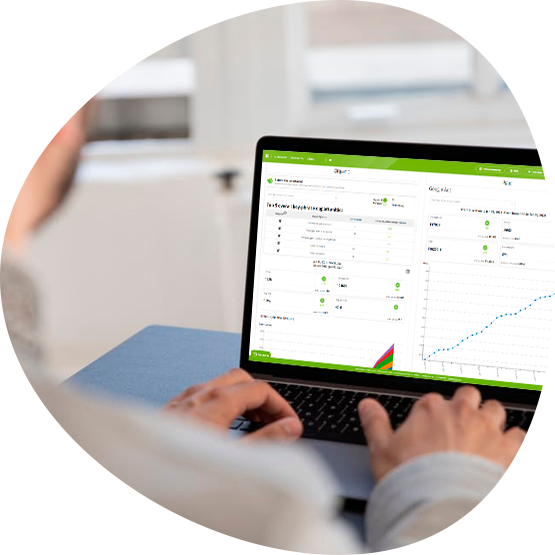 Managed SEO Services
Build up qualified traffic and improve conversions by leveraging SeoSamba's unique expertise and software
As you surely know, natural search engine rankings are the bread and butter of any successful online venture. Armed with the best SEO execution software to date, our team of experts can put you on top of your competition. 
SeoSamba managed services expert understands your business. Together, we will lay out realistic objectives, and help you design, implement and manage a successful natural search strategy. Once the in-bound links building campaign gets rolling, our expert works with you to strategize ongoing improvements to your website. As new tactics appear, our expert continuously helps you improve natural search rankings and respond to strategic evolutions and product-lines updates all year long.
So, what can you expect as part of your managed SEO program?
Keyword phrases selection and ongoing targeting adjustment
Local social media profiles or directory listings creation or optimization
Social updates for your corporate Facebook, Twitter, LinkedIn, and Google My Business profiles
Link building including blogger incentives payout, and content creation for off-site properties
Landing pages creation as needed
1 monthly or quarterly email report with analysis
Media opportunities monitoring and alerting
SEO Coaching and/or marketing leadership insights
And over 40 different activities (competitive monitoring, pr writing, blog writing, on-site schema integration....) from our bag of tricks applied as required and charged to your monthly allowance to get the most bang out of your SEO bucks