Centralized Franchisor Marketing Services Enablement
Ever wish you could provide central blogging support? Generate hyper-local newsletters for all your franchisees in a snap and at a fraction of the cost? Ensure on-message and adequat volume of social marketing activity? Have you ever wished all these marketing activities would not live in their own silos?
Do It Yourself, Do It For Me, but Do It With FMOS
SeoSamba's Franchise Marketing Operating System is a Plug & Play client-side system that help you satisfy your franchisees appetite for digital marketing support.

It works seamlessly across stakeholders. For instance post directly to all social accounts across your system, while making templates available to franchisees, so that they can in turn  post using them from their own desktop or Android or Iphone mobile apps. It works the same way for newsletters and blogging. You and your franchisees can also invite marketing service providers to the platform in order to provide content for your group. And if you wish, we can do it all for you through our white-gloves managed services.
Best of all, do all of this at a fraction of your current software cost.
Agency & Technology Agnostic System-wide KPI Reporting
Does it feel like the tail is wagging the dog? Have you ever started from scratch after switching marketing or website provider? Would you like to log into a single interface to compare performances regardless which marketing firm provides services to a particular franchisee? Would you like to enforce ADA compliance and SEO standards across your entire network of sites? Do you need help keeping your marketing providers accountable?
Standing on the Shoulders of Giants is the Way of Progress
SeoSamba's Franchise Marketing Operating System is a Plug & Play client-side system that let you compare marketing service provider performances. It also offers a baseline of shareable best practices that can be built upon, while providing continuous access to historical data regardless of changes in your future service provider lineup.
Flexible Distributed Marketing & Sales Toolset
Are you tired of assembling a hodgepodge of software solutions and trying to make them work for the distributed franchise model? Feeling the fatigue with technology providers who don't bridge gaps between each other's services? Do you need help charting a digital marketing roadmap for your brand?
Digital Marketing is Easy as π - FMOS Makes it Easy as Pie
SeoSamba's Franchise Marketing Operating System is a Plug & Play client-side system that meets you wherever you are. Deploy our nimble codes and steer your brand onto a new trajectory within 30 days while we are building together your digital roadmap.
Add High Performance ADA Compliant Brand Network Websites to FMOS anytime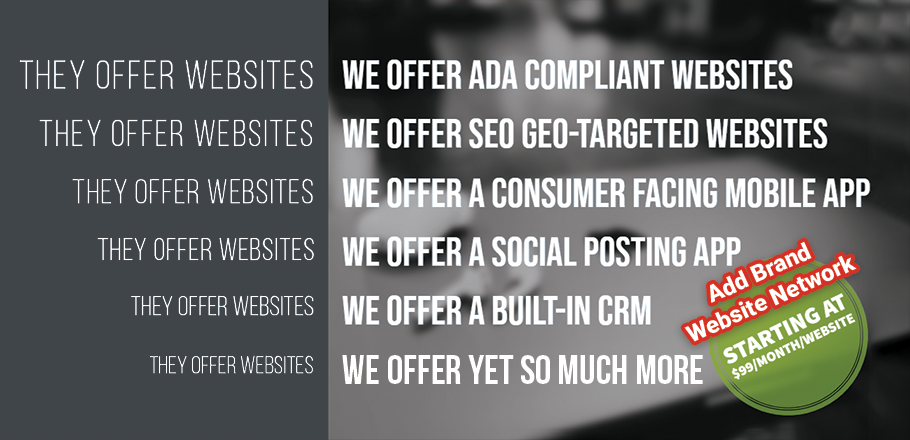 Protect your brand from lawsuits

SeoSamba build websites 
WCAG AA accessibility compliant
Add centralized or distributed CRM with sales automation to FMOS anytime