Deliver both immediate and exponential results
SeoSamba's franchise brand network marketing packages are designed to outperform local and national competitors in order to generate local leads for your franchisees.
 What can franchises do to offer state-of-the-art marketing programs that help them differentiate themselves from competing franchise brands? The short answer is that they can deliver a proven digital marketing platform that prolongs the brand's identity while helping franchisees competitively market their services in their regional locations.
 And that means selling more locally—that is, expanding franchisee's digital exposure and power to compete in local markets. Yet nearly a third of local franchisees surveyed by SeoSamba have no online presence on their franchisor's website, and nearly half of franchisees cannot blog or update news feeds on their local website.
More than generic marketing strategies that push the global brand, franchisees want their marketing fees spent on flexible digital programs to develop and manage their online presence at the local level, and deliver with clear, measurable benefits to their unit location.
SeoSamba provides the ideal solution for this endeavor—one that integrates execution and reporting tools. Out patent-pending "hub and spoke" technology, which takes group-marketing concepts and applies them to the online world, was built to maximize online results for franchises.
Deliver a state-of-the-art proven digital marketing program, one that prolong the brand's identity but also build unstoppable momentum up by playing on network's strength: Its number.
Offer a state-of-the-art brand marketing program that will help you differentiate from competing franchise brands; 
Help your franchisees market their services and locations, and cater to their various sophistication needs; 
Benefit also your franchise recruitment program as your network scales
The SeoSamba Difference
SeoSamba was built from the ground up to maximize results for networked organisations, and deliver benefits from group marketing concepts applied to the online world.
SeoSamba's exclusive, patent-pending 'hub & spoke' architecture is the only true distributed franchise marketing network technology that let you market your sites network like Wikipedia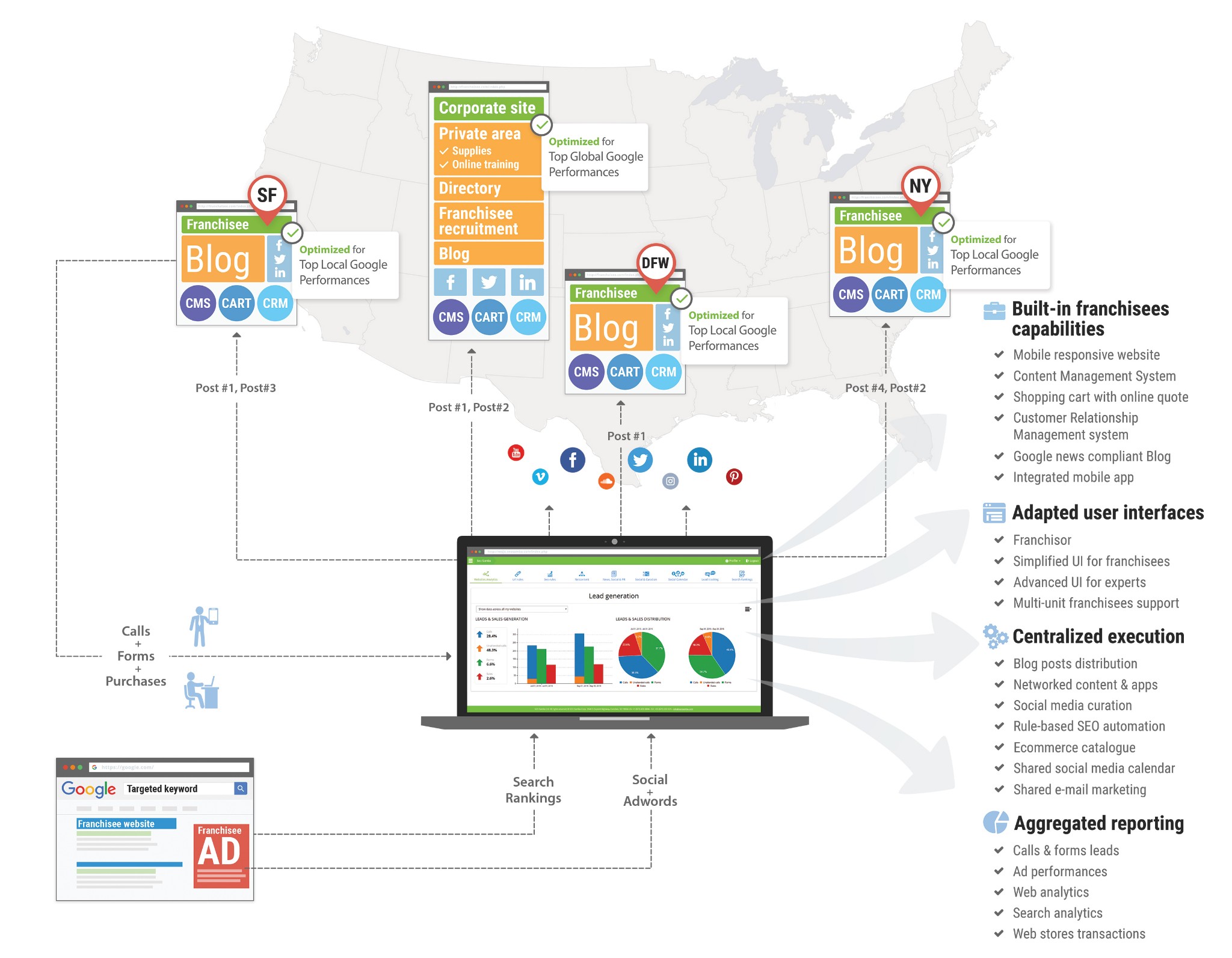 State of the art integrated marketing tools
Via a centralized marketing platform, franchisors can deploy and manage any number of local websites out-of-the-box. And franchisees receive customization features that maximize their exposure in local search engines, allowing them to outperform competitive local competitors.
With SeoSamba's digital marketing platform, franchisors will sell more locally by:
Managing the entire network with a centralized set of best practices;
Broadcasting locally targeted content with one click:

Post to blogs across your entire franchise network
Post social updates across your entire franchise local network's social walls and pages
Send email newsletters to local contacts stored in individual franchisees CRM's

Hosting websites near a franchisee's location while targeting local keywords and building geo-specific SEO rules
Continuously optimizing newly created content
This strategy allows franchisors to benefit from the incremental search engine rankings of each franchisee while generating an increased number of sales leads for local franchisees.
Meanwhile franchisees receive:
High performing, ecommerce-enabled websites
Built-in sales automation (email drip etc..)
Customer Relationship Management - CRM software
Integrated Franchisor and Franchisees blog distribution system and social marketing calendar
Integrated search ranking reporting
Integrated curation of social marketing content
Support also multi-unit franchisees by consolidating efforts across their units
These features and many others are monitored and managed on easy-to-use marketing dashboard, which provides proficiency metrics including phone calls, emails and leads. Additionally, the dashboard tracks all calls received from paid marketing campaigns, while graphs plot the progression of calls received. Other metrics aggregates total number of visits received by franchisee websites, and the progression compared to previous months. Additional metrics also provide the total number of brand impressions, including any time a franchisee website appears in the organic section of Google search result pages.

These and other features in our program amount to a surefire path toward success in the local market, the key to any successful franchise network. 
Turnkey Packages & pricing
Whether you're an established or emerging franchisor, you can instantly add a scalable high performance online marketing strategy to your arsenal with a turnkey package.  With SeoSamba digital marketing platforms, franchisors: 
Access consolidated predictable pricing, including any mix of provided and opt-in components;
Receive custom marketing material to introduce your digital marketing tools to potential franchisees.
Get supporting opertional documentation, and videos to include in your franchise operational manual. 
We also reach out to onboard your franchisees on your behalf and train them.
If you're a franchisee, and are interested in showing the path to your franchisor, consider enrolling in our traiblazer program. We'll work with you to achieve unarguable success in your local market so that you can share the recipe with your group and become a hero to both your franchisor and fellow franchisees.