All-in-one dashboard
Deploy SEO and linking strategies
Get real-time traffic and reputation alerts
Monitor and update your social networks
Publish blog posts and press releases
Powerful analytics
Multisites stats at a glance
Customizable dashboard, full-featured ecommerce and social data reports
On-demand white label for web agencies and SEO consultants
Multi-sites SEO automation
SeoSamba Marketing Operating System lets you manage search engine optimization across any number of websites through a single cloud-based interface.
Automate execution and reporting for SEO, social networking and online marketing across any number of websites through a centralized, multi-tenants, cloud-based interface.
Multi-sites SEO automation
Save time, money and aggravation
Devise and execute global SEO strategies fine-grained to single page level
Create any number of rules for URL's, meta-data, and content
Deploy SEO and linking strategies across websites in 1 click
Spend less time implementing and analyzing compliance for mundane technical tasks and spend more time on strategy and intelligent tasks.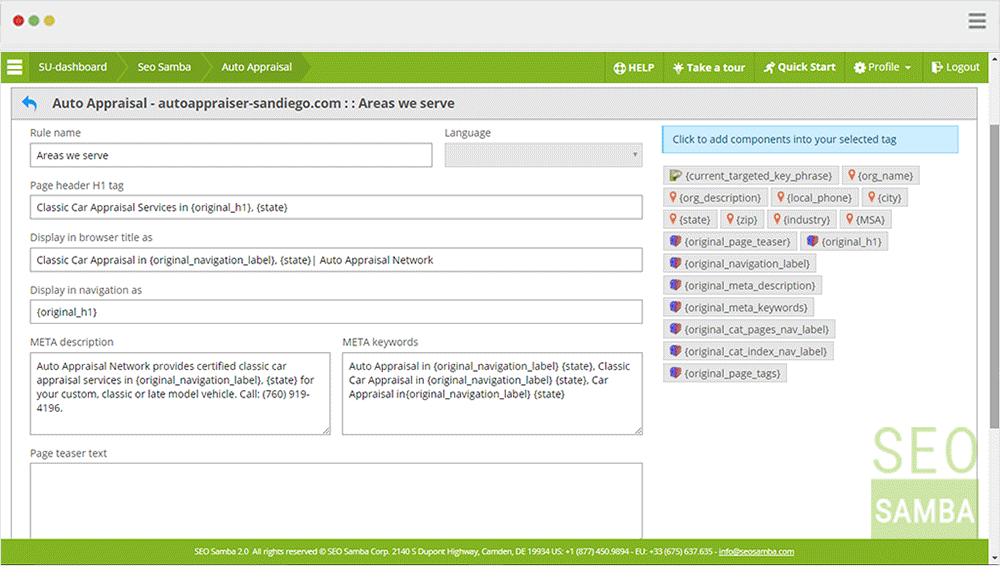 Accurate search rankings from Google
No need to create and manage key-phrases lists
Quick and simple: connect your Google Webmaster Tool account, and you're all set
Unlimited search ranking history database vs. Google Webmaster Tools 90 days limit
Top rankings, newly listed keywords, top 5 movers agreggated across 1 or more websites
All-in-one dashboard
Get the right blend for your marketing mix
SEO, assets, social network marketing, PR, voice and SMS all in one place
Whos' talking and what's linking?
Get real-time traffic and reputation alerts for all your websites and brands
Centralize real-time monitoring on your all-in-one dashboard for your web traffic, social activity, link graph and search engine rankings across all your web sites.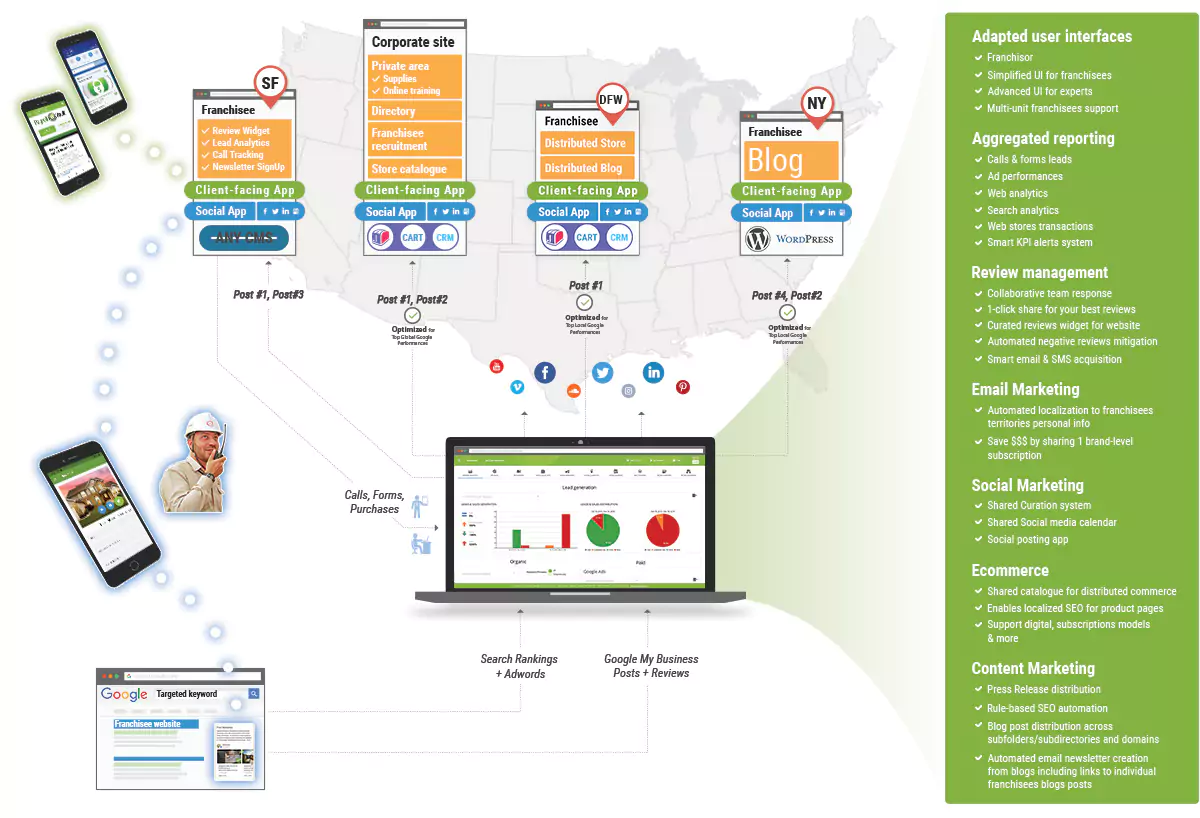 Get all your websites on the map
Supporting 9 languages and counting
Get listed on local maps, listings and directories
Instantly scalable local hosting deployment via our private cloud
Stiff local or international competition? Deploy your brands and points of presence web sites worldwide and dominate local search results thanks to uniquely localized content powered by our smart rule engine.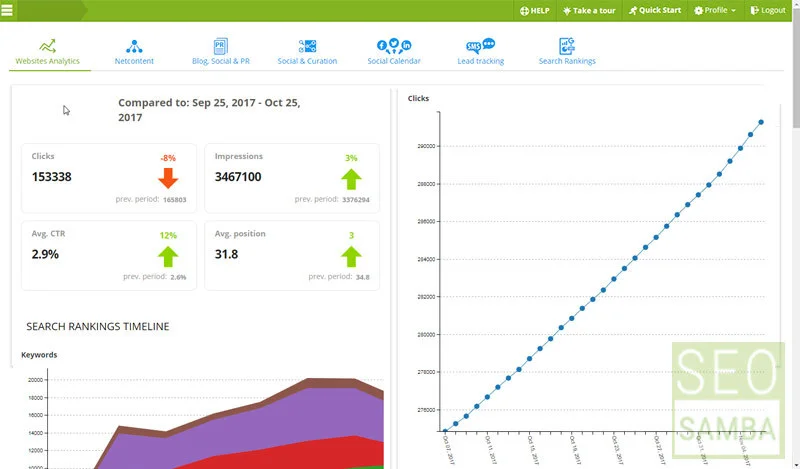 Powerful analytics
Web analytics is good, all-in-one integrated multi-sites analytics is better
Aggregated metrics for all your websites in one glance
See all stats that matter, user profiling and finetuned SEO reports
Customizable dashboard, full-featured ecommerce and social data reports
SeoSamba's analytics goes well beyond traditional web analytics, providing multisites stats at a glance, full ecommerce dashboard, deep SEO reports as well as social network analytics. All of it 100% customizable, plus on-demand white label for web agencies and SEO consultants.
Introducing SEO as a Service
Backup, versioning and reverse to original state
Test SEO guerilla tactics in stealth mode
Archive previous optimized versions of your website
Update and revert SEO strategies in one click
SeoSamba Marketing Operating System automatically saves optimized versions of your websites and let you go back in time to view and restore web pages previous SEO rules, attributes and content.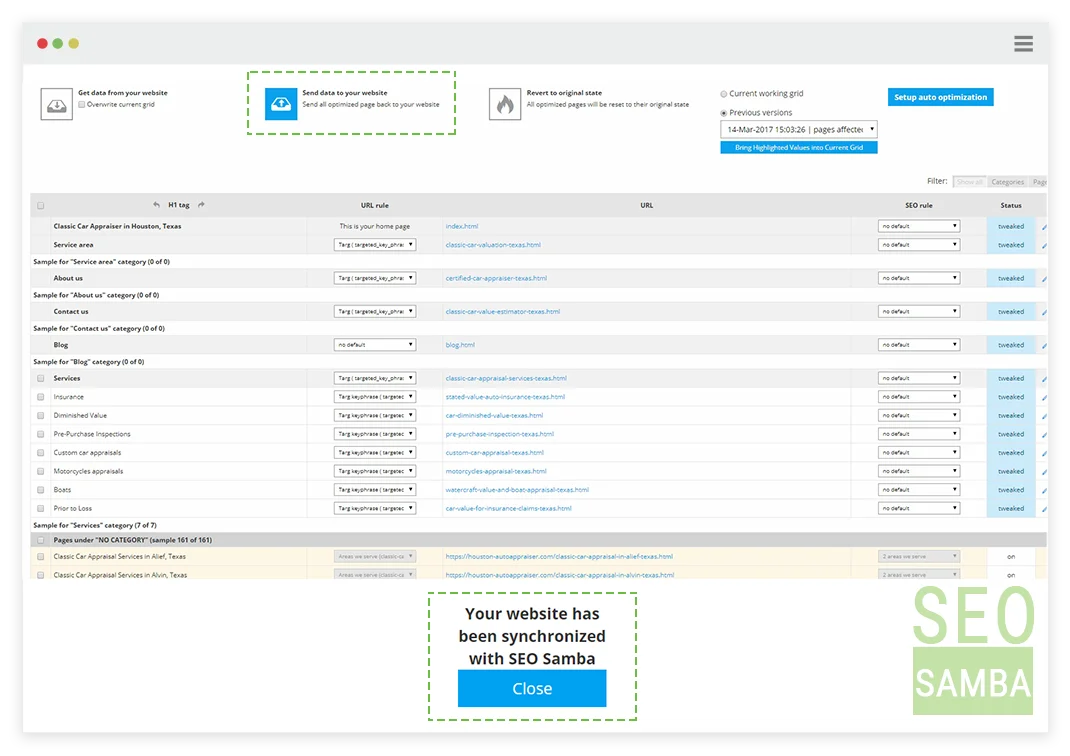 One solution to rule all your web marketing
One partner accountable for it all