Yext Alternative & Replacement
We have what you need. Make the switch to SeoSamba replacement service and you'll save money. You'll also own your own directory sites listings, and find yourself listed on the sites that really make a difference for your business
Ask Yourself Some Questions About Yext and Yext Support:
Do you want a solution that tackles the biggest pain points about Yext head on?
With Yext you have to put up with... Expensive, annual fees
Are the annual fees too expensive to justify the benefits? 
Do you fret about the annual fees that it takes just to keep your listings live? 
Every year you're made to pay hundreds of dollars to keep your listings live. Renting, and not owning
Is being locked out of your listings tiresome along with knowing you don't own them? 
Does it pain you to know that you have no say in selecting the sites you're listed on? 
You don't even get to own your listings, either. You're locked into a continuous renting cycle. No customization
Are you sick and tired of not being able to customize those listings? 
To top it off, you have no say in which sites you're listed on.
If the answers to any or all above is "Yes", it's time for a change!
SeoSamba has the perfect solution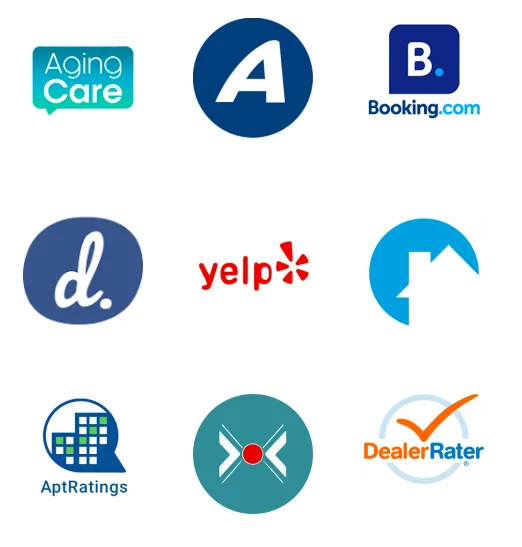 You can depend on the SeoSamba Yext Replacement Service to banish all of your Yext woes. Whether they center on issues that have to do with Yext location, Yext citations, or Yext support, our solution will make them go away. 
Here are some examples of what you get with SeoSamba and how we help you gain the control that you never had with your Yext pages:
Recurring fees are a thing of the past; we offer a simple, straightforward one-off expense.

You own your listings; no more pains with Yext local listings. You have all the login details at your fingertips.

You have all the power; enjoy full control of everything from business directory submissions to site placements. Your access to business listing sites includes all the top options related to your field or industry.

Greater affordability from the first moment on; enjoy ongoing savings from one year to the next.

And you can also combine citation building with our review monitoring service in one shot, respond, request and share your best reviews on your website.
How do you like the sound of that? If all this sounds great, keep reading. You'll learn what it will take to make the migration from Yext to SeoSamba.
You've Had It With Yext and Want Control of Your Local Listing Management
The first step is to cancel your Yext subscription. As part of the cancellation request, you ask for the release of all of your listings immediately. That includes all listings found on local listing directories, all US citations, and anything that is currently in place.
Visit SeoSamba and Sign Up for Our Local Business Listing Services

At the bottom of the sign up page, you will choose the ideal number of citations and listings to create and clean up for your business. You only will need to pay once for this.  At SeoSamba, we typically recommend a minimum of twenty-five manual citations.   

Select an Optional Review Monitoring & Management Subscription 

If you also need to manage reviews, combine both services by clicking here to sign up instead. Some of the directories you will select support reviews, in which case you will be able to monitor activity, display reviews on your websites, and direct customers to leave reviews on these sites. Simply select a proper reputation management subscription level for this service at the top of the sign up page, and scroll down to select a citation building package. Upgrade coverage later at any time as required.

Submit your Listings Information 

Choose the ideal sites/directories for your business, and begin to create citations using our simple form. It's easy to use, so you can develop citations with ease as we grouped directories in various business categories. You can use any data that was housed with Yext that you like. 

Now We Get to Work

Now that all the details are provided, our team of expert submissions professionals will start working. Soon, your directory listings will be ready for deployment. As part of the process, we audit the listings and ensure they are ready for public viewing. Any cleanup that's needed on the existing listings will be finished as well. And if you have opted for our review monitoring and management services, you can now respond, request and share your best reviews gathered across over 100 sites on your website.  
Local Citation Services and Our Yext Replacement Services Pricing
We understand that every business is unique. For that reason, we don't use pre-packaged solutions that could be used by any company. Instead, you decide which sites are the best places for listing your business.
Select an overall citation/directories count from our sign up page. You will then choose specific directories from your account: Simple as that!
FAQs About SeoSamba's Yext Replacement Services
How is your replacement service different from Yext?
The big differences is the way that we do business. With SeoSamba, you don't have to deal with:
expensive fees that are due annually. Unlike with the Yext revenue model, repeating fees is not part of our approach.
withhold ownership of your listings. They are never held for ransom; you have full access of every listing that we build on your behalf.
duplicate listings or other inaccuracies. We provide editing to correct inaccuracies, and ensure that duplicate listings go away.
generic packages that apply for all. We don't believe in "one size fits all" solutions. By proving you with full control, you get to make the choices of where your business is listed.
missing out on sites that fit into your niche and plans for consumer outreach. In fact, we'll help you find those sites as part of our service.
Which sites will be selected for my listings?
That's up to you. We have a core list of 100 sites, and you get to choose which ones work best for your purposes. Part of our support for citation submission does involve providing suggestions; you can accept them or reject them as you prefer.
Some of the sites that we tend to recommend include Google My Business, Glassdoor, Tripadvisor, Trustpilot, Yahoo, Yelp, and Yellowpages. We'll make suggestions based on your industry and the niche that you're seeking to fill.
Do I really need data aggregators and help with duplicate removal?
Yes. Opting to add data aggregators makes it possible to claim a number of key citations for local sites with ease. The removal of business local listing duplicates can help curry more favor with the major search engines. For these reasons, we recommend making the most of what our citation building service has to offer.
What happens if I need to change details about location?
Changing details is never an issue with us. Contact our support team to make any amendments that you need. There are no fees to worry about when you need to make updates or change the details about any location in a listing local or otherwise.
Ready to Make the Switch? Our SeoSamba Replacement Service is available in the following nations:
USA

United Kingdom

Australia

New Zealand

Canada

Ireland

Netherlands

Singapore

South Africa

Germany
Looking to make the switch?
Whether you need a fully managed service for twenty or more locations, or would like to know more about what we have to offer, our team is ready to help. Just fill out the form below and we'll be in touch.