Call & Lead Tracking Software
Track marketing campaigns and websites effectiveness
Great to track calls from brochures, TV, radio, web ads, or lead generating websites. SeoSamba's lead tracking solution is available to anyone. You don't even need a website, you just need a web browser to operate it.
Imagine for a moment having all your inbound sales lead generation activity available in one screen. Regardless of the number of websites you operate, or simultaneous marketing campaigns you run, all data is readily available at your fingertips.
Get local or toll-free phone numbers worldwide
Once you log in to your account, you can add, remove, and edit your lead-generating and geolocated phone numbers, quickly and easily .
Simply select the pre-purchased phone number to use, associate it with any existing business number - whether landline or cellphone - then apply your changes.
If SeoToaster CMS powers your website, you can even deploy that number to your websites in 1-click while your sales staff get SMS notifications anytime a contact is made via one of your website form.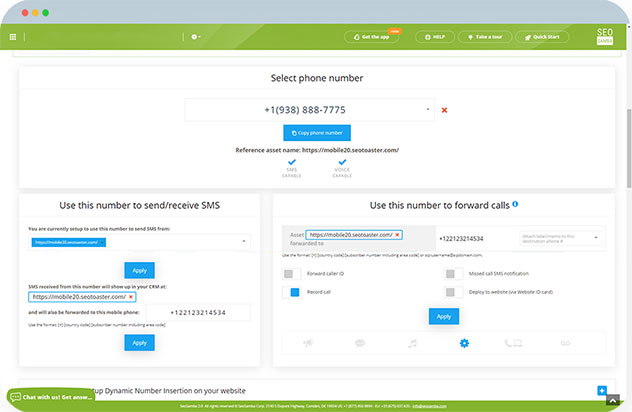 Phone calls, web leads and cart purchases on a single screen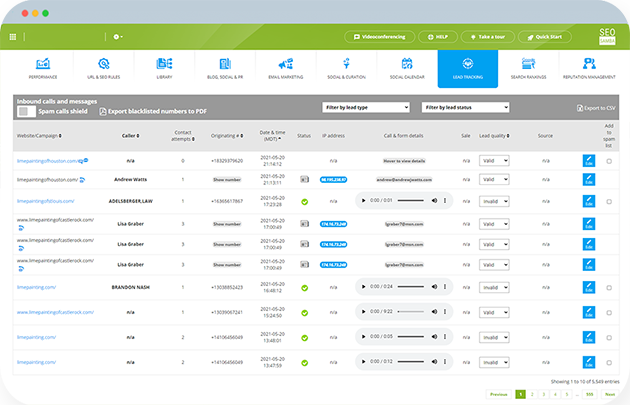 Thanks to SeoSamba's cloud platform, your lead tracking solution is available 24/7 from anywhere in the world.
Whether you are safely tucked in your New York office, on the road to an unexpected sales event or laying low on a sunny Florida beach, as long as you have internet you are able to track and review all phone calls that have been made on your SeoSamba phone number.
Every call made through your SeoSamba phone number is entirely recorded, while originating number, and geographic location is captured, so you can review them at your convenience.
Managers can easily monitor inbound support and sales call activity - both quantitatively and qualitatively - and take further actions to funnel prospects through your existing sales process or adjust marketing activities.
SeoSamba also log inbound web form contact messages and even purchases from your webstore.
Dynamic Number Insertion
Where do your customers come from? Which ads have worked the best? What keywords get the most clicks? Do keywords get better results in different regions? How great would it be if you knew the answers to these questions? Think of how much more effective your advertising could be and how much it would improve your ROI. With Dynamic Number Insertion from SeoSamba, you can actually achieve this. Dynamic Number Insertion Is a call tracking feature that assigns a unique phone number to different online sources where someone may find you, such as organic search, paid ad campaigns (Google, Facebook, Yahoo, etc.), or anywhere else your business has a presence online. The unique phone number assigned to the source on which the person found you sees that phone number displayed when they visit your website through that specific source, which is the phone number they would call you on.
Marketing consultants and agencies
Marketing agencies can white-label SeoSamba to manage multiple clients and campaigns with an agency account.
In addition, agencies can deploy innovative business models to differentiate and adapt to market opportunities. SeoSamba's flexible billing system let you charge customers per valid phone call, web forms, and eCommerce transactions thereby offering a comprehensive pay-per-lead solution.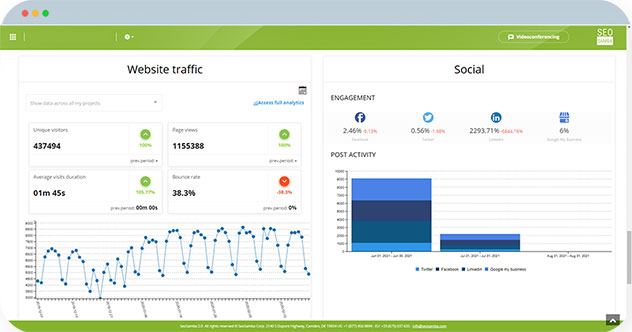 Discover  other SeoSamba Marketing Operating System  features Open a free account now