Call & Lead Tracking Software
Call & Lead Tracking Software
SeoSamba offers a versatile solution that combines call tracking capabilities with a powerful cloud phone system. With our platform, you can utilize our phone numbers to enhance your phone lines, enable text messaging, and effectively track the performance of your marketing campaigns.
Our local U.S. and UK phone numbers, which support text messaging, are available at just $5 per month. Communication costs may vary depending on recipient carriers and destinations, with rates starting at only $0.03 per minute and $0.03 per SMS.
Track marketing campaigns, lead generation efforts & websites effectiveness
SeoSamba offers a comprehensive lead tracking solution that enables you to track calls from various sources such as brochures, TV, radio, web ads, and lead generating websites. What's even better is that this solution is available to everyone, regardless of whether you have a website or not. All you need is a web browser to operate it.
Just imagine the convenience of having all your inbound sales lead generation activities consolidated on a single screen. Whether you manage multiple websites or run simultaneous marketing campaigns, you can easily access all the data you need at your fingertips.
SeoSamba's Call Tracking Software goes beyond just call tracking. It is a highly complete VoIP and lead tracking solution that offers features like Dynamic Number Insertion (DNI) with automated call conversion reporting to Google Ads, seamless implementation of call recording, voicemail, and text notifications. Moreover, it provides marketing attribution, sales intelligence, and grants access to other integrated SeoSamba tools, making it an invaluable asset for marketers, simplifying their daily tasks and enhancing efficiency.
Get local or toll-free phone numbers worldwide
Upon logging into your account, managing your lead-generating and geolocated phone numbers becomes effortless. With just a few simple steps, you can add, remove, or edit the numbers as needed.
The process is straightforward: choose the pre-purchased phone number you wish to use, and effortlessly link it with any existing business number, be it a landline or cellphone. Once you've made the necessary adjustments, save your changes.
If your website is powered by SeoToaster CMS, you'll have the added benefit of deploying the selected number to your websites with a single click. Additionally, your sales staff will receive SMS notifications whenever a contact is made through one of your website forms, ensuring prompt follow-up and engagement.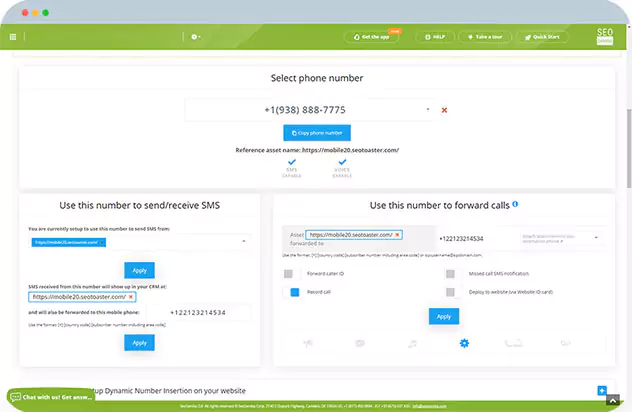 Phone calls, web leads and cart purchases on a single screen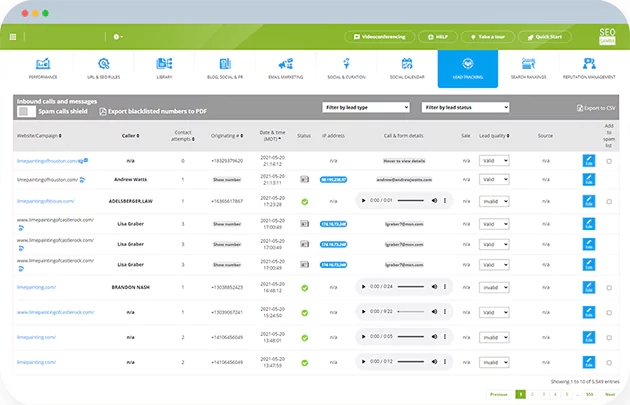 With SeoSamba's cloud platform, your lead tracking solution is accessible 24/7, no matter where you are in the world.
Whether you're working from your New York office, attending a spontaneous sales event on the road, or relaxing on a sunny Florida beach, as long as you have an internet connection, you can track and review all the phone calls made to your SeoSamba phone number.
Each call made through your SeoSamba phone number can be fully recorded, capturing the originating number and geographic location, allowing you to conveniently review them later.
Managers can easily monitor both the quantity and quality of inbound support and sales calls, enabling them to take appropriate actions to guide prospects through the sales process or make adjustments to marketing activities.
SeoSamba goes beyond just call tracking; it also logs inbound web form contact messages and tracks purchases made on your webstore, providing a comprehensive solution for managing customer interactions.
Call Tracking Dynamic Number Insertion 
Imagine having the ability to answer crucial questions about your customer base: Where do your customers originate from? Which ads have yielded the most success? What keywords generate the highest click-through rates?
Moreover, consider the potential impact on your advertising effectiveness and return on investment (ROI) if you possessed these insights. It would be truly invaluable, empowering you to optimize your advertising strategies and significantly enhance your overall results.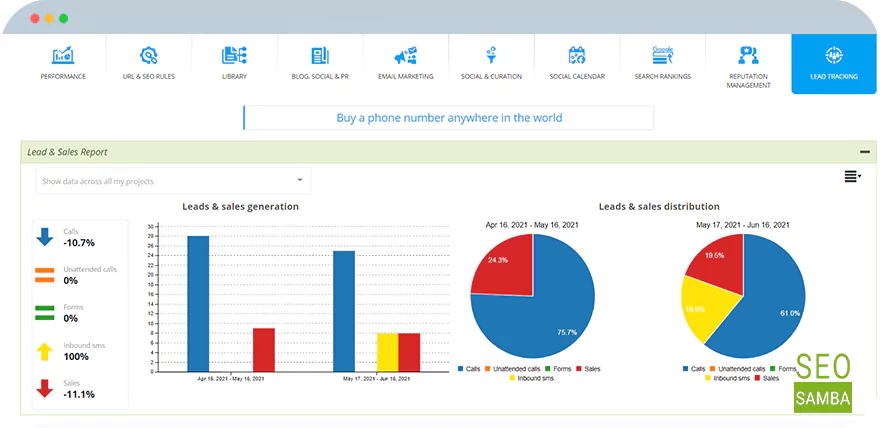 SeoSamba's Dynamic Number Insertion empowers you to make this a reality. This feature is designed for call tracking and assigns distinct phone numbers to various online sources where potential customers may discover your business. Whether it's through organic search, paid ad campaigns on platforms like Google, Facebook, Yahoo, or any other online presence your business has, each source receives a unique phone number. When visitors land on your website through a specific source, they see and can use the corresponding phone number to reach out to you.
With SeoSamba, you have the ability to utilize dynamically generated tracking numbers that replace your business number on your website. This enables you to gain valuable insights into the specific keywords, ads, ad groups, and campaigns that are driving call conversions. What's even better is that SeoSamba takes care of verifying the correct implementation of your Dynamic Number Insertion (DNI) code on your website, making it an ideal feature for marketing, web agencies or anyone with a lots of phone numbers to track. Discover more about our white-label partner program and its benefits!
As AI algorithms continue to play a larger role in managing ad campaigns, SeoSamba takes it a step further by directly reporting call conversions to Google. In fact, you can even create these call conversions conveniently from your SeoSamba dashboard, streamlining your workflow and simplifying your life.

Marketing consultants, agencies & lead generation providers
SeoSamba offers marketing agencies the ability to white-label the SeoSamba's Marketing Operating System and Website Builder, cart and Customer Relationship Management System, allowing them to efficiently manage multiple clients and campaigns through an agency account.
Moreover, agencies can utilize SeoSamba to deploy innovative business models, enabling them to differentiate themselves and adapt to various market opportunities. With SeoSamba's flexible billing system, agencies can charge customers based on valid phone calls, web forms, and eCommerce transactions, providing a comprehensive pay-per-lead and pay-for-performance SEO solution.