Faster production with better marketing results
Lower costs and reduced customer churn
SeoSamba's automated marketing framework— with a software suite that includes SeoSamba Marketing Operating System, SeoToaster CMS, E-commerce and CRM — offers the most comprehensive feature set from a single vendor in today's marketplace.
Rather than just report, like most other digital marketing tools, SeoSamba boasts automated execution features that deliver marketing results your market craves at a lower production cost that your financial controller will love.
A Website builder, shopping cart, and CRM all-in-one
Natively blending all components of successful Internet presence, our integrated website builder/Cart/Customer Relationship Management system SeoToaster allows our private-label partners to focus on sales instead of implementation and quickly deliver marketing results with less effort.
SeoToaster includes natively many more safeguards and features than commonly found in website builders.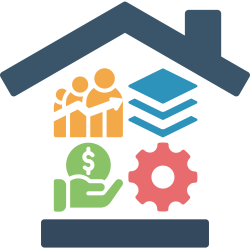 We've also attached a particular importance to the quality of the code generated by objects, plug-ins and widgets. As a result, standardizing on SeoToaster for delivering websites and webstores considerably reduces operational costs and increase client satisfaction by avoiding errors and omissions.
The software provides:
Built-in Blog, Membership system, Directory system, Shopping Cart, and CRM 
Rapid Development wireframe Flexkit: normalization and speed
Native mobile responsive development wireframe
W3C compliant code generating framework
Built-in semantic Search Engine Optimization objects
Built-in 5x Content Delivery Network parralel technology
Automated 301 redirection creation
Automated protection against image deletion
Hundreds of merchandising functionalities 
Customer service features include support stickies and screencasts
These automated features make your operations more profitable without any intervention on your part, and provide your clients a solid foundation for  online success.
Marketing service delivery and reporting
Private-label partners can connect their Google Webmasters Tools, Doubleclick for Publishers, Adwords accounts to automate execution and campaigns reporting within their clients interfaces. Scale is also a major feature. Private-label partners can scale their services to any number of clients and any-size websites through a centralized, cloud-based interface.
And while standard software is limited, SeoSamba allows you to benchmark optimization, and monitor performances automatically across all digital initiatives including Inbound forms and calls, PPC campaigns, Social Marketing, Search rankings, website traffic and client engagement using configurable threshold and your own set of Key Performance Indicators. SeoSamba then alerts your staff before churn starts creeping in.
Social marketing
In a globalized world, social community management is no longer optional—it's imperative. SeoSamba allows media companies to receive a higher return on social marketing by consolidating all social accounts under one roof. Fire posts at will to all your accounts, and monitor your competition with our automated features, which also allow you to leverage a powerful social posts scheduler. Additionally our services allow you to:
Streamline your social strategies
Publish messages automatically to social networks
Schedule tweets, Facebook and LinkedIn posts across all social accounts
Curate news and blog feeds to cater fresh content to your social audience
Automated SEO
Many digital marketing companies promise out-of- the-box search engine optimization, but clients rarely see the benefits in terms of search engine rankings. At SeoSamba we optimize global SEO rules and best practices that go well beyond filling pre-formatted meta tags.
While other marketing solutions merely recommend best practices, our marketing automation software, SeoSamba Marketing Operating System, delivers unlimited combinations of automated SEO strategies. SeoSamba optimizes sites automatically for Google best performance every time users create or update content on their site, upload updated sitemaps to Google, set optimizations rules, and let you restore previous SEO versions of websites. 
Execute white hat SEO across countless websites:
Create and apply URLs and SEO rules in a few clicks industry by industry
Refine manually at will down to the page level
Implement, change or reverse optimization across thousand of items with one click
Dominate local search results, including with our geo-located cloud infrastructure hosting
Optimize online stores for search engines
Customize SEO rules for news posts and e-commerce products
Compliant with Google News and Yahoo News technical requirements
Once your SEO strategies are in place, your trained service organization, or SeoSamba's experts SEO support staff, can customize any page on individual websites, thus providing limitless search engine position possibilities.