Hub & Spoke architecture offers unmatched resilience and scalability
Hiring a web-consulting firm to build a digital marketing platform often proves costly, and it rarely guarantees results. Employing in-house developers, also an expensive endeavor, often results in convoluted systems that prove hard to scale.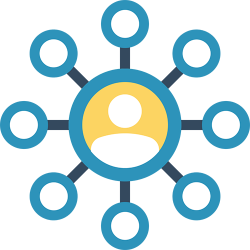 SeoSamba's digital marketing software, however, built around a hybrid hub-and-spoke framework, offers our private-label partners unmatched flexibility and scaling at cost-efficient pricing. With our software, SeoSamba-powered websites act as spokes, while our marketing platform serves as the hub that connects the sites together with centralized execution.
Our centralized execution hub offers:
Blog posts distribution
Networked content and apps
Social media curation
Rule-based URL and SEO automation
Ecommerce catalogues
Shared social media calendars
Our white label software allows media organizations to easily build platforms from the ground up. Yet its greatest benefit might be is scalability. Functioning equally well with two or 2,000 clients, our software enables multi-site marketing at all levels, from SEO performance to email marketing to press release, and phone and SMS marketing.
Use our software to:
Easily create any number of networked widgets from our dashboard
Create and distribute content across networks
Edit content across all websites
Broadcast news to all sites and associated social media accounts
Deploy real-time analytics code automatically
Aggregated view of entire traffic portfolio
Media groups can develop their own macro strategies while ensuring control over the micro, individual client level. And since our technology mimics the power of group purchasing, it proves increasingly effective as media outlets' clientele grows, as cost-saving features are passed on to their clients.
And our comprehensive dashboard offers real-time analytics, which allows media groups to take the pulse of their entire network at a glance and monitor visitor and traffic details.
Additionally, our automated reporting emails also monitor:
Calls and forms leads
Ad performances
Web analytics
Search analytics
Web store transactions