SeoSamba Software Overview
All-in-one white label online marketing solution
Multi-sites web analytics, SEO and social execution
Integrated white-label CMS & ecommerce front-end
SeoSamba was created over ten years ago by search engine optimization and information technology industry veterans who recognized the need for a scalable and automated SEO service platform in a rapidly maturing industry that thrives on the ever-increasing success of search engines.

Since then, the platform has evoluted to become a full-fledge online marketing platform integrating automated SEO, content marketing, PR & News distribution, social media and voice/SMS marketing.
---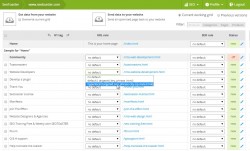 SeoSamba's online marketing platform SambaSaaS is driven by a powerful multi-sites SEO automation engine, the only software on the market able to optimize thousands of pages and entire line of products across any number of websites, on the fly and within minutes.
Not only this can save countless hours of tedious work and untold amount of unnecessary expenses in handmade SEO efforts, but it also leverages the most cost effective marketing technique of this age: natural search engine listings.
The Optimization tools integrated by SeoSamba do not stop at analysis and recommendations like other software does. It goes well beyond by executing those recommendations and optimizing hundreds of SEO paramaters with a few clicks, effectively turning entire websites in collections of highly effective landing pages.
---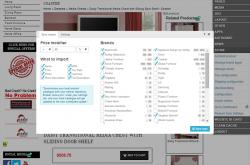 Each website is created, managed and updated through the open source CMS and Ecommerce software SeoToaster, a user-friendly content management system allowing inline WYSIWYG editing and full customization from core source code to front-end widgets.
For instance, in a multi-location business type of situation, individual locations or franchisees can benefit from the centralized automated SEO best practices, all the while customizing their own geolocalized SEO to maximize their presence in local search engines and resources.
And it also works when selling goods online thanks to our integrated shopping cart. Each location can also customize their offering by selecting which products and services they wish to carry within the centralized ecommerce catalog managed by the manufacturer, parent distributor or franchise owner.
---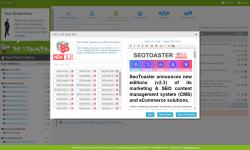 For content marketing, the News & PR module lets users easily create blogs posts, news and press releases that can be deployed on one or all SeoToaster-powered websites.
In addition, even non-SeoToaster sites can benefit from the Newsblaster service that distributes press releases to over 50 partnering syndication networks, and thousands of news publishers, local resources and specialized blogs. 
---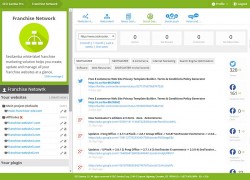 The brand new Social Dashboard lets you follow all interactions across all registered social accounts in one glimpse, while the Social Push tool gets short messages and updates propagated across all social networks in just a couple of clicks.
The Netcontent widget lets you push all types of content to all connected websites: P2P content and media, Call to Actions, cloud-based apps such as online chat and co-browsing, brand boilerplates, online forms or even entire Q&A sections, again in only few clicks.
---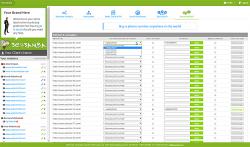 The lead tracking SMS and Voice cloud communication service integrated within SeoSamba's online marketing platform allows website owners to track incoming leads, be they phone calls or emails.
All calls are recorded and can be flagged to allow easy follow-up from the sales department, optimize conversions and further emphasize geolocalized SEO efforts, all for very reasonable setup and communication costs.
---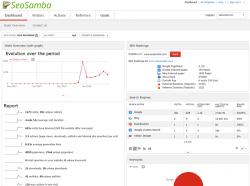 Web Analytics provide traffic data for one or multiple websites in one glance, with extensive analytics dashboards available with a single click for any given website.
SeoSamba also provides customized search engine reports, news and press releases PDF, and in-depth user profile data that can be used for email marketing, remarketing and ecommerce promotion purposes.