Top 100 Retail Franchises Digital Marketing Report 2016

With over 100,000 franchise establishments in the U.S. - and 60,000 retail food venues - the products and services retail sector is a force to be reckoned with in the domestic market.

Meanwhile e-commerce keeps growing at a double-digit rate and 80% of smartphone owners use their device to shop both virtually and physically.
What is the state of digital marketing for franchising retail brands? What solutions in each area, how do you compare to the best performing brands, and what competitive edge can you gain from this knowledge?
In this exclusive report, SeoSamba analyzes the latest trends, strategies, and challenges of digital marketing for franchising leaders of the retail products and services market. 

How good are retail franchises at online marketing in 2016?
Retail franchises have commonly adopted a pure-play model where franchisees locally handle all physical sales, while franchisors retain exclusive control of other distribution channels including wholesale, mail-in orders, and e-commerce.
But this balance of power has been disrupted as new and highly tech-savvy consuming habits emerge, while both the overall online brand experience (reputation, reviews, social networks, mobile-friendliness...), and online visibility in local listings increasingly impacting the overall franchise success.
Experiencing the adverse effects of franchisees' expectations vs franchise capabilities (read more in our article The Elephant in the Franchise Digital Marketing Room), retail franchisors also face additionnal and specific commercial, legal, and technical challenges when engaging in e-commerce distribution.
Compared to Business Services Franchises, e-commerce-enabled retail franchisors must solve much more complex business equations, such as choosing an online selling model which will prove beneficial for franchisees, avoiding potential local competitive legal issues, and of course implementing a network-wide e-commerce solution that can make it all work.
We've taken a close look at Top 100 Retail Franchises as well as their local franchisees to see how they fare in terms of digital marketing including e-commerce, content, SEO, localization, social media, analytics, and mobile.
Franchise Marketing Report Key Findings (extract)
Over 3/4 of Top 100 Retail Franchises don't blog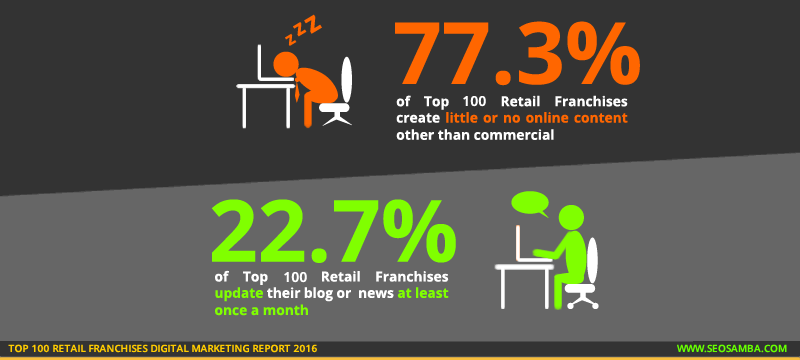 75% of Top 100 Retail Franchises have a news & blog platform in place on their global brand site, which allows them to publish corporate news and potentially interesting posts for visitors, customers and franchisees.
But among those, less than a quarter of those have actually been updated at least once a month, highlighting a major hurdle to increasing organic web traffic, improvning search rankings and expanding social audience.
1/3 of retail franchisees are not featured on franchisor's website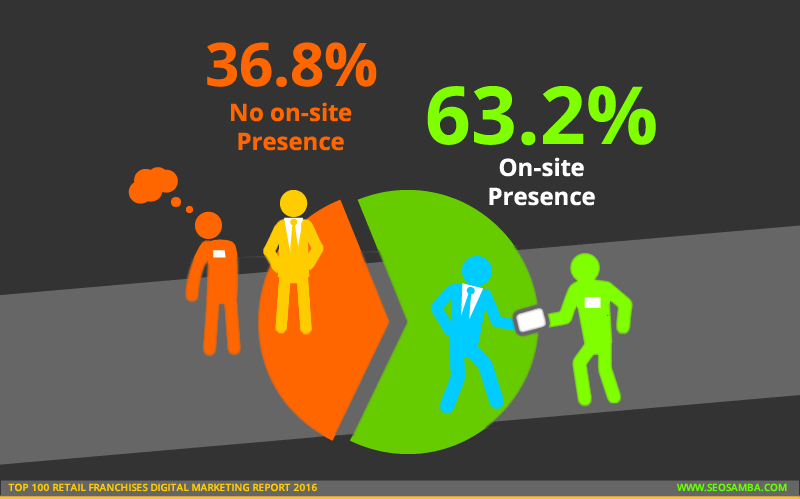 63.2% of the Top 100 Business Services Franchises do provide some kind of online presence for their franchisees.
This means that any franchisee is getting online exposure, and that its location can be found either through a map, a zip code locator, a simple list, or better yet directly from search engines listings.

For local retail franchisees, online perks are less dependent on franchisor size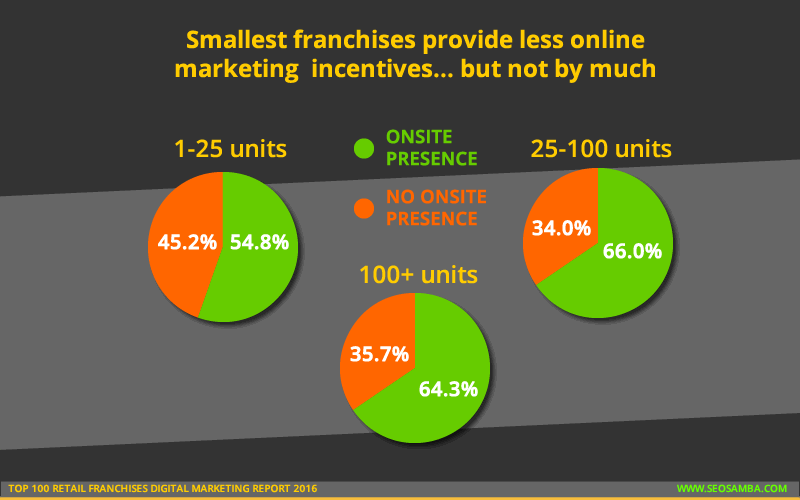 Contrary to Top 250 Business Services Franchises, the amount of online visibility offered to retail franchisees by Top 100 Retail Franchises is hardly correlated to the overall number of units within the franchise.
A little over half of smaller franchises (1 to 25 units) provide an online presence, versus two thirds of the bigger franchise networks, a much smaller difference than for business services franchises.
The pie chart below sums up the challenges of scaling a franchise retail brand, with 58% of the Top 100 franchising retail brands counting less than 100 units in 2015.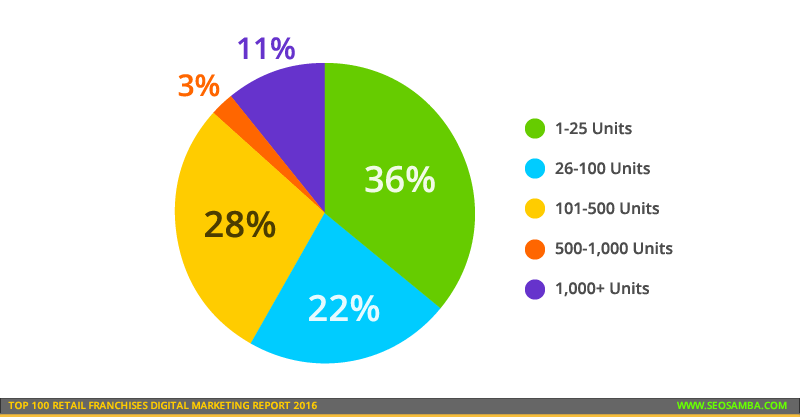 Many Top 100 Retail Franchises don't share online catalogs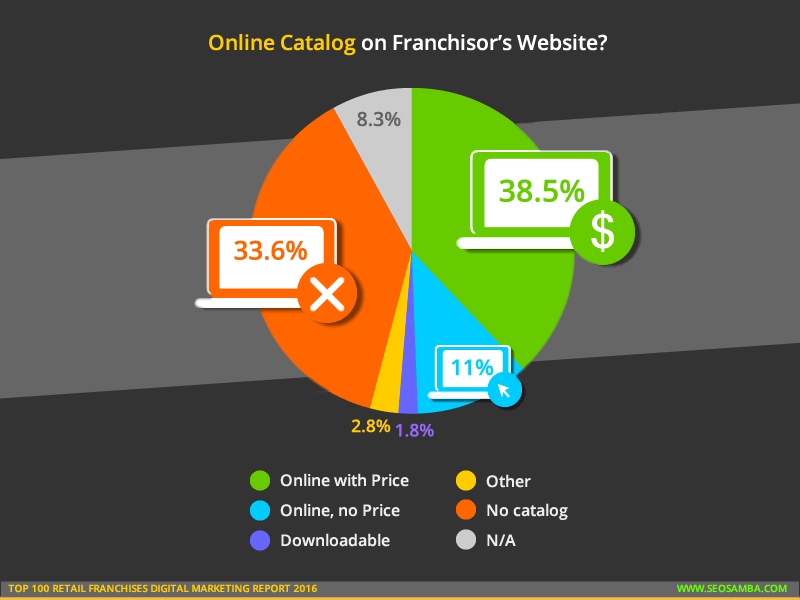 A little over half of Top 100 Retail Franchises (54.1%) actually present their catalog of products or services in digital format on their main website.
Half of those do not indicate prices, are just digital versions of print catalog, or merely list partner brands and product/service categories.
Over half of Top 100 Retail Franchises bypass e-commerce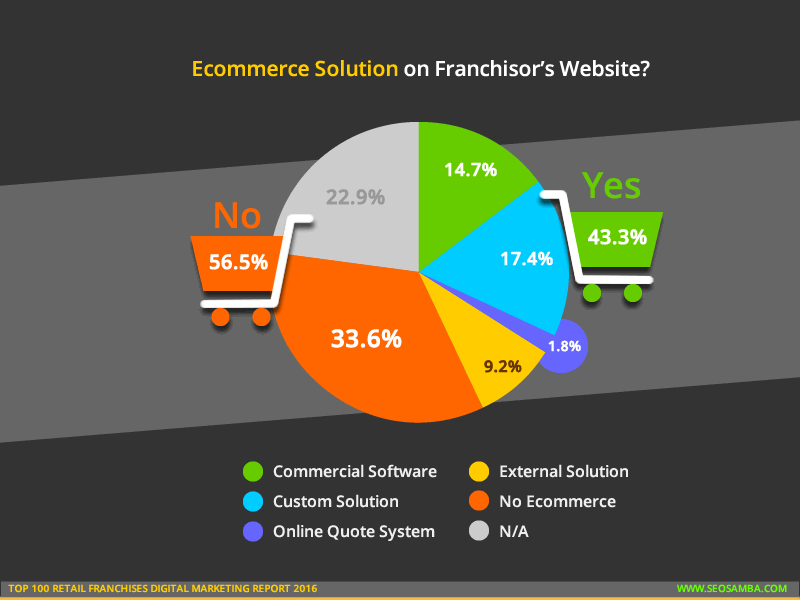 43.3% of Top 100 Retail Franchises feature e-commerce capabilities on their main franchisor website.
14.7% use a proprietary (Magento, Prestashop, Volusion...) or open source (WooCommerce, SeoToaster...) e-commerce software, while 17.4% have implemented custom e-commerce solutions.
Over 1/3 of Top 100 Retail Franchises scorn mobile users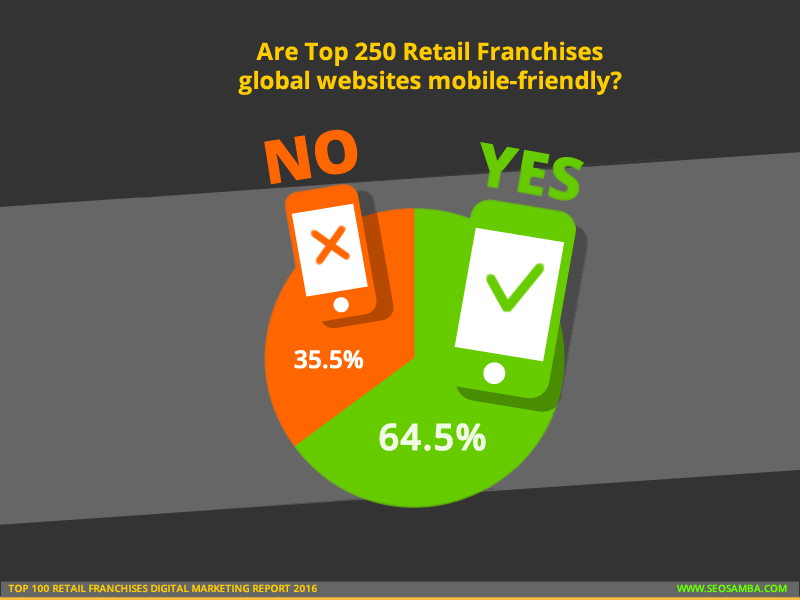 64.5% of the Top 100 Retail Franchises are mobile-friendly according to the Google Mobile-Friendly Website Test, meaning that 35.5% of Top 100 Retail Franchises fail to be mobile-friendly.
Theoretically more concerned than Business Services franchisors by mobile marketing, Top 100 Retail Franchises ae in fact less proactive in this domain with a distressing proportion of non-compliant websites.
Top 100 Retail Franchises massively absent from LinkedIn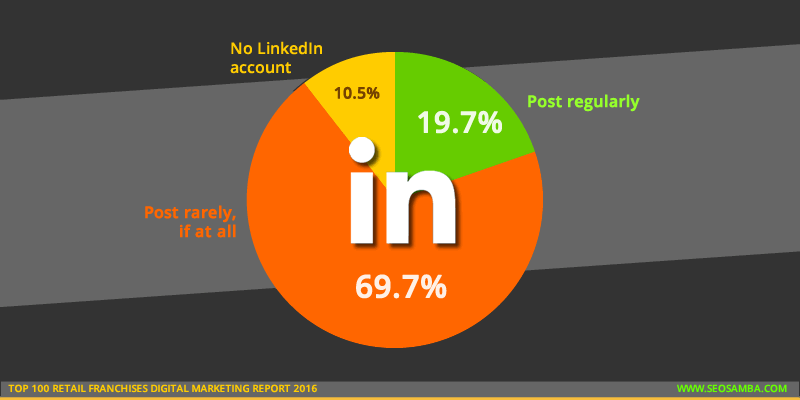 A mere 19.7% of Top 100 Retail Franchises is regularly posting messages and updates on LinkedIn.
Of the remaining 80.3%, most leading retail franchisors have opened accounts on the business-oriented social network but let it sit idle with little or no activity.
Download your Top 100 Retail Franchises Digital Marketing Performance Report 2016 for FREE
Thanks for reading this summary.
To uncover more data, stats and findings as well as our analysis of how these facts impact the overall online strategies of leading franchisors, please click the button to download for FREE the full version (PDF) of our Top 100 Retail Franchises Digital Marketing Performance Report 2016.