Showcase Google and Facebook Reviews in a List Format
Get a complimentary review widget for your website to instill confidence in your business.
Gather customer testimonials from Google and Facebook, and exhibit your top-notch reviews directly on your website, free.
Utilize this widget variation to showcase reviews in a list format, or choose from the assortment of presentation options that come with your complimentary widget.
SeoSamba offers a free widget that enables you to amass and showcase Facebook and Google reviews from your customers on your website. Our widget retrieves reviews from your Google My Business and Facebook page, automatically updating your website whenever you receive a new four or five-star review. Additionally, you have the ability to hand-pick or dismiss reviews and control the visibility of comment threads to uphold your reputation.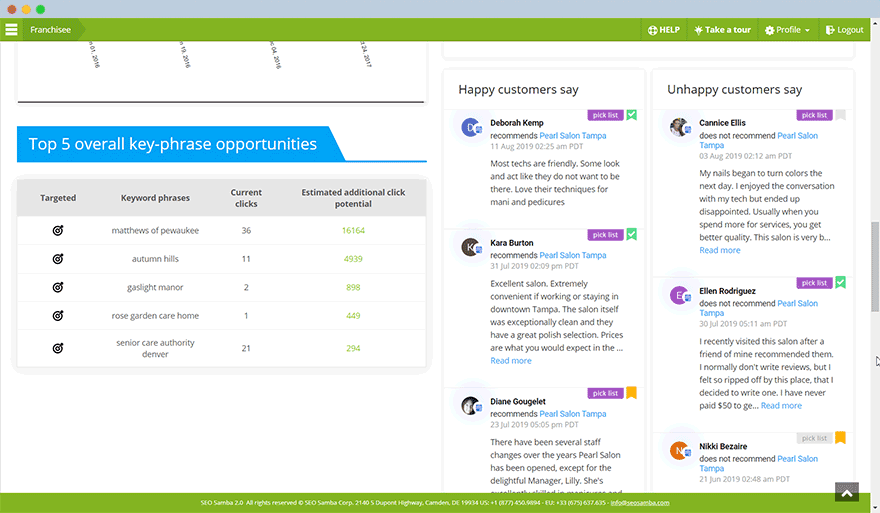 You have the freedom to generate an unlimited number of widgets for various websites and businesses, can modify review widget display option at will without having to regenerate and redeploy the widget, all free of charge.
All your reviews are conveniently consolidated into a single dashboard within your SeoSamba account. Respond to reviews left by your customers on Google and Facebook directly from your account. Incorporate a review button to collect reviews from your website, email, text messages, and more. When customers intend to leave a positive review, they are directed to your Google or Facebook page, whereas those expressing dissatisfaction are directed to a customizable landing page, enabling them to send a message to you.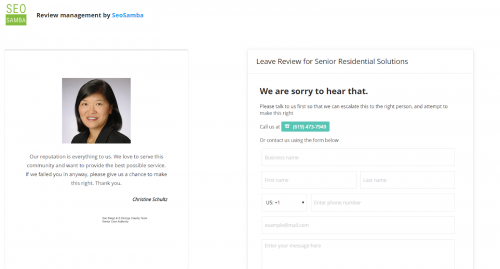 Manage your reputation for 1 or a 1000 locations
Automate reviews gathering with Email/SMS sequences straight from your CRM or adopt our free and open source CRM: SeoToaster CRM Ultimate.
Appeal to customers prior than them leaving negative feedback thanks to our offline capture system.
Highlights raving and satisfactorily handled reviews for inclusion on your websites
Share your best reviews on your social calendar in 1 click, and spread the good word to Twitter, Facebook, LinkedIn and highlight your best review on your Google My Business profile.
Works with any website, Wix, Wordpress, etc.. with a HTML embed, no plugin required.