CRM , Sales and Marketing automation for Small Business
Get an InfusionSoft migration quote
Open your horizon with a SeoSamba demo
Quick access

 

SeoSamba and Infusionsoft have waged a battle in the marketing automation industry. While Infusionsoft remains a top choice, over the years SeoSamba has continuously updated its comprehensive list of features to become the all-in-one solution for businesses.

SeoSamba's SeoToaster + SambaSaaS can generate SEO-optimized landing pages, multi-site analytics, shopping carts, blog systems, social media marketing calendars and a lot more! It's also packed with cutting-edge CRM tools that are guaranteed to improve your business results.

So, Infusionsoft is one of the most popular marketing automation softwares to date, but can it top SeoSamba? Here's our take on how SeoSamba fares.
1. CRM
Covering All the Bases
SeoToaster's CRM is the latest addition to the SeoSamba hub-and-spoke marketing suite.  It consolidates all contact information activity including website visits,  sales contacts, emails, and phone calls.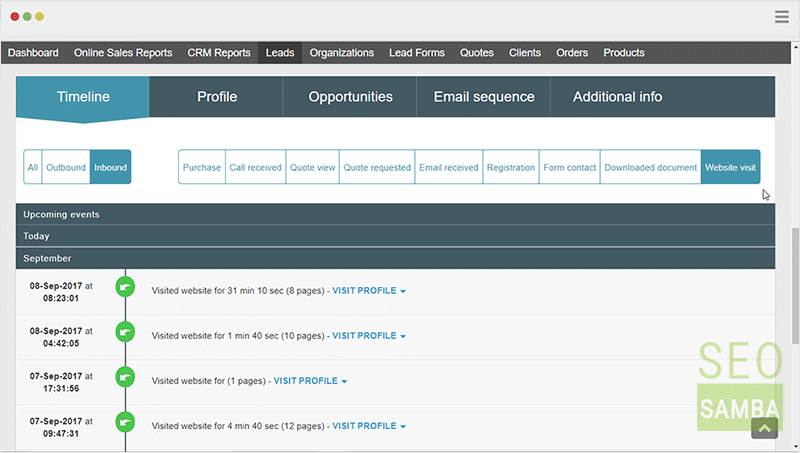 Easily Generating More Leads 
Businesses can create and deploy web forms on any website to harvest leads, and deploy a simple Javascript snippet (like Google Analytics) to bring your leads' web browsing activities inside your timeline. SeoSamba's CRM automatically tracks PPC ad campaign sources, names and keyphrases when you use Google Adwords defaults.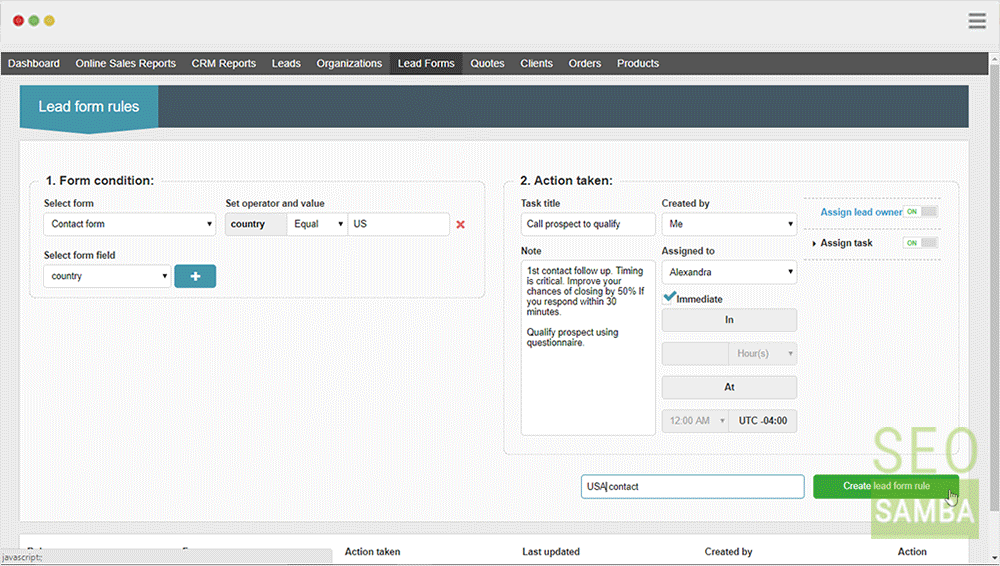 The CRM also comes with its own landing page builder with pre-built landing pages to quickly launch marketing campaigns for products, services, events, and e-books. It goes well-beyond simple landing pages, since you can build full-fledge websites and web stores (read more about this part in the Content Management System section).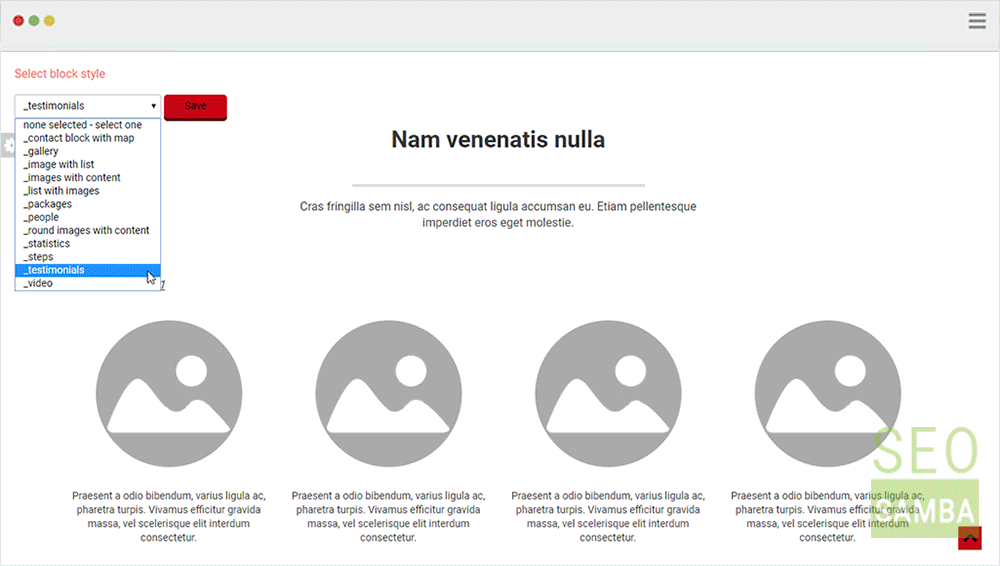 Following Up More Efficiently
SeoSamba's CRM includes sales follow-up email templates that businesses can easily edit from their web browser. Your emails can include video, pictures, or text. There is no limit.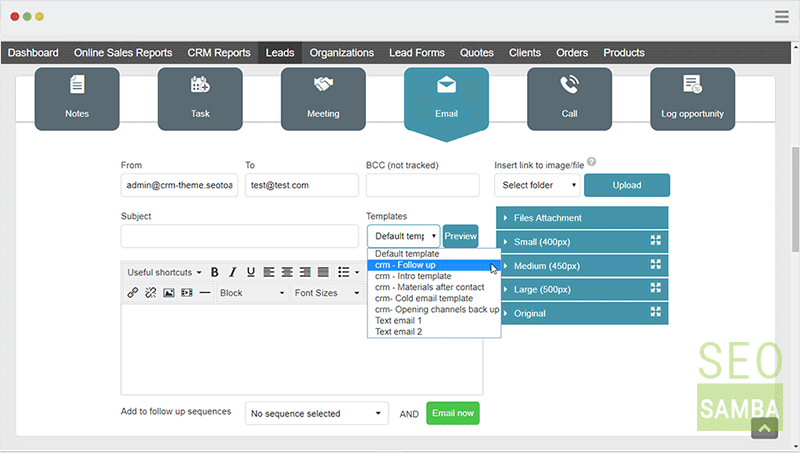 SeoSamba's CRM also lets you build email sequences based on shopping cart content or lead statuses. It ships with default, built-in email sequences for quote lead follow-ups, quote follow-ups, and post purchase follow-ups. Again, there is no limit to what your email can include. Email sequences can be specific to products and services that your leads are interested in.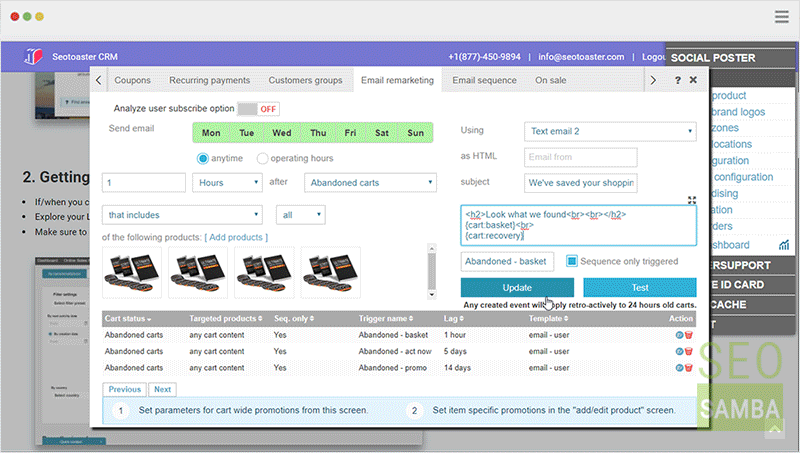 The CRM also includes lead tracking software that can monitor leads generated from online content, ads, social media or SMS. 
And here is the best part: SeoSamba comes with geo-located and toll-free SeoSamba tracking phone numbers. This lets you SMS or call clients from anywhere in the world, for as little as 3 cents per minute. That's correct: there's no need to change phone providers! With a SeoSamba phone number and an internet access, you can make inbound and outbound phone calls. Each call is tracked and recorded so you can easily review the calls you or your sales team make.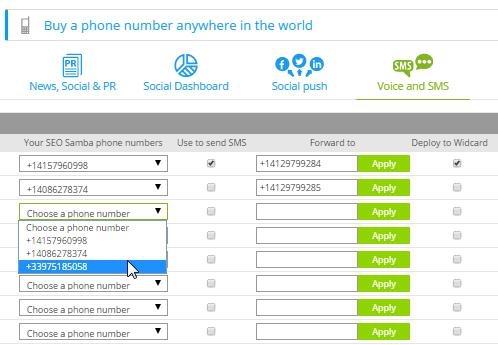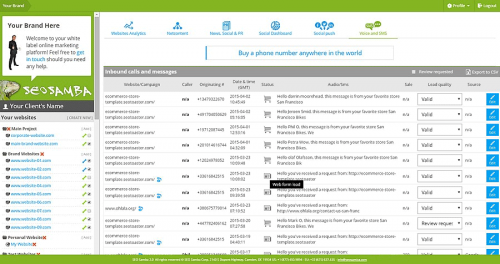 SeoToaster CRM can even connect with 500+ applications through Zapier.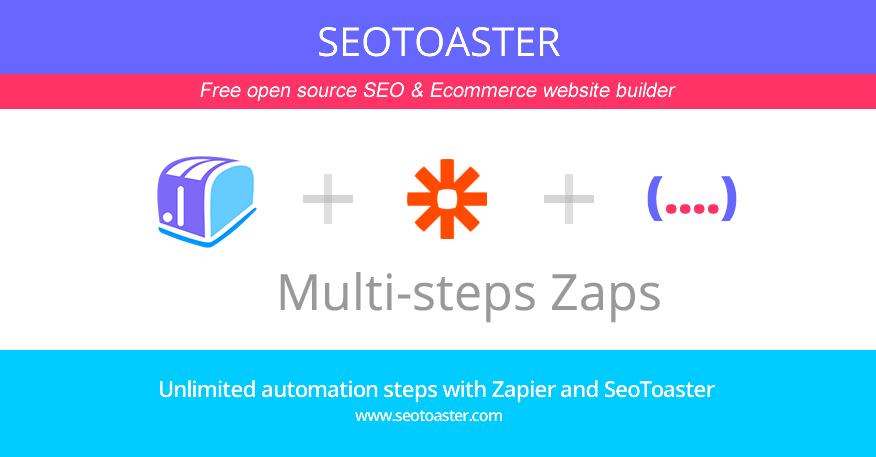 What are Infusionsoft's capabilities, you ask? Well, its CRM can manage email sales pipelines, schedule tasks and follow-up sequences. It can also track sales processes in its opportunity records, monitor sales rep performance, and forecast sales revenue. Although these features are impressive, what seems to be the clincher for most marketers is its lead scoring tool. The tool assigns scores to contacts based on their level of engagement during the sales process, which allows sales teams to focus on the hottest leads.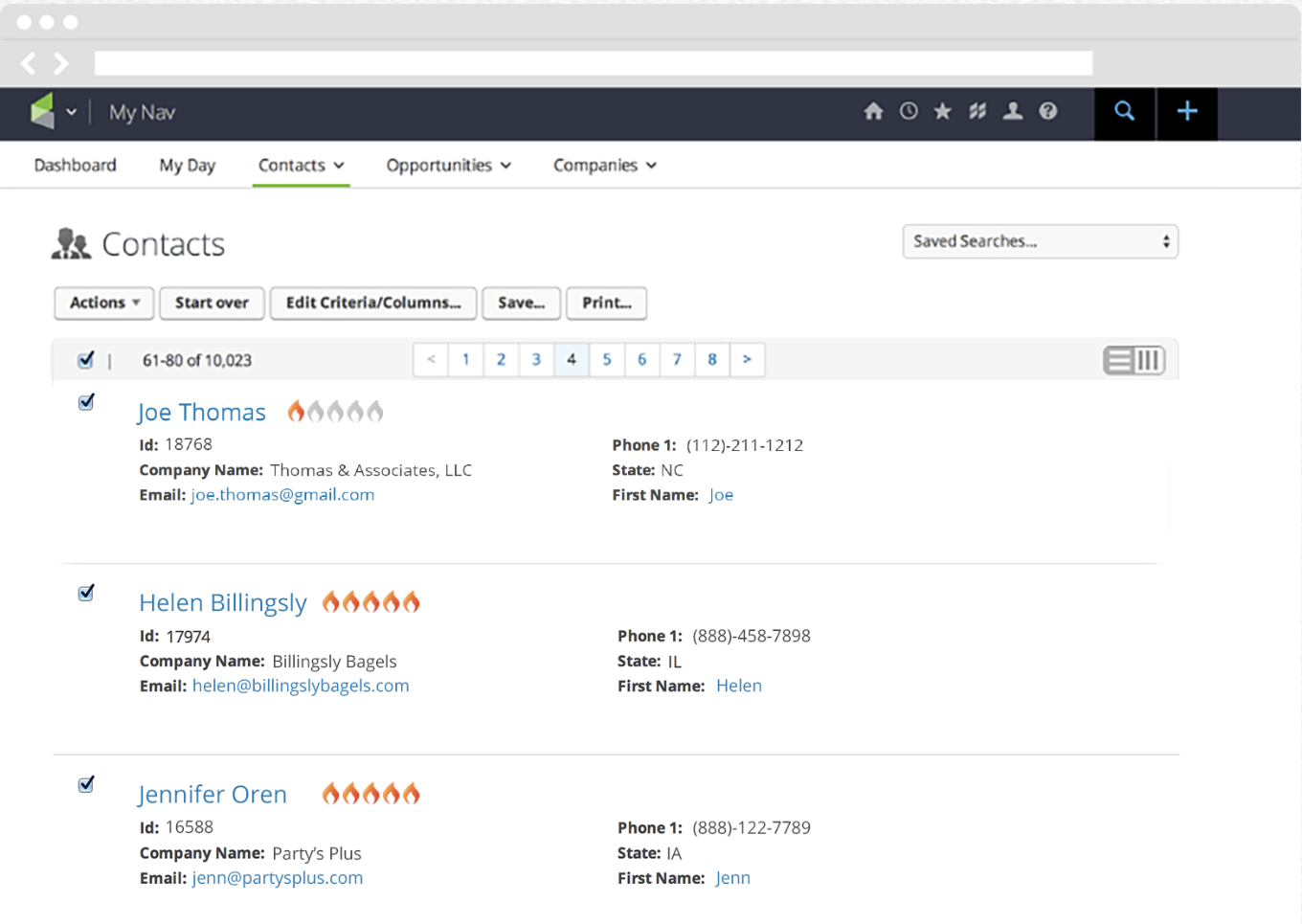 Infusionsoft can also monitor sales rep performance and predict revenue.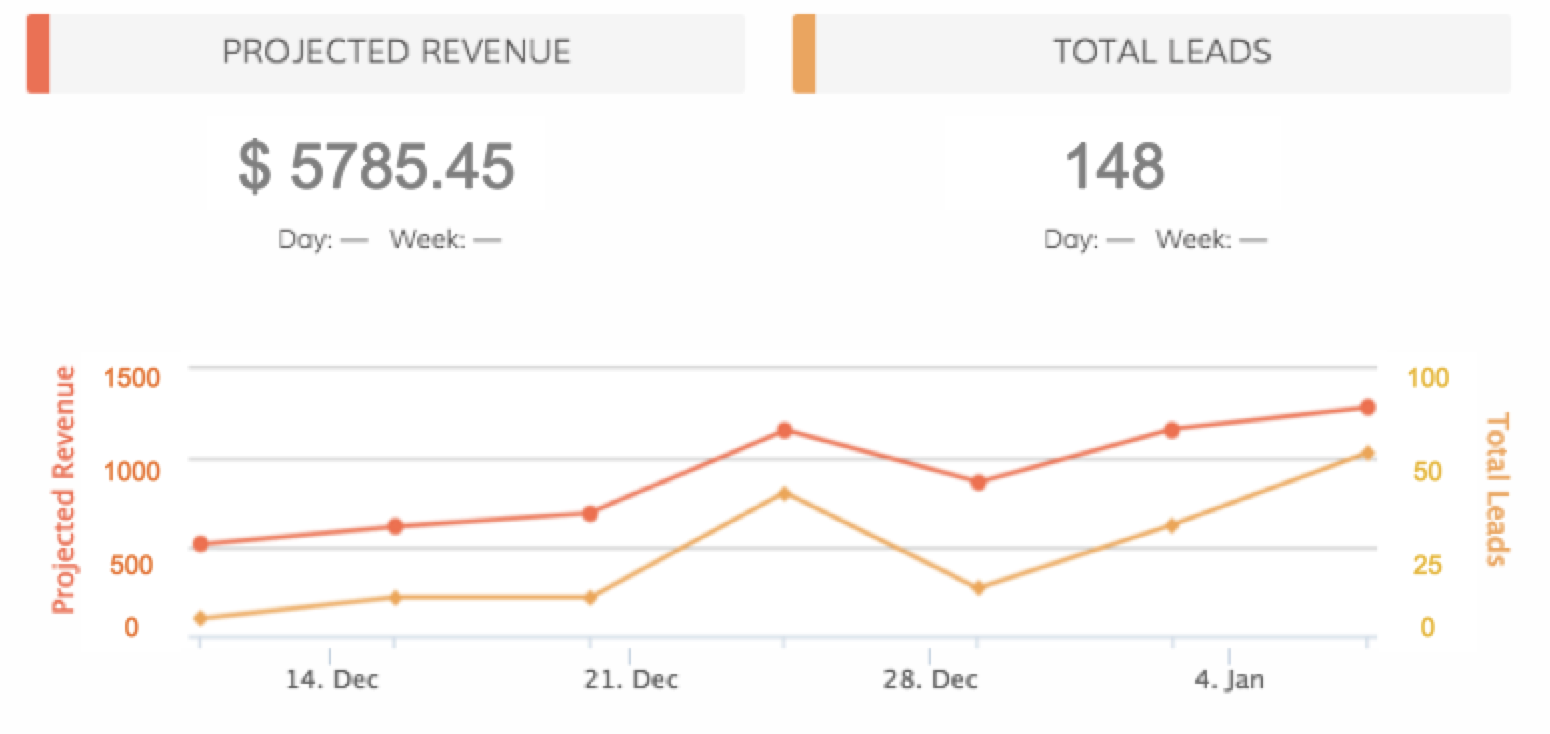 We've mentioned previously that Infusionsoft and SeoSamba can help you manage and contact leads, but SeoSamba really puts an exclamation point on the wide differences between these softwares.
Although Infusionsoft can score leads and predict revenue, SeoSamba is ideal for entrepreneurs who need to manage international branches and international clients. SeoSamba can also consolidate information from multiple sites and social media accounts, offer toll-free numbers, and build email sequences based on shopping cart content. Infusionsoft doesn't offer any of these features.
Overall, SeoSamba's CRM feels awesome and exciting, while Infusionsoft, for the most part, sticks with basic features.
---
2. CMS
SeoToaster CMS is a full-blown content management system. Its inline edition can be used to create landing pages, blog posts, online quote forms and web stores with huge e-commerce catalogs.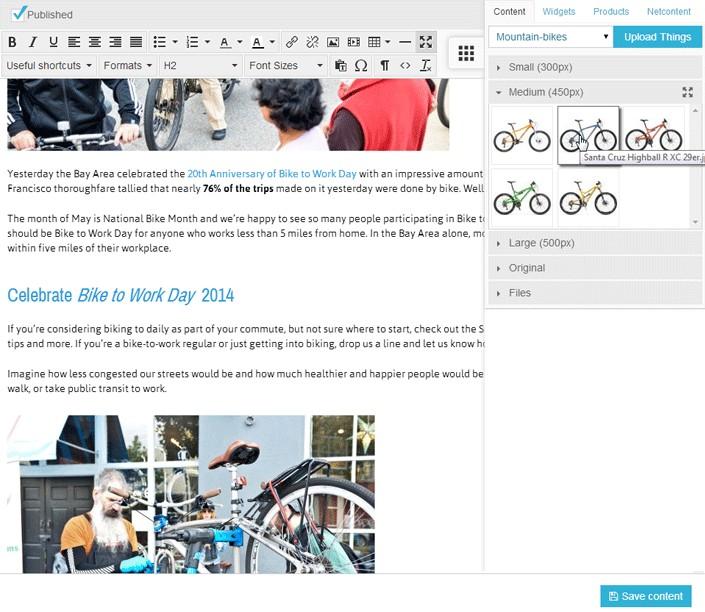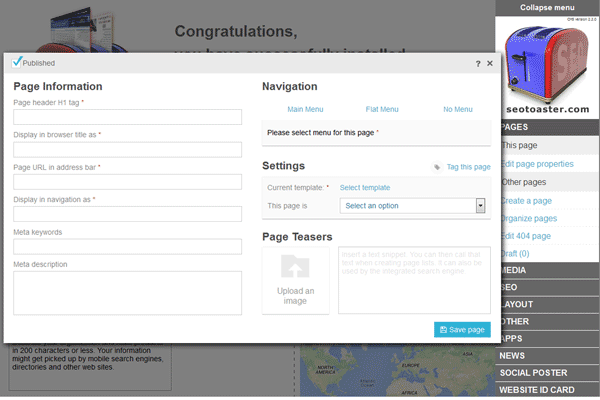 And you don't have to start everything from scratch! SeoToaster comes with customizable pre-packed themes that can be downloaded for free.
It also has tons of built-in widgets from image galleries to web form builders. And it uses CSS3 and HTML5, so there's no limit to what your website can look like.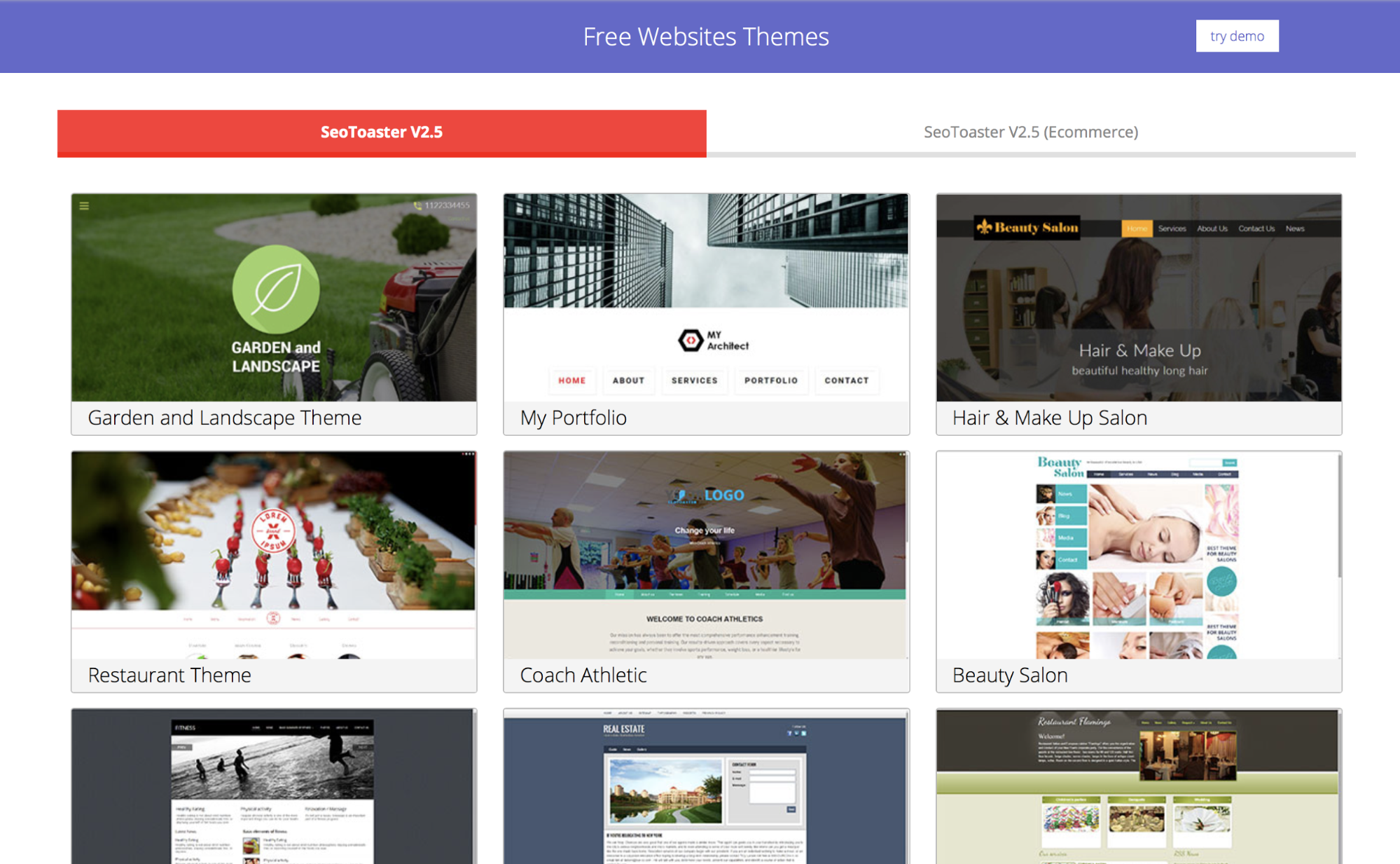 SeoSamba can also do wonders for your site's SEO!
SeoSamba comes with an integrated, Google News-compliant blog system, membership system, and directory module. Experience an intuitive edit as you browse systems packed with SEO features. It can establish optimization rules, upload HTML and XML sitemaps, create Javascripted link silos, automate links and deep-links modification, and more! This ensures that your sites can make it to the top of the search rankings. 
Great, right? But what if you have multiple sites and a ton of content?
SeoSamba has a centralized cloud-based interface, which can manage multiple websites. 
What about Infusionsoft? Well, it can create customizable and simple landing pages and webforms. Their Branding Center also consolidates default templates, logos and communication footers—so that your site's appearance remains consistent. In fact, when a default design template is changed, the changes are made across all the pages associated with it. 

We've said this before and we'll say it again: SeoSamba is a full-blown CMS. It can be used to create any type of content, automate pages for SEO, test pages and handle multiple sites. Contrast this with InfusionSoft, which offers a bare bones, limited way to create landing pages
---
3. Sales Automation with Email Drip Campaigns
SeoToaster and Infusionsoft both feature email campaign builders, which come with templates that enable you to create emails quickly.
But there's a difference when it comes to creating sequenced emails.
SeoToaster lets you send trigger-based emails to different customer segments. It can even customize messages based on cart content, request post-purchase reviews, and renew support plans.
Since SeoToaster features a full blown integrated shopping cart, it is far easier to create email sequences based on fine-grained client interests. This can be accomplished in literraly just a couple of minutes.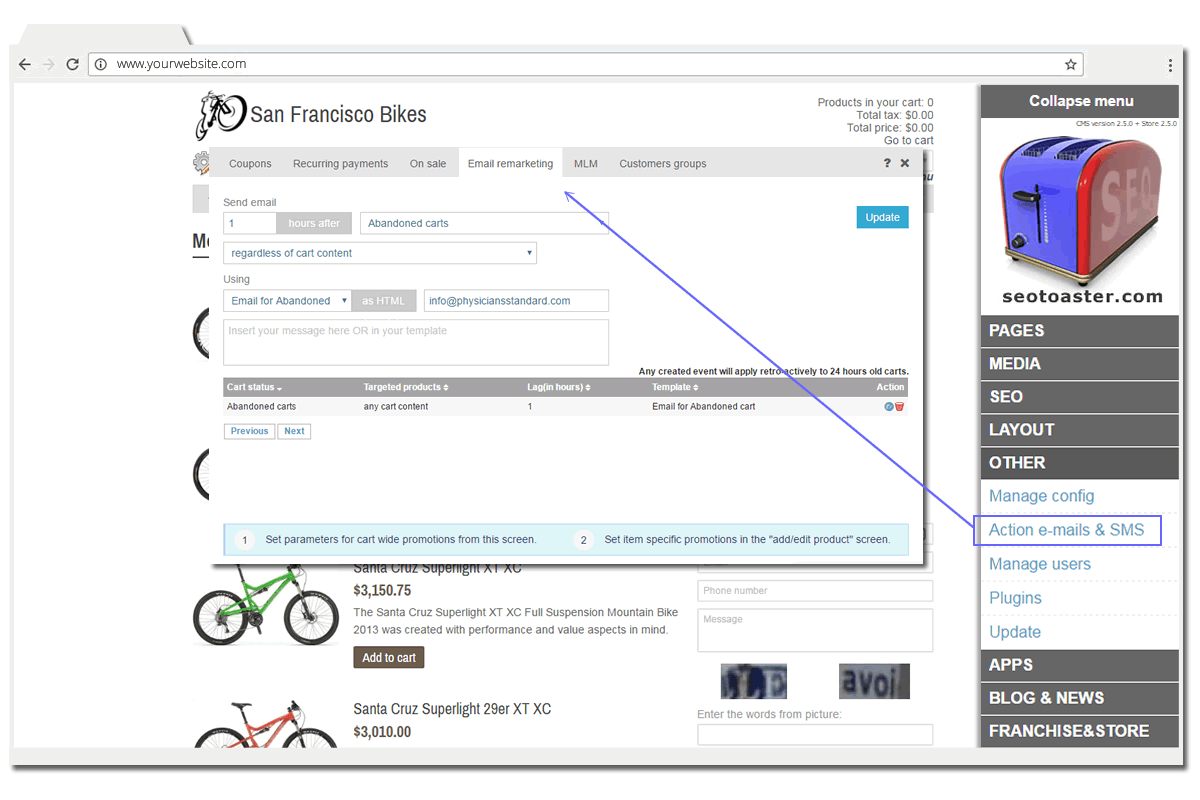 Infusionsoft, meanwhile, has a campaign builder that gives you the power to drag and drop goals or sequences to a whiteboard-like interface. This enables you to create and view long customer journeys.
Let's say you want to send a white paper and your goal is to get the receiver to click the download link. If the receiver doesn't click the link, then Infusionsoft sends automated follow-up emails over the next 3 weeks. Although this is also possible in SeoSamba, some may still prefer Infusionsoft's campaign builder overview.
But if you lack the time, then you can always download ready-made drip campaigns (i.e. Facebook Event Promotion email campaigns or a Loyalty Coupon Campaign) from the Infusionsoft Marketplace.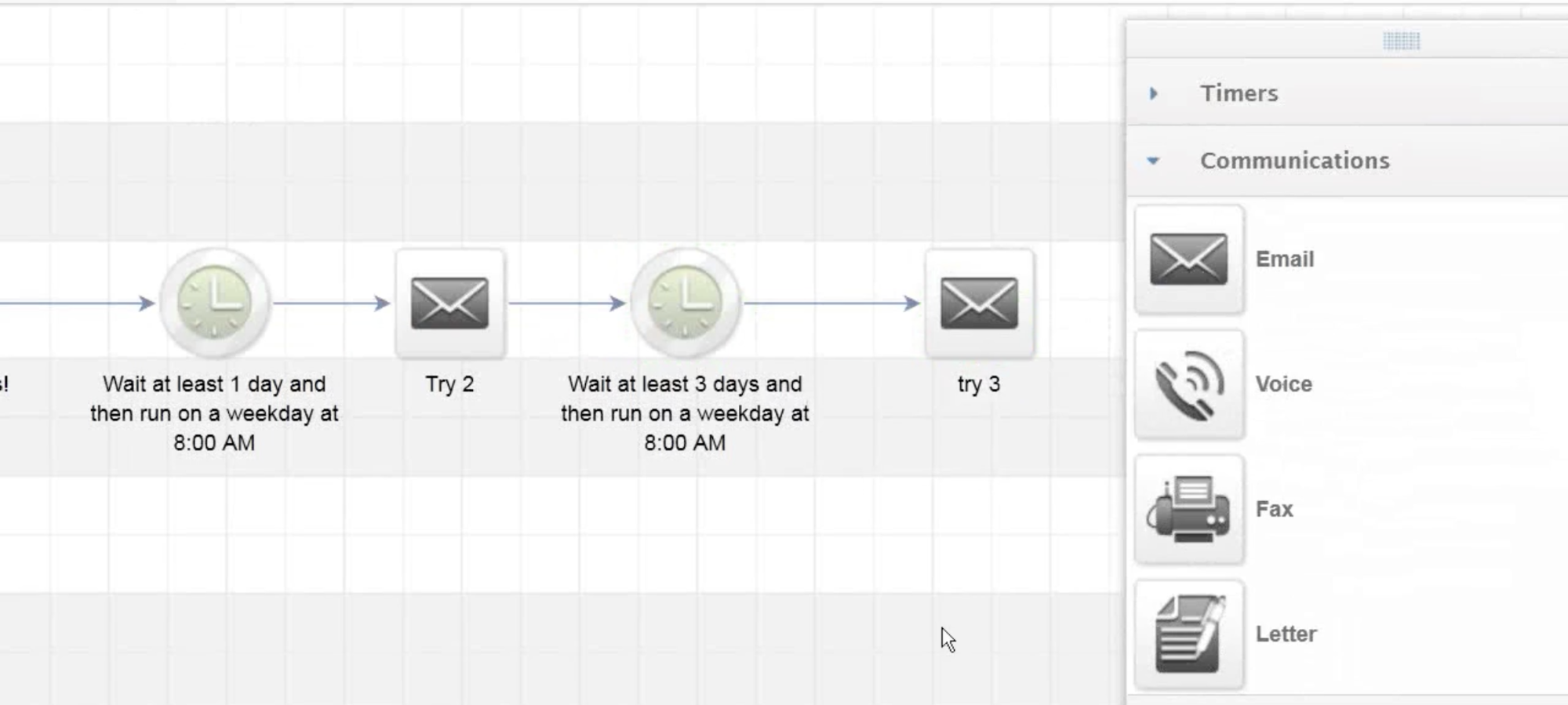 What can we say about Infusionsoft's email marketing features? They're good, but it will ultimately depend on what you need to do. If you plan to create long customer journeys, Infusionsoft's campaign builder is a good choice. That doesn't mean SeoToaster's sales automation features are bad. Again, it can send trigger-based emails to different customer segments and customize messages based on content, reviews and plans. Both offer smooth, no-hassle drip campaign functionalities. SeoSamba, however, can customize messages based on cart content and request post-purchase reviews.
---
4. Shopping Cart
Both SeoToaster and Infusionsoft offer functional shopping carts, but SeoToaster's latest version takes things up a notch. By default, SeoToaster's shopping carts are built on top of SeoToaster CMS, which means e-commerce stores can be managed and created within the software. As we've mentioned, SeoToaster comes with beautifully-designed, pre-built templates so there's no need to start from scratch. There are downloadable templates for online stores, checkout pages, thank you pages, sales quotes and landing pages.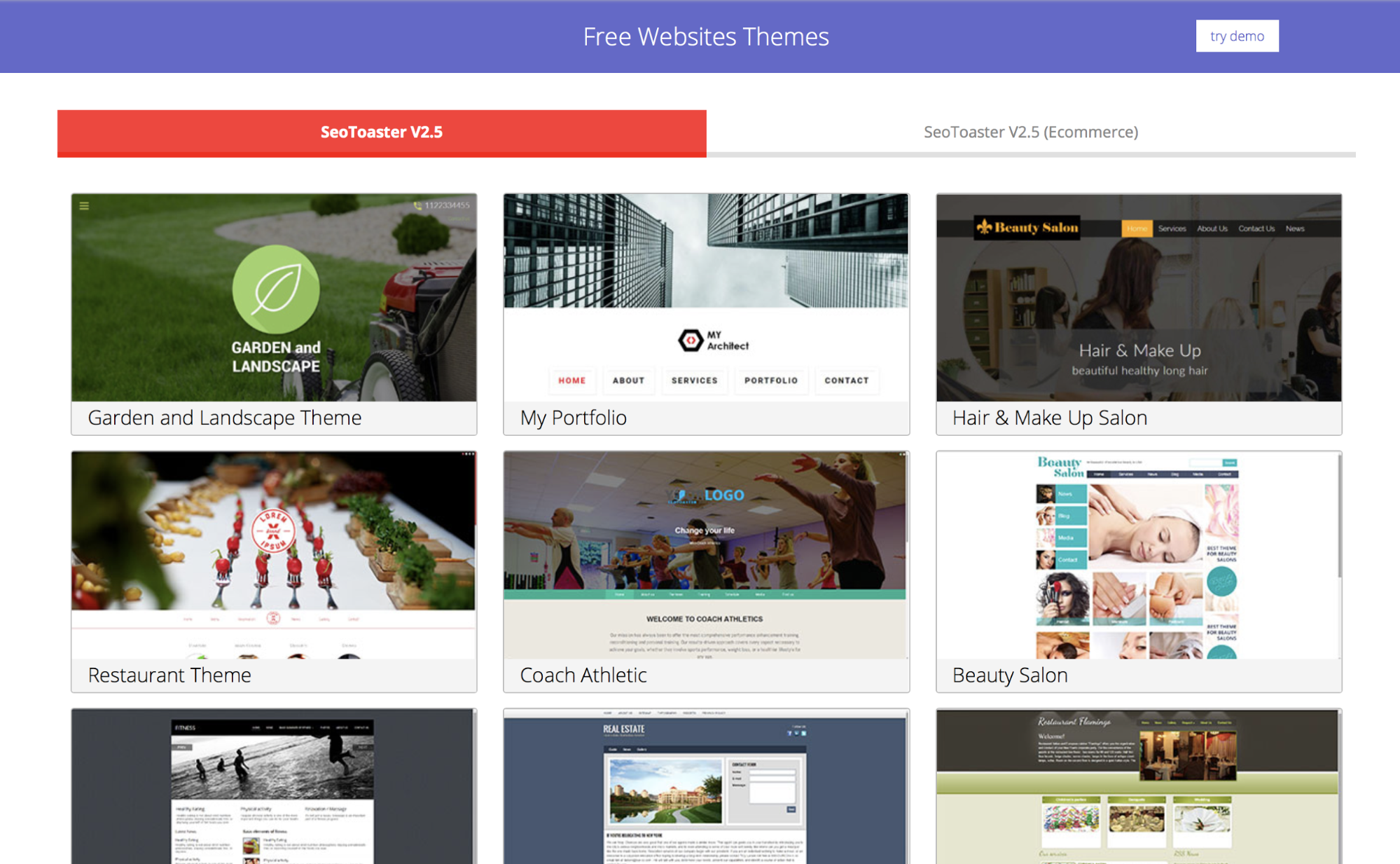 Now, what if you want to match the store's appearance with the color or feel of your brand?  At SeoToaster, you can edit CSS styles and sell your products on a stunning website.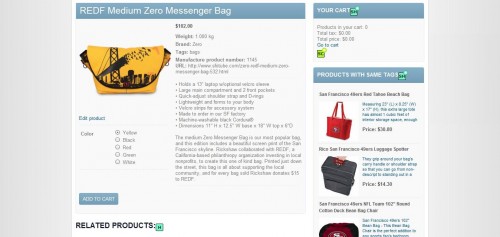 On top of its impressive online stores, SeoToaster has a very powerful and intuitive set of features. This includes product options, inventory control, quote engines, customizable shopping carts, unlimited navigations and product presentation options, support for recurring orders, and digital downloads. Placing products in online stores is also made easy. You can modify the product's image preview based on color or size and add tags to filter products.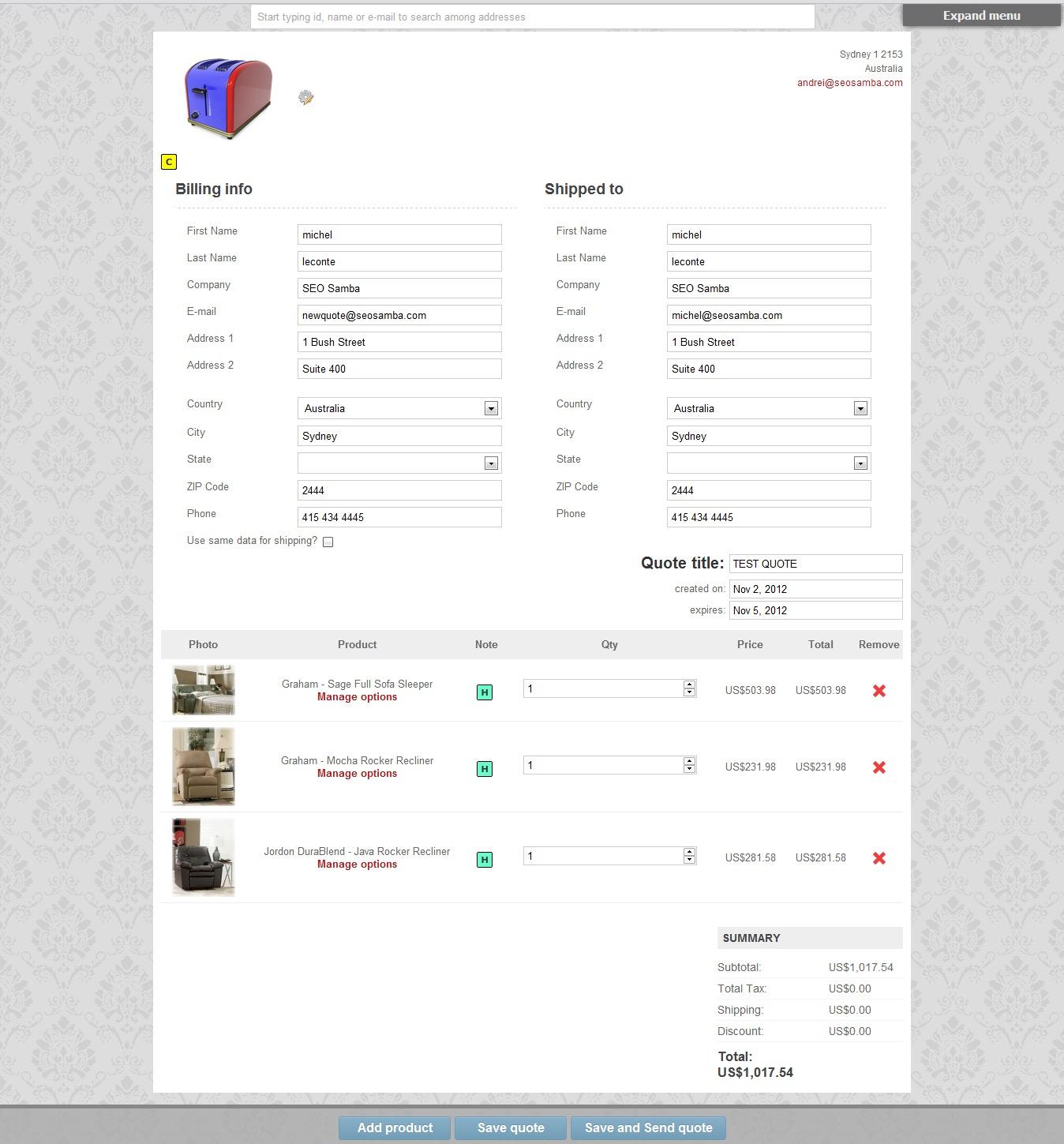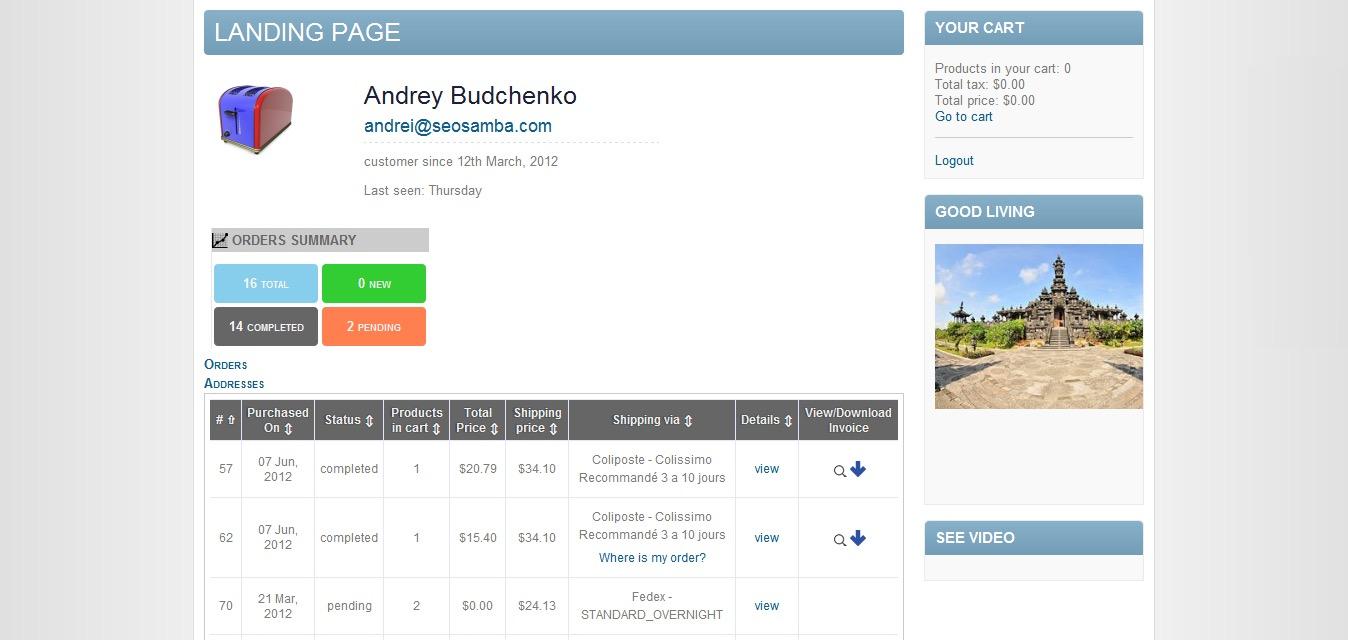 Contrast this with Infusionsoft, which has a minimally functional shopping cart. We've seen that it offers beautifully-designed online store themes that can be customized via HTML or CSS. However, we've heard from many sources that the endeavor isn't pretty nor fast, and most folks hit some software limitations early on in the process. While SeoSamba provides integrated packages with guaranteed improvement in your search engine rankings, you are left to look for a design consultant at the Infusionsoft Marketplace if you need a hand.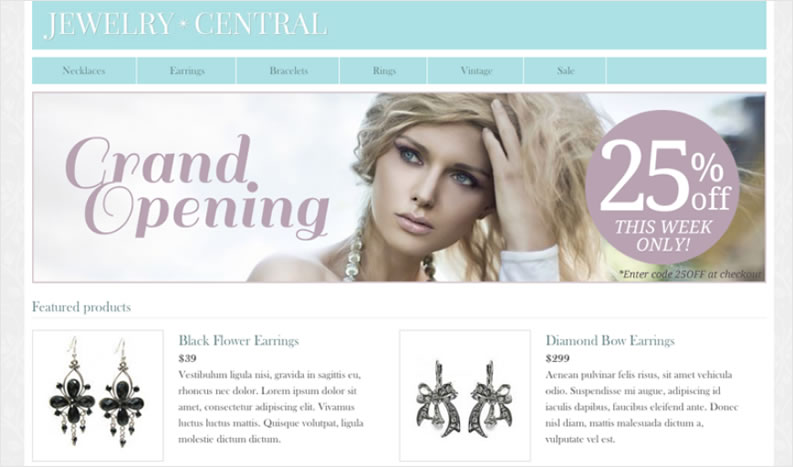 Infusionsoft's shopping cart features a checkout page with an order summary, subtotal pricing and shipping information, but there's little flexibility offered as part of the checkout pages, and we're still craving for more variety.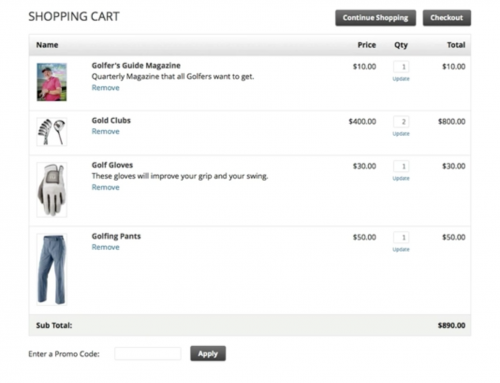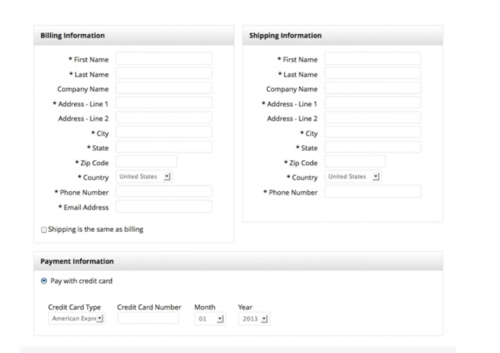 SeoSamba offers a powerful and fresh set of online features. Also, it can used to create your website. 
Win!
5. Merchandising
SeoToaster packs powerful merchandising features. Depending on the promo, you can either create coupons, customer incentives, or miscellaneous delivery options, all of which encourage customers to frequent purchases. The software lets you specify if coupons are for multi-use or single-use, applied to a specific product, or a minimum purchase amount. And you can automatically include a specific product during a purchase.
It's also perfect for sales and discounts. The software seamlessly allows you change product prices store-wide or for individually discounted products.

But what makes SeoToaster stand out is its ability to modify an online store's price range based on segmented customer types.
Let's say you offer discounted prices to subscribers and regular prices to non-subscribers. With SeoToaster, your store can show different prices to logged-in users and non-members. There's no need to redirect users to a separate landing page! 

Meanwhile, Infusionsoft lets users create a variety of promotions such as discounts, trials, upsells or pay plans. Similar to SeoToaster, you can indicate promo periods or discounted products, and create discounts based on minimum purchase amounts.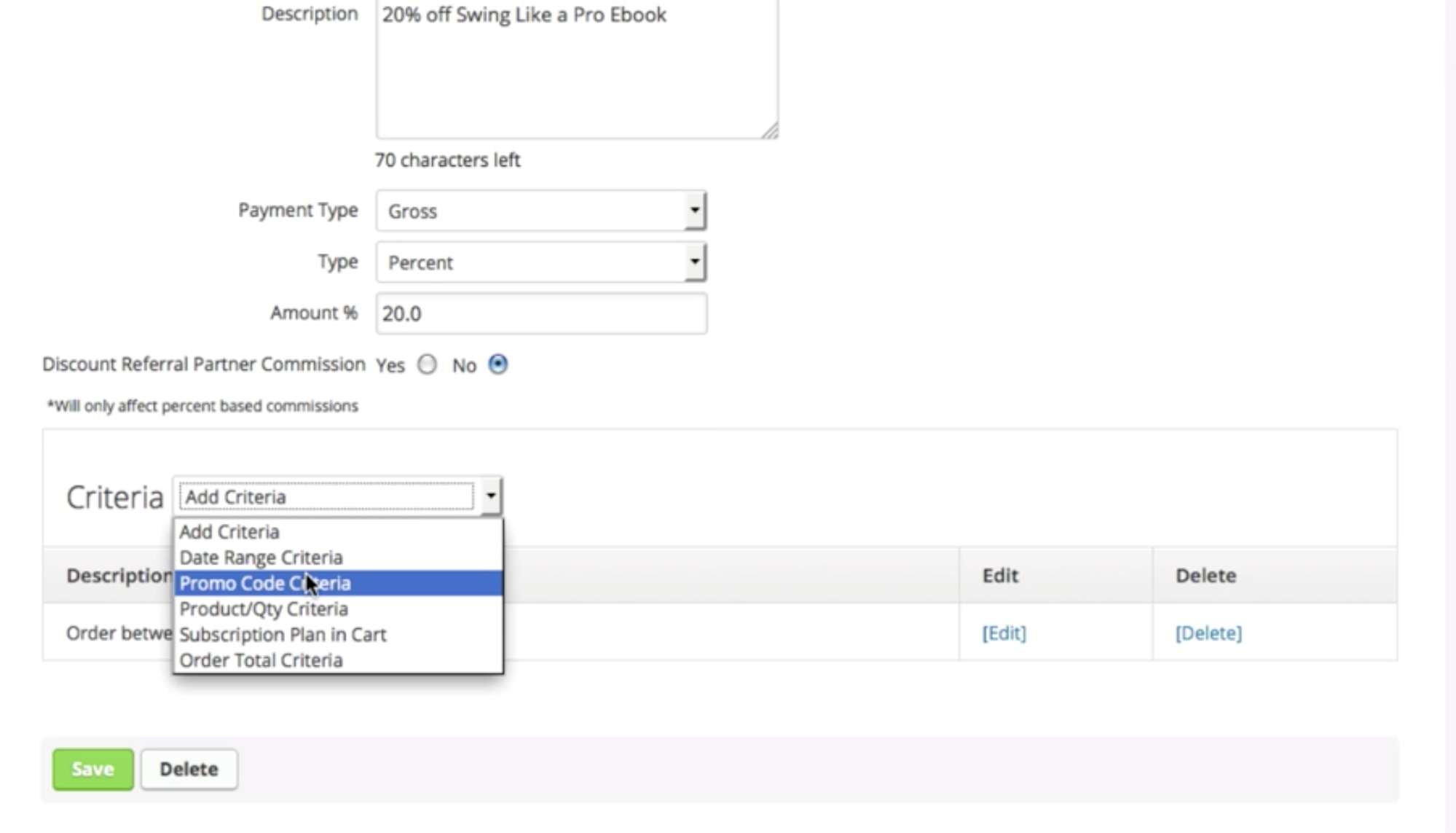 Both Infusionsoft and SeoToaster can create referral programs. With SeoToaster's Multi-Level Marketing (MLM) tool, customers and client groups can receive rewards for promoting your products. Infusionsoft's Referral Partner Component works the same way, but it can also automatically track referrals and commissions.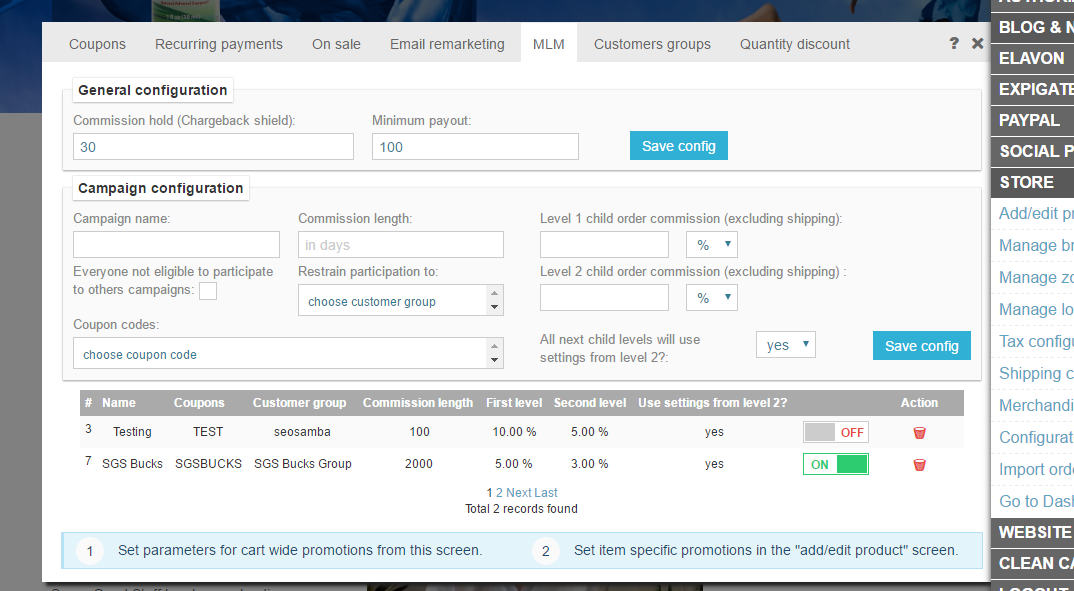 This isn't the easiest comparison to make, since both SeoToaster and Infusionsoft have a lot of common merchandising features. And both softwares are easy to use, offer powerful referral programs and are able to create a variety of promos. But when it comes to offering different price ranges for segmented customer types, SeoToaster comes out ahead, so we'll give it's merchandising features a slight advantage.
6. Pricing & Services
Infusionsoft provides kickstart packages to help you get started: Kickstart Lite ($999), Kickstart ($1,999), and Kickstart Pro ($2,999).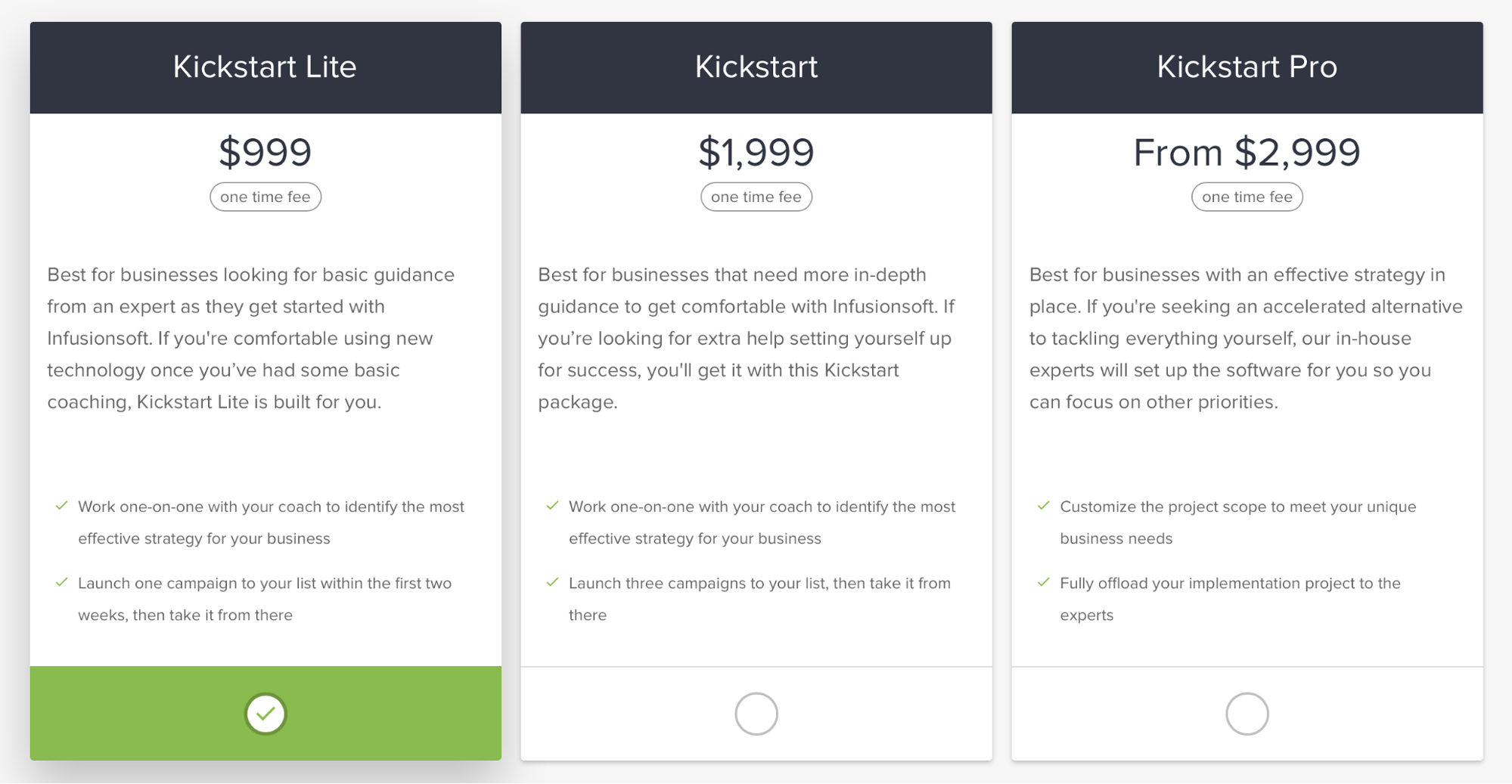 In addition to the Kickstart packages, you need to purchase an annual plan. These plans are Starter ($99), Essentials ($199) and Complete ($199).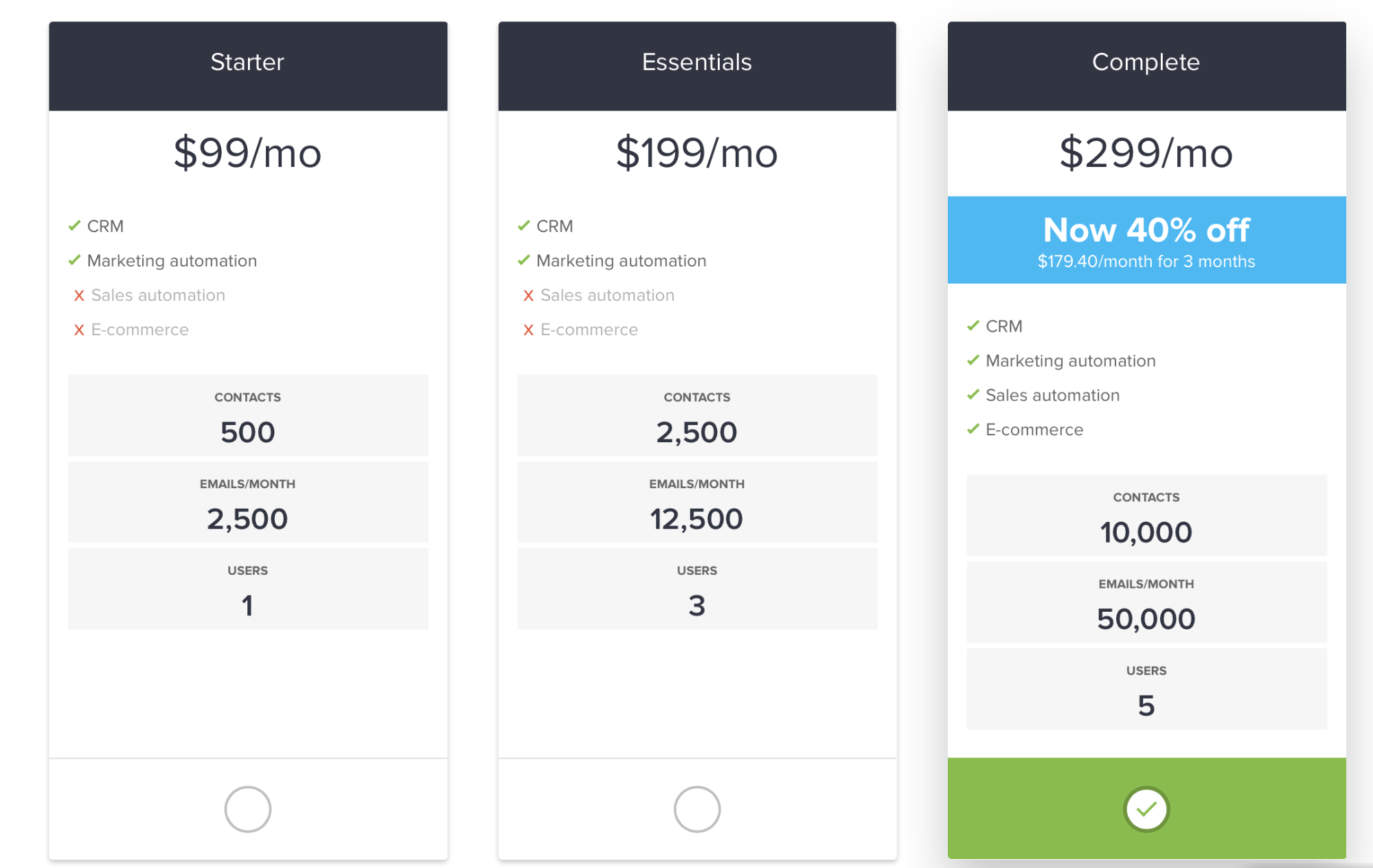 Contrast this with SeoSamba, which offers monthly subscriptions starting at $99 per month and all-inclusive performance packages for both services and e-commerce businesses.
As part of these small business packages, you get a brand new or a refreshed look and an SEO-optimized website. SeoSamba benchmarks Google search rankings before and after delivering your site and guarantees to increase your qualified trafic by a 30% minimum. Your website also comes with its own integrated CRM, along with built-in sales automation and marketing automation to create and distribute content to your site and social media sites, monitor leads and record calls from incoming leads. Very complete packages, indeed. 
7. Exclusive Features of SeoSamba
In addition to everything we've mentioned, SeoSamba also has a ton of features, which we discuss below:
A. Centralized Blogs System for Multi-Site Networks
SeoToaster has all the tools you need to manage your blog. You can use it to transform any landing page into a blog, feature multiple or single posts on a page, schedule blog posts and categorize posts.
When subscribers add a comment, you automatically receive a comment moderation request. You can post or delete comments in one click.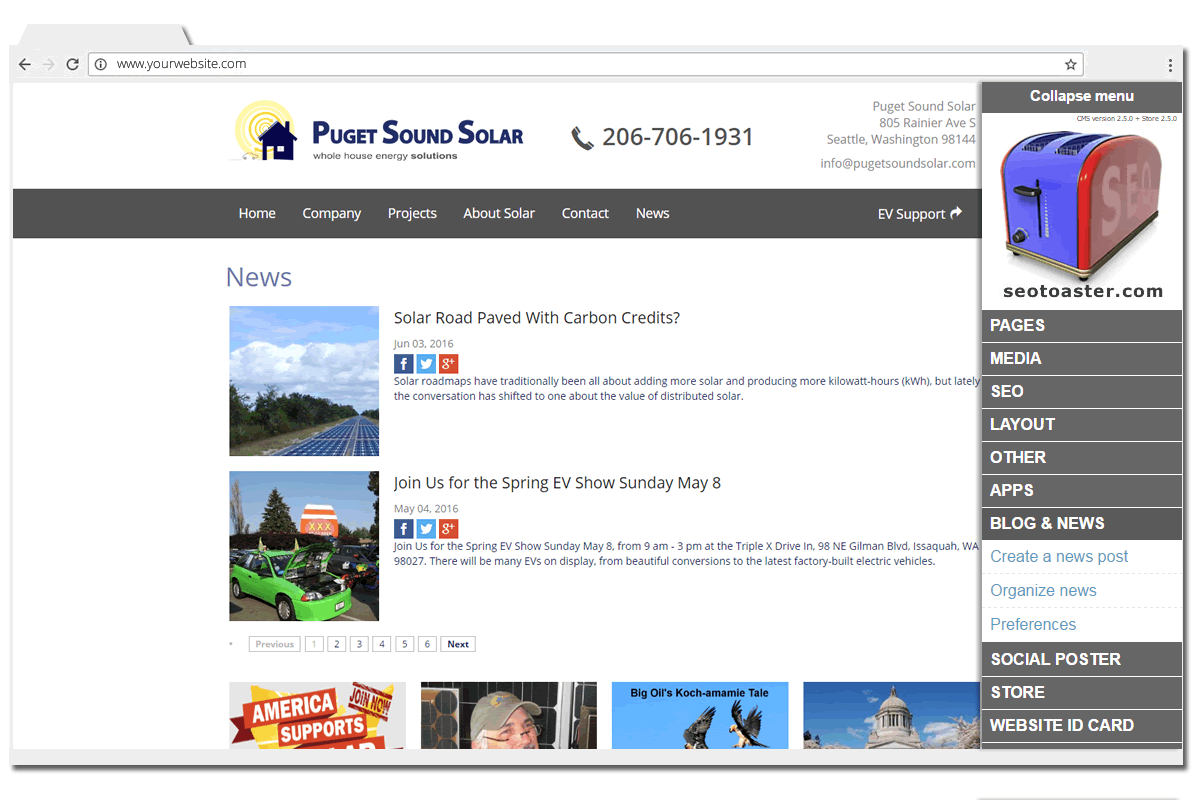 The software lets you fill in relevant details, so your posts get indexed by Yahoo News and Google News. It also comes with a News Blaster that gets each post optimized and distributed to influencers and top news sites.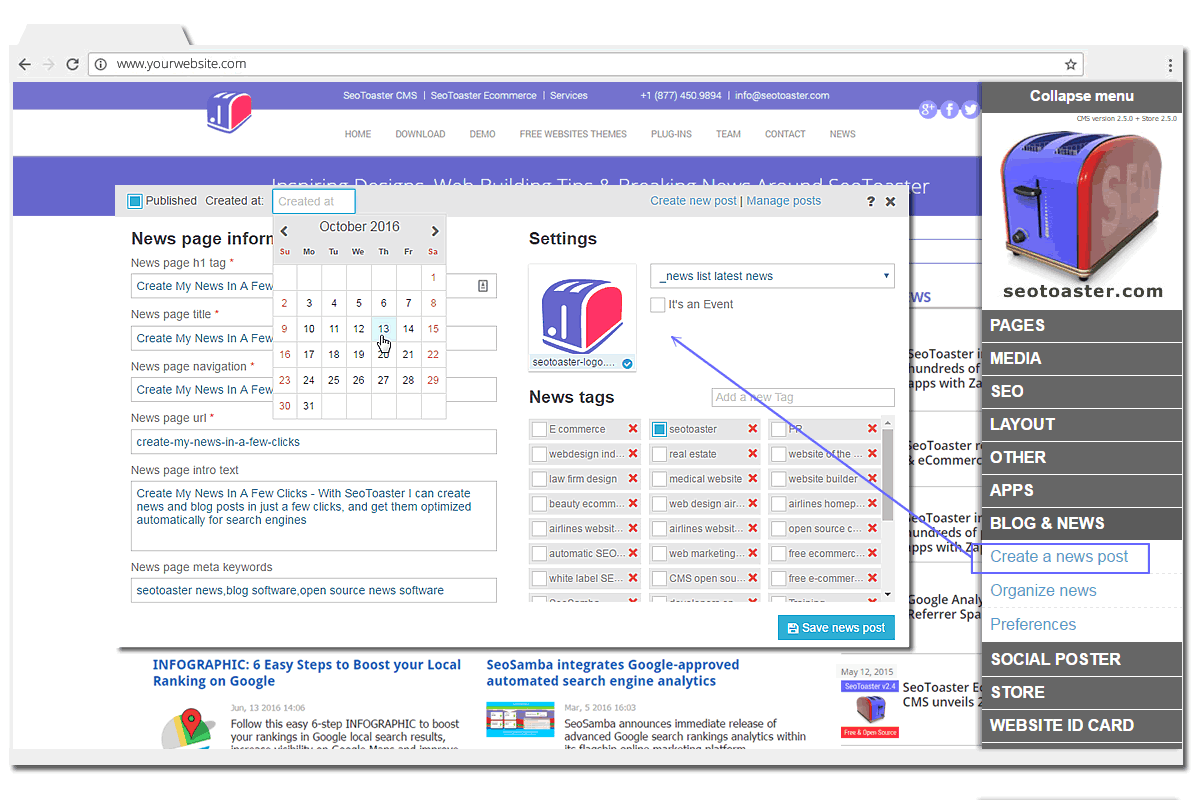 B. Automated Website Registration and Submission with Google Webmaster Tools and Google Local 
SeoSamba sends your information directly to Google via its Google Webmaster Tools and Google Local integration, ensuring that your content is indexed as quickly as possible. 
C. Open Source Licensing for its SeoToaster Web of Commerce Front-end
SeoToaster is a high-performance, open source software free of charge. Once installed, either on your own server or hosted with one of SeoSamba's Amazon data centers, you can enjoy a revamped front-end site in a user-friendly interface with a comprehensive set of features.
However, the open source licensing lets you truly own your website/web-store/landing pages. In other words, you're buying services from SeoSamba for premium features, hosting, support but you can build with confidence knowing that you're not being held hostage in a "black box," or "my-way-or-the-highway" type of solution.
D. Wordpress Support
SeoSamba for Wordpress Webmasters is a free marketing automation plugin. It automatically adds and verifies your Wordpress sites with Google Webmaster tools.
With the plugin, you can add an XML sitemap to your Wordpress site, upload the sitemap to Google on a weekly basis, and monitor search engine results across all webpages. This ensures that every page on your Wordpress site is optimized for SEO.

E. Multi-site Integrated Web Analytics
SeoSamba gives you a quick overview of your site's traffic details, SEO reports and social network analytics. It's 100% customizable and you can view multi-site analytics results for important metrics.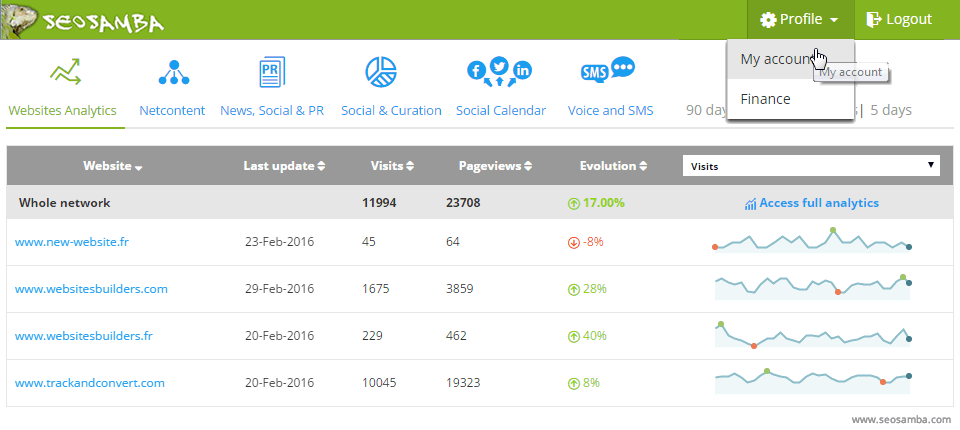 You also manage quotes, determine sales, and track earnings in an elegant and customizable dashboard.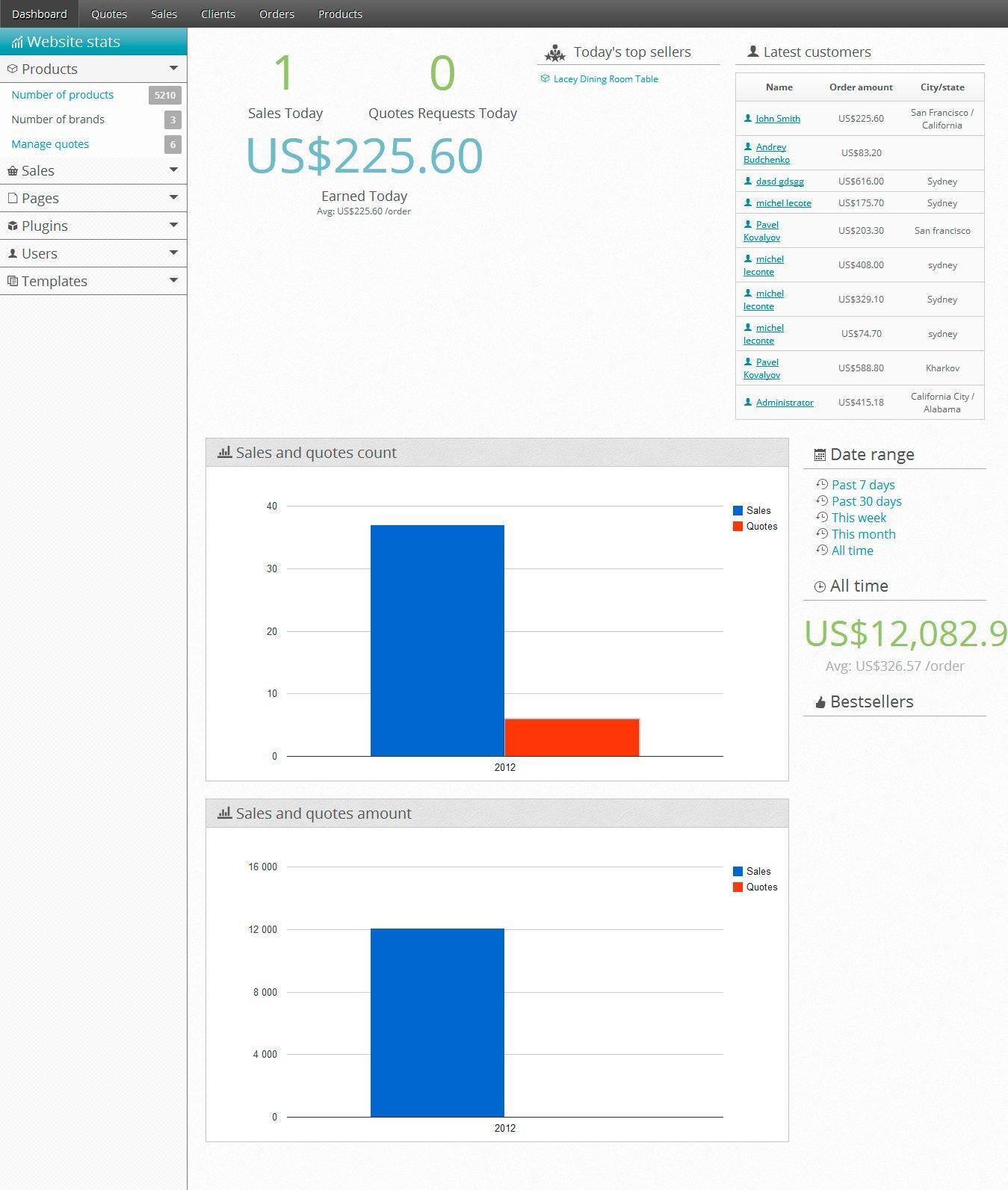 F. 1000 keywords Per Site Ongoing Google Search Ranking Reporting
SeoSamba provides detailed search reports for up to 1000 keywords at a time!
Often content marketers and SEO specialists spend hours to find the most ideal keywords. With SeoSamba, the best keywords fall into your lap, which is a marketer's dream come true!
You can flag long-tail keywords, access weekly keyword ranking variations via email and view critical queries reports. This includes graphic-based reports and tables for top #1 listing, top 5 rising keywords and newly listed keywords. It also includes a keywords opportunities finder tool, which determines the potential keywords that can make your site's traffic skyrocket.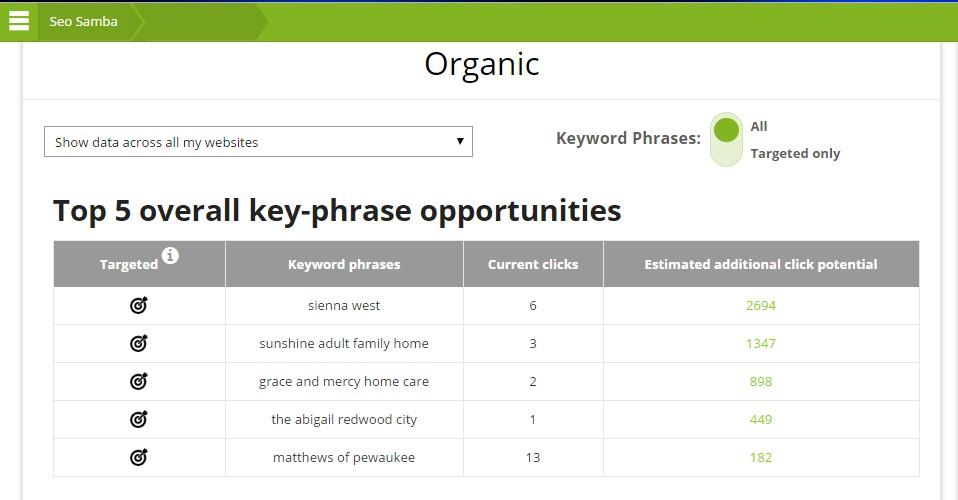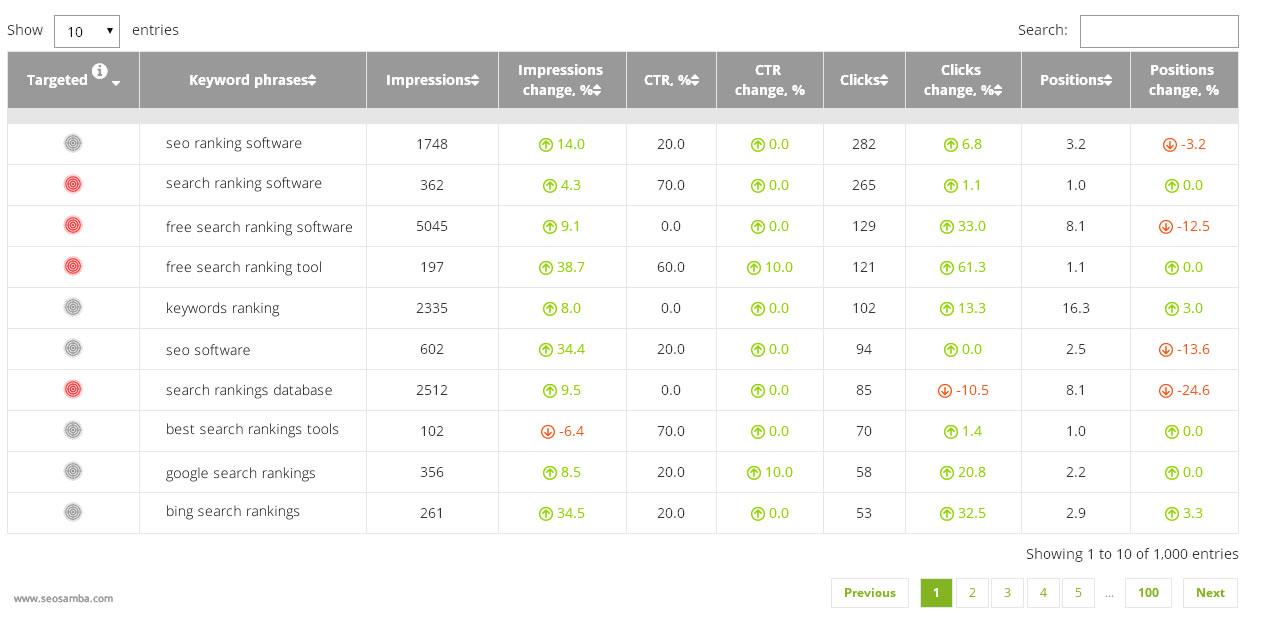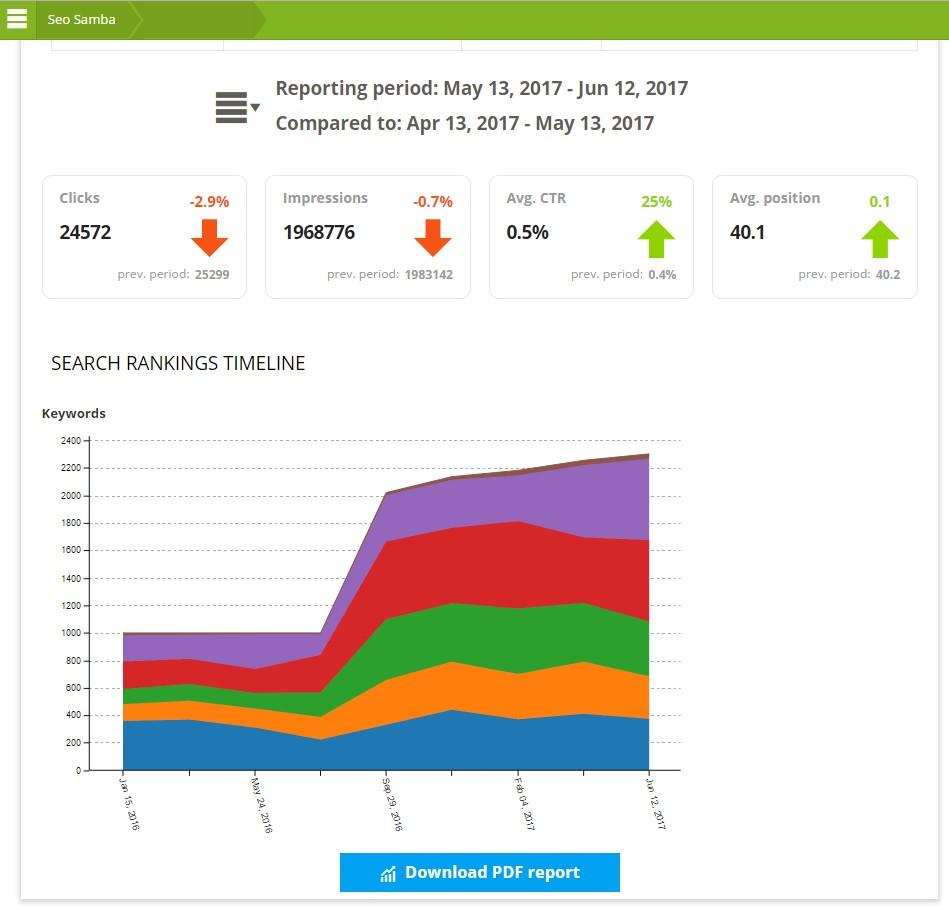 G. Social Marketing Curation
Social media followers want to see new posts everyday. However, it takes time to create amazing blog posts, videos and images.
How do you keep them entertained? Take advantage of SeoSamba's free social curation tool, which lets you repost content from authoritative sites in your niche or repost an old post from your own website.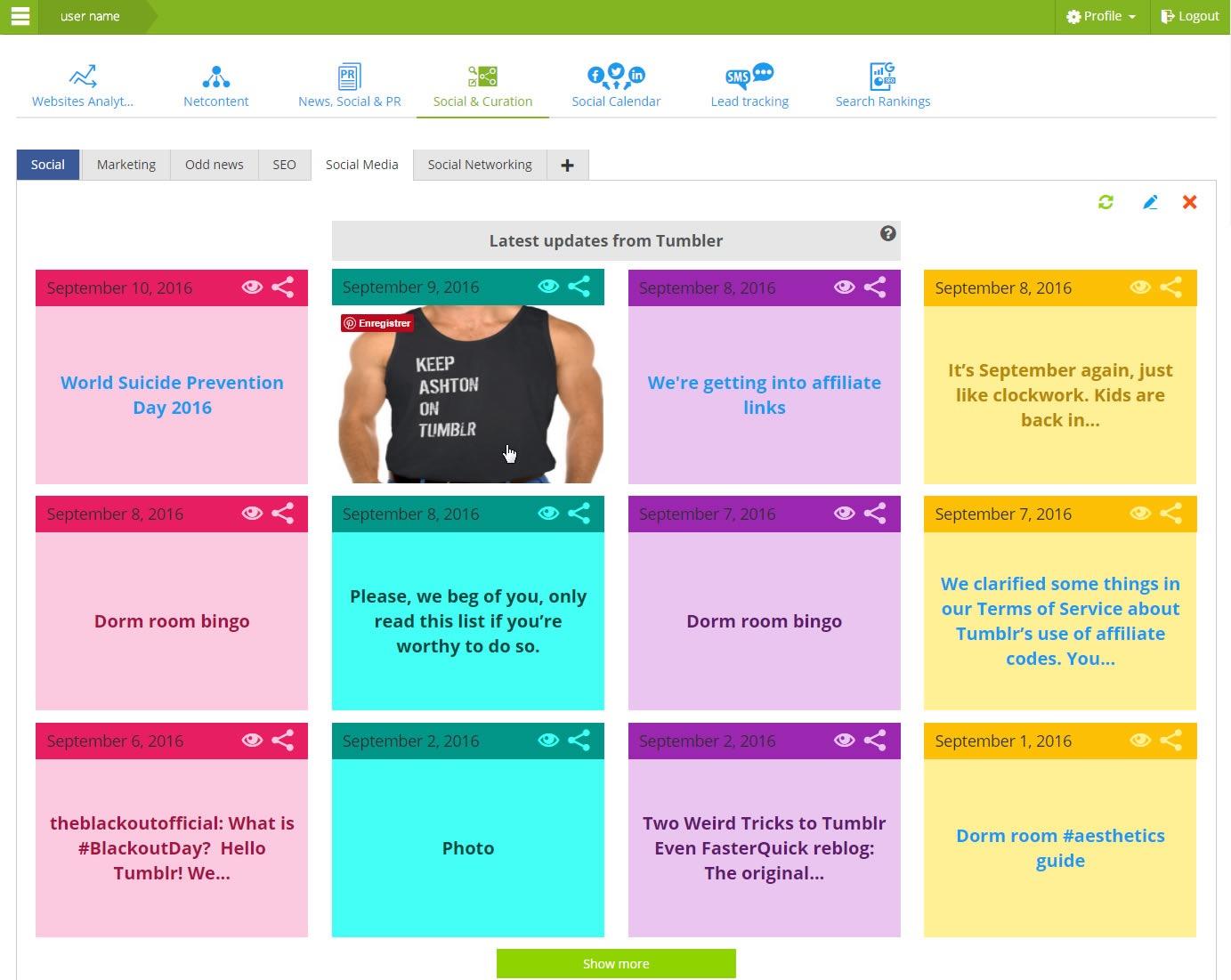 H. Social Marketing Calendar
SeoSamba's social marketing calendar lets you schedule and track all posts on your social media platforms. Here, the social media dashboard has weekly or daily views, which allow you to see more details about a post.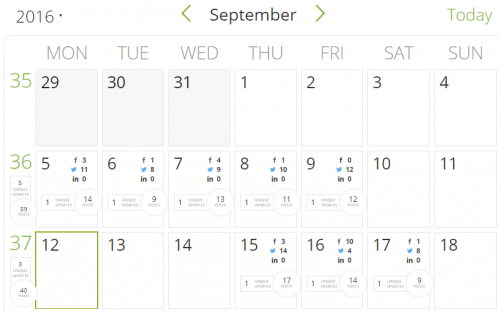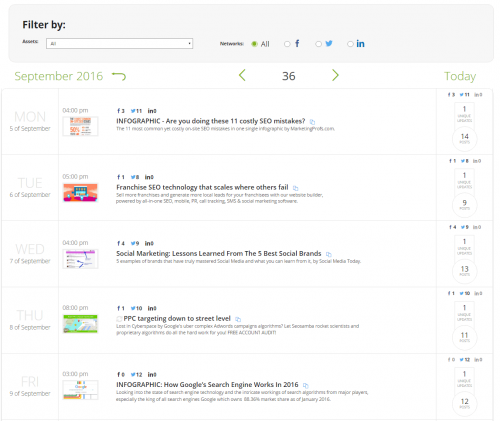 Fill-out the "Create New Post" window with the post's title, link, message, hashtag and schedule. What's impressive is that you can also find and copy-paste posts, which comes in handy for yearly holiday posts.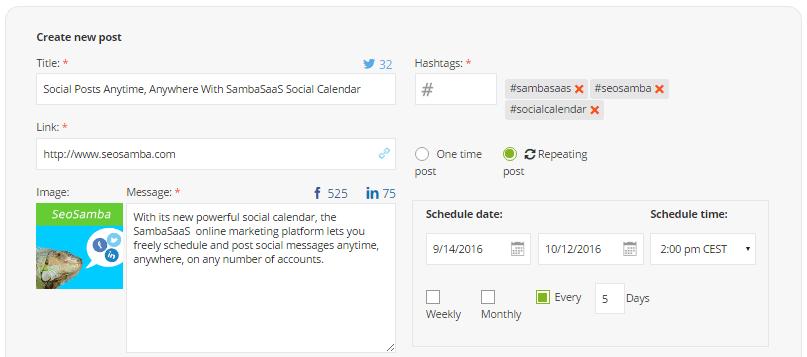 Another great thing about the social marketing calendar is that can you view the results of your social media campaigns at any given time period.
H. Worldwide Support and Interfaces in Multiple Languages
SeoToaster has a fully translated admin interface that is available in multiple languages. It also offers localization support for website URL, spell-checking and other aspects that can help improve a website's rankings in local search engines.
Conclusion
For the most part, SeoSamba is maybe the most efficient, all-in-one marketing automation software. It has top-of-the line tools that every business needs. While Infusionsoft is no slouch, compare its features head to head, and we bet you'll enjoy SeoSamba a lot more.
Don't get us wrong. Infusionsoft offers some decent features. But we've seen more intuitive software, and it can't beat the combined features of SeoToaster + SambaSaaS.
Infusionsoft has a chance at superiority if it includes features like a comprehensive website builder, social media marketing, multi-site SEO, analytics and blogging tools, and, more importantly, performance-guaranteed packages. But for now, SeoSamba is the clear victor.
Make a new plan Stan! Get a hands-off InfusionSoft migration quote