Facebook is where it's happening for most Top 100 Retail Franchises
Clearly privileging social networks over their official blog and news channels, 71.1% of the Top 100 Retail Franchises regularly update their Facebook business page with messages, pictures and short news.
Still, 28.9% of Top 100 Retail Franchises don't bother to address their social audience on the #1 social network, or feel the need to promote their brand to its 1.6 Billion worldwide users.
 7.1.7% of Top 100 Retail Franchises are pro-active on Facebook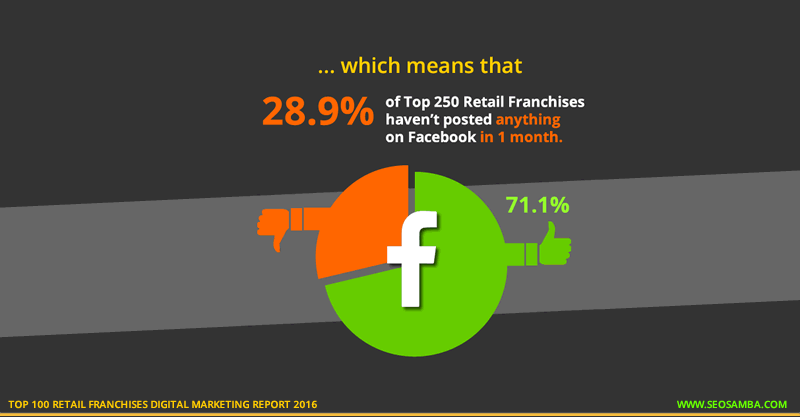 This mind-blowing number shows that many retail franchisors are seriously lagging behind when not properly geared to leverage social marketing like a leading brand should.
Moreover, being active on Facebook is a good start, but not nearly good enough, as retail franchises are clearly neglecting other platforms.
Franchises that are active on various social networks can vastly improve overall engagement by targeting their message adapt to specific audience segments (franchisees, customers, partners…).
In this respect, social marketing automation is a cost-effective and time-saving solution to deploy a social strategy that actually meets each audence's specific expectations.
Download your Top 100 Retail Franchises Digital Marketing Performance Report 2016
Thanks for reading this summary. To uncover more data, stats and findings as well as our analysis of how these facts impact the overall online strategies of leading franchisors, please click the button to download for FREE the full version (PDF) of our Top 100 Retail Franchises Digital Marketing Performance Report 2016.