Most business sectors of Top 100 Retail Franchises aren't e-commerce-friendly
Even the most ecommerce-friendly sectors for Top 100 Retail Franchises show low rates for franchisee's adoption of ecommerce.
Around 1/3 of franchisees benefit from ecommerce in the Home Improvement, Food & Beverages , and Recreation sectors, 1/5 of franchisees in Fashion & Beauty, Children's, and Miscellaneous Retail, and only 1/10 in Appliances & Electronics.
 25.4% of Top 100 Retail Franchisees are e-commerce-enabled (in average, for the 7 best sectors)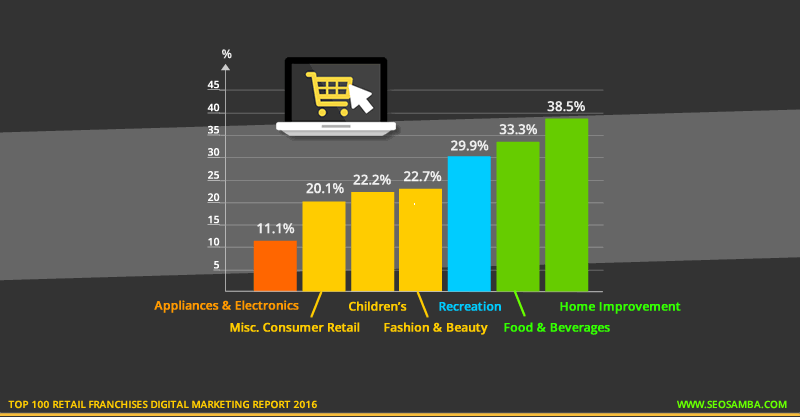 In all other franchising industries, the ecommerce deployment rate is anecdotic for Top 100 Retail Franchises' local franchisees.
A few sectors (Health Care, Automotive, Personal Services...), are admittedly ill-suited for ecommerce, but many others such as Office Supplies, Flowers, or Pet Services, could deploy online shopping throughout their network.
Setting up a relevant ecommerce system for a multi-unit franchise network is no walk in the park and deeply impacts the franchisor/franchisee relationship.
Yet such systems are successfully and routinely deployed, offering a tremendous competitive edge to franchises who know when the time is right to meet a growing demand.
Download your Top 100 Retail Franchises Digital Marketing Performance Report 2016
Thanks for reading this summary. To uncover more data, stats and findings as well as our analysis of how these facts impact the overall online strategies of leading franchisors, please click the button to download for FREE the full version (PDF) of our Top 100 Retail Franchises Digital Marketing Performance Report 2016.