Step 2: Find Your Social Audience
Now that you're focused on achieving a few simple social media goals, it is time to do a little more digging before posting anything, and define who exactly you need to talk to in order to fulfill your goals.

---
This extract is just one piece of a full 7-part guide! Download your FREE digital copy of our Social Media Strategy for Small Business in 7 Easy Steps.
Segment Your Social Media Audience
To match your social media goals, you need to segment your potential audience, so that you know what message to send, and to whom:
Gender

Age group

Location

Online time

Education level

Consumption habits

Buying power

Lifestyle

Audience profile
Create Social Media Audience Subgroups
Segment audiences by gender, education level, preferences... 64% of LinkedIn users have a Bachelor's degree vs. only 23% on Youtube.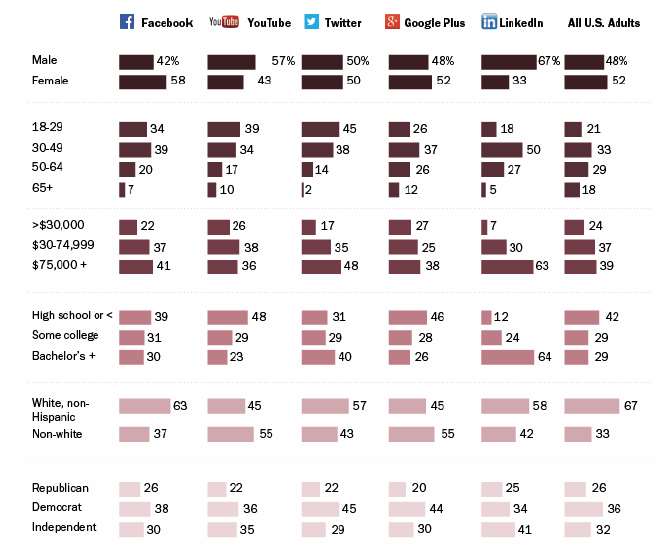 Survey Your Customers
An effective way to get to know your social audience is simply to ask your existing customers about their online and social habits.
Beyond email for simple questions, you can craft a survey using free online tools such as Google Forms, SurveyMonkey or similar tools.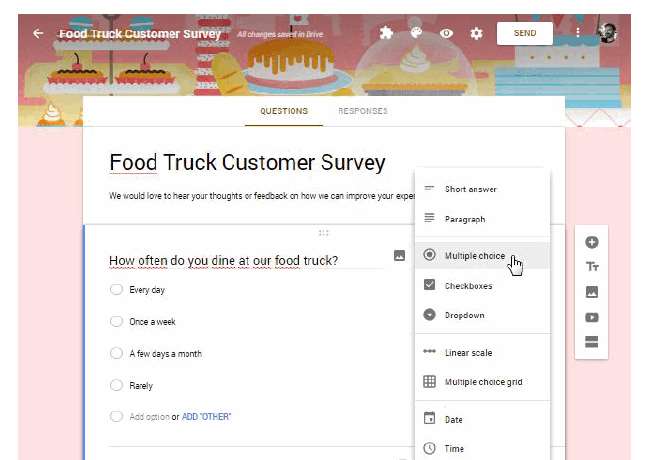 Find High-potential Social Media Audiences
Your existing clients and potential customers are not the only social audience you should be interested in.
Influential bloggers, specialized journalists, industry leaders, as well as your own suppliers and partners are all specific audience groups you should know about.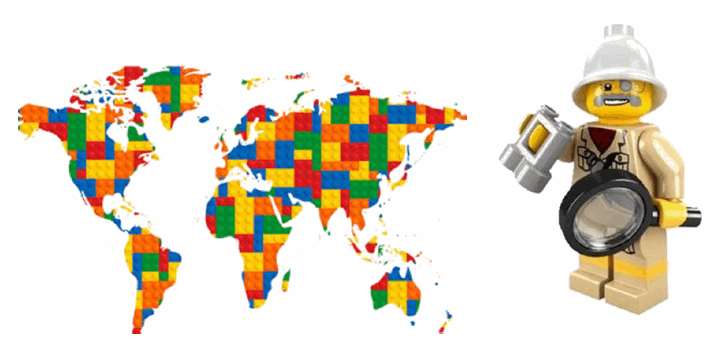 Find Social Audiences On Facebook
Using the "Find Friends" button or "People that like <topic of interest>" function are great starting point to connect with high-potential social media groups on Facebook.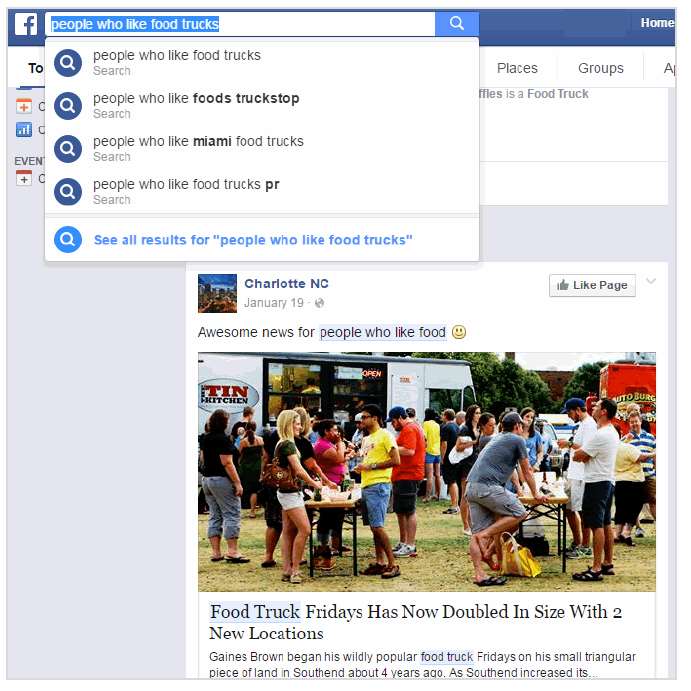 Find Social Audiences On Twitter
Twitter has a special search URL that will let you spot prime twitter accounts and handles related to your business. For instance, if you're operating a food truck in the streets of New York, you can find great Twitter resources to follow and get followed by.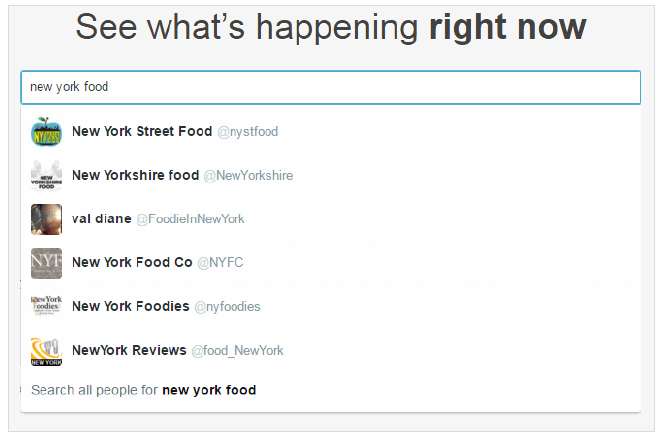 Find Social Audiences On Linkedin
You can also use the advanced search function on LinkedIn to find potential connections, successful influencers and competitors.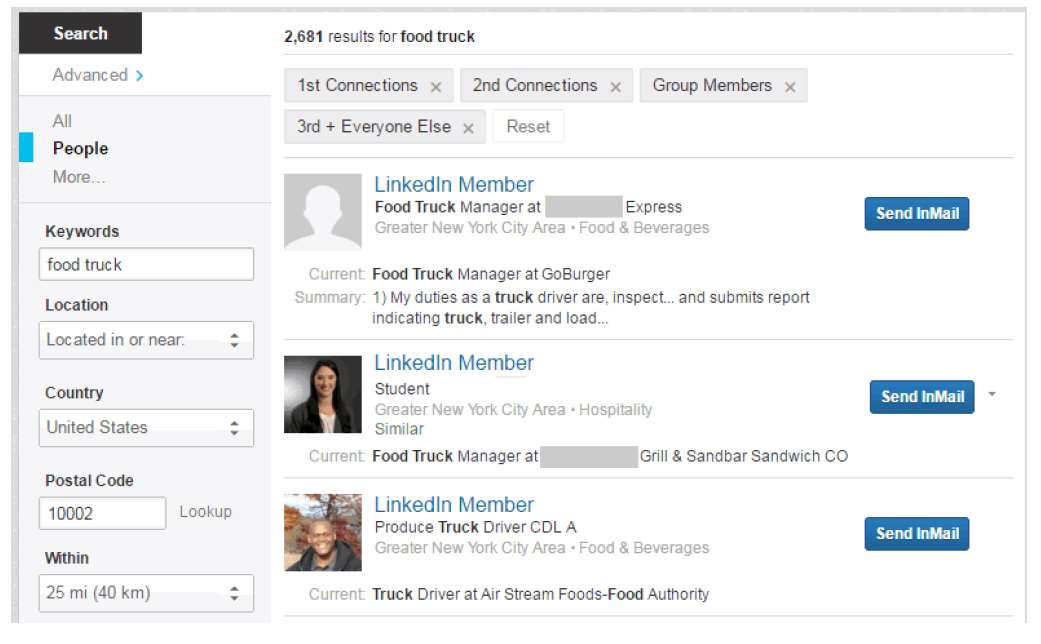 Leverage Social Media Ad Platforms
Through their respective ad platforms, major social networks offer irreplaceable insight on high-potential audiences.
Similarly to Adwords, these platforms let you extensively research specific profile-based and location-based audiences, whether you end up buying an ad or not.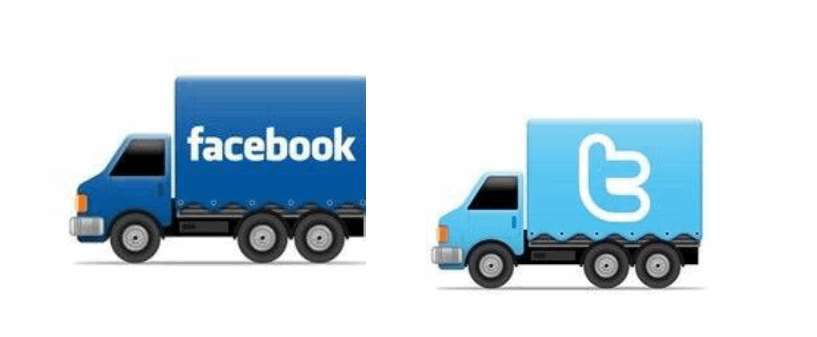 Get More Insight With Social Ad Platforms
Whether or not you plan to spend money in social media advertising, you can use the Facebook Ads module to find out the actual size of a potential social media audience segment.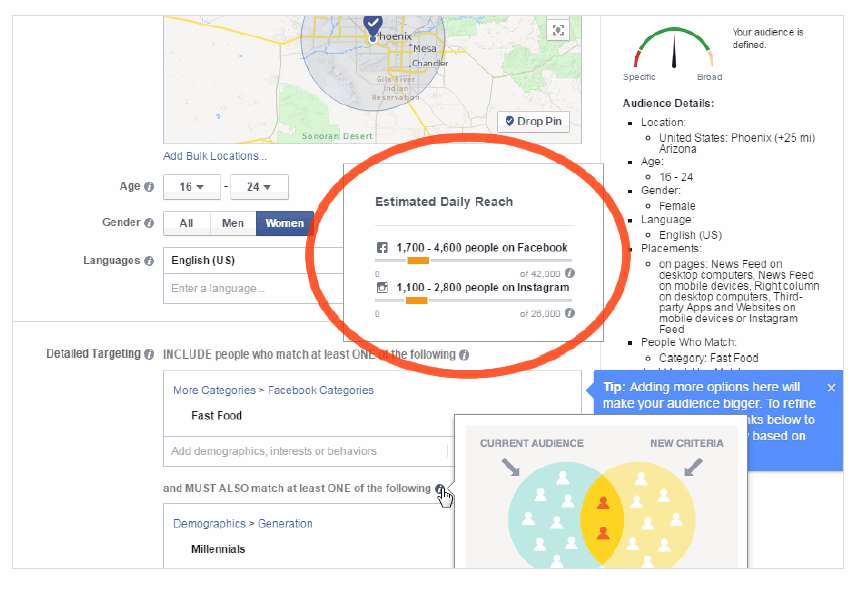 Find Your Ideal Social Media Audience
The easiest way to go about defining your audience is to characterize it, literally. As John Lee Dumas puts it, you need to unleash your business avatar by imagining the perfect audience personae you want to address.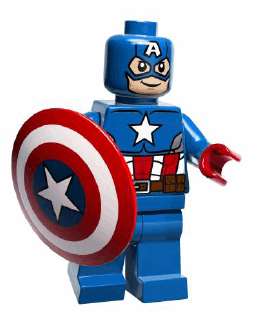 Is it a man or a woman? How old is he/she? Where does he/she live? And so on, until you can mentally picture your "avatar" sitting in front of you, ready to hear whatever it is you have to say.
As a small business or startup, you just won't have the resources to fire in all directions at once, so the obvious solution is to focus on a group of customers which will best enable you to fulfill your objectives.
Talk To Your Ideal Social Media Audience
Focusing on your "business avatar" you will still need to further identify subgroups such as decision-makers, influencers, or buyers.
"You can't get too narrowly focused when you first start" says Dumas, who strongly refutes the idea that concentrating on a clear-cut profile will leave most of your customer base left out, as you'll feel more comfortable to address them as if you were talking face to face.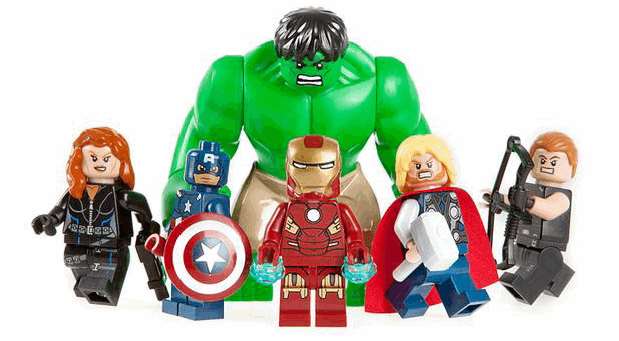 Social Media Audience Key Take-Aways
Getting to know your current and potential social media audience is a crucial step in developing an efficient and successful social media strategy.

You can find out more about your social media audience by studying how your clients, partners, suppliers and competitors behave on social networks.

Building an ideal social media personae is a great shortcut to define your own style and build a long lasting brand development strategy.

There are many tools available that can help you find precious insights on who your potential customers are, learning to use them will give a tremendous edge over competitors on social networks.
Download Social Media Strategy for Small Business in 7 Easy Steps
Thanks for reading this extract. This is just one step, and we have a lot more tips and tricks for you in store.
To uncover all the secrets of mastering social media for your SMB, get your own free copy of SeoSamba's guide: just click below to download Social Media Strategy for Small Business in 7 Easy Steps.