SEO Press Release Distribution
SEO Samba newsroom feature gives customers a simple way to create a world-class news section on their site. Once the Newsroom module is added to your site, you can publish news to Google News, Yahoo News and other news aggregators, send unlimited Press Releases to over 200,000 media contacts and PR websites, broadcast your video, aggregate relevant industry news and videos automatically. This leads to an enhanced reputation for your business, more inbound links and new leads.
An SEO press release or 'search engine optimized' press release is first and foremost a way for your organization to communicate 'newsworthy' information to media and press contacts. However, it is written in such a way that it will rank well in the search engines for valuable and high-trafficked keywords and provide your website with important backlinks that will also benefits your search engine rankings for the long-haul.
When advertising budgets are shrinking, businesses need to tap into more cost-effective tactics to generate leads. SEO Samba brings Search Engine Optimization Email and Public Relation, simply the three top cost-effective ways to get your business found, wrapped into one $99 per month flat fee package.
SEO Samba distributes your search engine optimized Press Release to millions of consumers and top media contacts straight from your integrated website news section, and this is just the tip of the Iceberg...
You might have already tried issuing Press Releases, it's somewhat costly and/or not distributed widely enough. Without clear immediate results, you might have thought twice about the cost associated with the next release you wanted to send out. However, SEO Samba is different, with unlimited press release distribution you can enter a virtuous cycle, where cost is a non-issue and you can "swing the bat" multiple times without running out of funds.
How to get your business on NBC in 3 days?
We wanted to share with you what happened recently to a customer of ours; Joachim Oster, the owner of Athena of Hawaii,  a
Kona coffee
farm in Hawaii.
Joachim has the following story: "We just did one of our first news pieces through the SEO Samba's integrated news and press release services (check the original
Kona coffee news
here). This small report about the current drought affecting the Kona coffee crop in Hawaii caught the attention of a local TV station the next day:
(
check the video
here on the news site).
But it got even better as Joachim continues: "Then our Hawaiian NBC affiliate station called to do a 30 sec phone interview with me. This interview along with some of the original footage ran the next day on the 5PM, 6PM and 10PM news--all the while showing our coffee farms web address www.ATHENAofHAWAII.com on the TV screen...in LARGE type. Can't get better than that!" However, it did get better as AOL picked up the news story as well....Check it out
here
Feel free to read on or just contact us now to find out what SEO Samba can do for your business.
Of course, not every press release ends up being picked up by the media like it happened to Joachim, however, even if Christiane Amanpour snobs your first story, your website will gain optimized inbound links from our worldwide press release distribution network websites, in addition to RSS, and Twitter coverage. You're also building credibility up with the press as they see your name over and over. You progressively become a documented resource for your industry.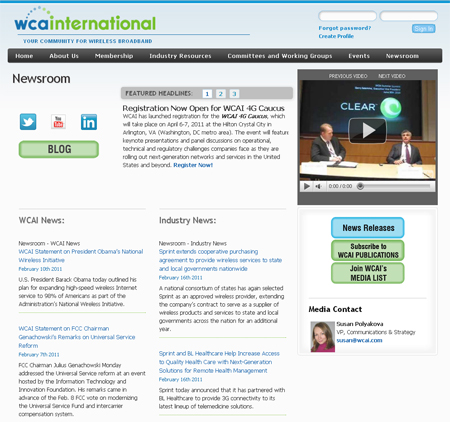 And this is only our news module, there's a lot more to our SEO software. Other SEO software focus on automating scoring and recommendations, in other words telling you what it believes you ought to do, and leaving it to you to implement changes, send link exchange emails and other gruesome tasks.
SEO Samba is different, and unique in the industry. SEO Samba executes automatically proven search engine optimization best practices, streamlines marketing copy creation, and propels your information through an ever increasing number of Internet marketing channels. In short, it does most of the work for you while giving you total control to refine automated input.
Enjoy unlimited SEO Press Release distribution with a $99 SEO Samba subscription
Now, in addition SEO Samba distributes your SEO Press Releases to more than 265,000 blogs, more than 210,000 subscribing journalists, news indexing services, newspapers, newsrooms, magazines (online and print) and hundreds of thousands of RSS Feed readers, SEO Samba news and PR Feeds are distributed to a vast number of top publication.
It's as easy as logging into your SEO Samba account, going to your news module, and creating your press release. You click one checkbox, select a cross-section of market and industries, you wish to target for your Press Release and your information is on its way to
Additional News Feeds
Congoo.com (*)
Everyclick.com (*)
Hakia.com (*)
MyWire.com (*)
Linkedin.com (*)
Sensis.com.au (*)
Searchme.com (*)
Silobreaker.com (*)
Newssift.com (*)
AltaVista
. . . . .
. . . . .


U.S, UK, and Australian Newspapers
Anchorage Daily News
Andalusia Star News
Anniston Star
Appeal-Democrat
Argus Leader
Argus Observer
Arizona Daily Star
Arizona Daily Sun
Arkadelphia Daily Siftings Herald
Arkansas Democrat-Gazette
Arlington Morning News
Artesia Daily Press
Asbury Park Press
Asheville Citizen-Times
Ashland Daily Tidings
Ashland Times-Gazette
Aspen Daily News
Aspen Times
Atchison Daily Globe
Athens Daily News-Banner Herald
Atlanta Journal-Constitution
Atlantic News-Telegraph
Auburn Journal
Augusta Daily Gazette
Austin American-Statesman
Austin Daily Herald
Baker City Herald
Bakersfield Californian
Bangor Daily News
Banner-Graphic
Bartlesville Examiner-Enterprise
Bastrop Enterprise
Batesville Guard
Battle Creek Enquirer
Beacon News
Beaumont Enterprise
Beauregard Daily News
Beaver County Times
Bedford Gazette
Bellevue Gazette
Bellingham Herald
Belvidere Daily Republican
Benicia Herald
Bennington Banner
Berlin Daily Sun
Big Spring Herald
Billings Gazette
Birmingham Post-Herald
Black Hills Pioneer
Bloomfield Evening World
Blue Springs Examiner
Bonner County Daily Bee
Boston Globe
Boston Herald
Bozeman Daily Chronicle
Bradenton Herald
Bradford Era
Brattleboro Reformer
Brazil Times
Breeze Courier
Brenham Banner-Press
Bridgeton News
Bristol Herald Courier
Brookings Register
Brownwood Bulletin
Bryan-College Station Eagle
Bucks County Courier Times
Bucyrus Telegraph-Forum
Burlington County Times
Butler Eagle
Cadillac News
Camden News
Cape Cod Times
Carroll County Times
Carthage Press
Casa Grande Dispatch
Casper Star-Tribune
Catskill Mail
Cedar Valley Times
Centerville Daily Iowegian
Centralia Sentinel
Centre Daily Times
Chanute Tribune
Charles City Press
Charleston Daily Mail
Charlotte Sun Herald
Cheboygan Tribune
Chesterton Tribune
Chicago Defender
Chicago Sun-Times
Chicago Tribune
Chico Enterprise-Record
Claremore Daily Progress
Clarksdale Press Register
Clay Center Dispatch
Cleveland Daily Banner
Clinton Clintonian
Clovis News Journal
Colby Free Press
Columbia Basin Herald
Columbia Daily Tribune
Columbus Ledger-Enquirer
Columbus Telegram
Commercial Dispatch
Commonwealth Journal
Concord Monitor
Concordia Blade-Empire
Connecticut Post
Connersville News-Examiner
Conroe Courier
Contra Costa Times
Corbin Times-Tribune
Corpus Christi Caller-Times
Corry Journal
Corsicana Daily Sun
Cortland Standard
Corvallis Gazette-Times
Coshocton Tribune
Council Grove Republican
Courier
Courier-Post
Creston News Advertiser
Crookston Daily Times
Crowley Post-Signal
Cumberland Times-News
Current-Argus
Cushing Daily Citizen
Daily Camera
Daily Challenge
Daily Comet
Daily Corinthian
Daily Freeman
Daily Freeman-Journal
Daily Gate City
Daily Herald
Daily Independent
Daily Item
Daily Jefferson County Union
Daily Journal
Daily Journal-Messenger
Daily Ledger
Daily Local News
Daily Midway Driller
Daily Mountain Eagle
Daily News
Daily News-Sun
Daily Pilot
Daily Press
Daily Record
Daily Republic
Daily Rocket-Miner
Daily Sentinel
Daily Sentinel Star
Daily Southtown
Daily Star
Daily Sun-News
Daily Times
Daily Times Leader
Daily Tribune
Daily Union
Daily World
Dalhart Daily Texan
Dayton Daily News
De Queen Daily Citizen
DeSoto Times Today
Decatur Daily Democrat
Delaware County Daily Times
Delaware Gazette
Delaware State News
Delphos Daily Herald
Delta Democrat Times
Denton Record-Chronicle
Denver Daily News
Denver Post
Derby Daily Reporter
Des Moines Register
Deseret News
Desert Dispatch
Detroit Free Press
Detroit News
Diario Las Americas
Diario de Juarez
Douglas County Sentinel
Dowagiac Daily News
Du Quoin Evening Call
Duluth News-Tribune
Durant Daily Democrat
East Oregonian
Eastside Journal
Edinburg Daily Review
Edwardsville Intelligencer
Effingham Daily News
El Diario/La Prensa
El Dorado News-Times
El Heraldo
El Nuevo Herald
El Paso Times
Elizabethton Star
Ellwood City Ledger
Ennis Daily News
Enterprise Ledger
Erie Times-News
Estherville Daily News
Evening Observer
Evening Telegram
Express-Star
Fairbanks Daily News-Miner
Fairfield Ledger
Faribault Daily News
Fayette Daily News
Fayetteville Observer-Times
Finger Lakes Times
Flint Journal
Florence Morning News
Florida Today
Fort Morgan Times
Fort Pierce Tribune
Fort Wayne News-Sentinel
Fort Worth Star-Telegram
Foster's Daily Democrat
Fostoria Review Times
Franklin Banner-Tribune
Free Lance
Fulton Sun Gazette
Gainesville Daily Register
Galion Inquirer
Gallipolis Daily Tribune
Garden City Telegram
Gaston Gazette
Gillette News-Record
Glasgow Daily Times
Glendale News-Press
Globe-Gazette
Gloucester County Times
Gloucester Daily Times
Grand Forks Herald
Grand Rapids Press
Grants Pass Daily Courier
Great Falls Tribune
Greeley Tribune
Green Bay News-Chronicle
Green Bay Press-Gazette
Greeneville Sun
Greensburg Daily News
Greenville Daily Advocate
Greenville Record-Argus
Greenwich Time
Greenwood Commonwealth
Guymon Daily Herald
Gwinnett Daily Post
Hannibal Courier-Post
Harrison Daily Times
Hattiesburg American
Havre Daily News
Helena-West Helena Daily World
Henderson Daily News
Herald & Review
Herald Bulletin
Herald Democrat
Herald Journal
Herald Times Reporter
Herald-Standard
Hernando Today
High Point Enterprise
Hillsdale Daily News
Hobbs Daily News-Sun
Home News Tribune
Honolulu Advertiser
Honolulu Star-Bulletin
Hope Star
Hopewell News
Houston Chronicle
Huntington Herald-Press
Huron Daily Tribune
Huron Plainsman
Idaho Press Tribune
Idaho State Journal
Independent
Independent Record
International Falls Daily Journal
Investor's Business Daily
Iola Register
Iowa City Press-Citizen
Iroquois Times-Republic
Jackson County Floridan
Jacksonville Daily Progress
Jacksonville Journal-Courier
Jennings Daily News
Johnson City Press
Journal & Courier
Journal Inquirer
Journal Review
Journal Star
Journal Tribune
Journal-News
Junction City Daily Union
Juneau Empire
Kane Republican
Kansas City Kansan
Kennebec Journal
Kenosha News
Ketchikan Daily News
Kilgore News Herald
Killeen Daily Herald
Kingsport Daily News
Kingsport Times-News
Kirksville Daily Express & News
Kokomo Tribune
La Crosse Tribune
La Grande Observer
La Grange Daily News
La Junta Tribune-Democrat
La Opinion
Lahontan Valley News
Lake Charles American Press
Lamar Daily News
Lancaster Eagle-Gazette
Lancaster Intelligencer Journal
Lancaster New Era
Lansing State Journal
Laramie Daily Boomerang
Laredo Morning Times
Larned Tiller & Toiler
Las Vegas Optic
Las Vegas Review-Journal
Las Vegas Sun
Latrobe Bulletin
Laurinburg Exchange
Lawrence Journal-World
Le Mars Daily Sentinel
Leader-Telegram
Lebanon Democrat
Leesville Leader
Lewiston Morning Tribune
Lexington Herald-Leader
Lincoln Journal Star
Lodi News-Sentinel
Log Cabin Democrat
Logan Daily News
Longview News-Journal
Los Alamos Monitor
Los Angeles Times
Lovington Daily Leader
Lubbock Avalanche-Journal
Ludington Daily News
Lyons Daily News
Macomb Journal
Madera Tribune
Madison County News-Democrat
Madison Leader
Mail Tribune
Manassas Journal Messenger
Manhattan Mercury
Manistee News-Advocate
Manteca Bulletin
Marin Independent Journal
Marion Daily Republican
Marshall Independent
Marshall News Messenger
Marshfield News-Herald
Martinsville Bulletin
Marysville Journal Tribune
Mayfield Messenger
McCook Daily Gazette
McCurtain Daily Gazette
McDowell News
McKinney Courier-Gazette
McPherson Sentinel
Merced Sun Star
Mercury-Register
Meridian Star
MetroWest Daily News
Mexia News
Miami Herald
Miami News Record
Midland Daily News
Miles City Star
Milford Daily News
Milwaukee Journal Sentinel
Minden Press-Herald
Minot Daily News
Missoulian
Moberly Monitor-Index & Evening Democrat
Montgomery Advertiser
Morning Sentinel
Morris Daily Herald
Moscow Pullman Daily News
Mount Airy News
Mount Carmel Republican-Register
Mountain Democrat
Mountain Mail
Murray Ledger & Times
Naples Daily News
Natchitoches Times
Nevada Appeal
New Haven Register
New Smyrna Beach Observer
New York Post
Newport Daily Independent
News & Record
News Journal
News Tribune
News-Banner
News-Capital & Democrat
News-Press
News-Republican
News-Topic
Newton Kansan
Niles Daily Star
North Adams Transcript
North County Times
North Jersey Herald & News
Northern Virginia Daily
Northern Wyoming Daily News
Northwest Arkansas Times
Northwest Florida Daily News
Northwest Herald
Northwest Signal
Norwich Bulletin
Noticias En Espanol/Times
Observer-Dispatch
Observer-Reporter
Ocean County Observer
Odessa American
Oelwein Daily Register
Okmulgee Daily Times
Olney Daily Mail
Omaha World-Herald
Opelika-Auburn News
Orlando Sentinel
Oskaloosa Herald
Ottawa Herald
Owensboro Messenger-Inquirer
Palatka Daily News
Palladium-Item
Palm Beach Daily News
Paragould Daily Press
Paris Beacon-News
Paris Post-Intelligencer
Pasadena Citizen
Pasadena Star-News
Peninsula Clarion
Peninsula Daily News
Pensacola News Journal
Perry Daily Journal
Peru Daily Tribune
Petoskey News-Review
Pharos-Tribune
Philadelphia Daily News
Philadelphia Inquirer
Picayune Item
Pioneer
Piqua Daily Call
Pittsburgh Post-Gazette
Plano Star-Courier
Plymouth Pilot-News
Pocono Record
Point Pleasant Register
Port Arthur News
Port Clinton News-Herald
Portage Daily Register
Portales News Tribune
Porterville Recorder
Portland Press Herald
Portsmouth Daily Times
Portsmouth Herald
Post Register
Post-Bulletin
Post-Tribune
Poteau Daily News & Sun
Potomac News
Poughkeepsie Journal
Pratt Tribune
Press & Sun-Bulletin
Press Journal
Press-Republican
Press-Telegram
Princeton Daily Clarion
Public Opinion
Pulaski Southwest Times
Punxsutawney Spirit
Quad-City Times
Quincy Herald-Whig
Rapid City Journal
Rawlins Daily Times
Record Searchlight
Record-Journal
Red Wing Republican Eagle
Redlands Daily Facts
Register-Pajaronian
Reno Gazette-Journal
Rensselaer Republican
Republican-Times
Rhinelander Daily News
Richmond Register
Richmond Times-Dispatch
Riverton Ranger
Rochester Democrat and Chronicle
Rochester Sentinel
Rockdale Citizen
Rockford Register Star
Rocky Mountain News
Rolla Daily News
Rushville Republican
Ruston Leader
Sacramento Bee
Salamanca Press
Salem Evening News
Salem News
Salina Journal
Sampson Independent
San Angelo Standard-Times
San Antonio Express-News
San Diego Daily Transcript
San Francisco Chronicle
San Francisco Examiner
San Jose Mercury News
San Mateo County Times
Sandusky Register
Santa Cruz Sentinel
Sarasota Herald-Tribune
Savannah Morning News
Seattle Post-Intelligencer
Seattle Times
Seminole Producer
Sentinel
Sentinel & Enterprise
Shelbyville News
Shelbyville Times-Gazette
Sierra Vista Herald/Bisbee Daily Review
Skagit Valley Herald
Slidell Sentry-News
Snyder Daily News
South Bend Tribune
South County Journal
South Florida Sun-Sentinel
South Idaho Press
Southbridge Evening News
Southeast Missourian
Spartanburg Herald-Journal
Spencer Daily Reporter
Spencer Evening World
Springfield News-Sun
Springfield Union-News
St. Albans Messenger
St. Cloud Times
St. Joseph News-Press
St. Louis Post-Dispatch
St. Louis Watchman Advocate
St. Paul Pioneer Press
St. Petersburg Times
Standard-Examiner
Star Beacon
Star Tribune
Star-Banner
Star-Gazette
Star-Herald
Starkville Daily News
Staten Island Advance
Statesman Journal
Statesville Record & Landmark
Steamboat Today
Stevens Point Journal
Stillwater Gazette
Sturgis Journal
Suffolk News-Herald
Sullivan Daily Times
Summit Daily News
Sun Journal
Sweetwater Reporter
Tahoe Daily Tribune
Tallahassee Democrat
Taunton Daily Gazette
Taylor Press
Telegram & Gazette
Telegraph Herald
Telluride Daily Planet
Temple Daily Telegram
Texarkana Gazette
Texas City Sun
The Advocate
The Advocate-Messenger
The Albany Herald
The Albuquerque Tribune
The Altus Times
The Ann Arbor News
The Argus-Press
The Arizona Republic
The Athens Messenger
The Augusta Chronicle
The Baxter Bulletin
The Beaufort Gazette
The Benton County Daily Record
The Benton Courier
The Berkshire Eagle
The Birmingham News
The Blade
The Bolivar Commercial
The Brainerd Daily Dispatch
The Bristol Press
The Brooklyn Daily Eagle
The Brownsville Herald
The Bryan Times
The Buffalo News
The Bulletin
The Burlington Free Press
The Caledonian-Record
The Californian
The Call
The Capital
The Capital Times
The Carmi Times
The Charleston Gazette
The Chattanooga Times & Free Press
The Chippewa Herald
The Christian Science Monitor
The Chronicle
The Chronicle News
The Chronicle-Telegram
The Cincinnati Enquirer
The Cincinnati Post
The Circleville Herald
The Citizen
The Citizens' Voice
The Clarion-Ledger
The Columbian
The Columbus Dispatch
The Commercial Appeal
The Commercial Review
The Conway Daily Sun
The Courier
The Courier News
The Courier Tribune
The Courier-Express
The Courier-Herald
The Courier-Journal
The Courier-News
The Courier-Times
The Crescent-News
The Cullman Times
The Daily Advance
The Daily Advertiser
The Daily Ardmoreite
The Daily Astorian
The Daily Breeze
The Daily Chronicle
The Daily Citizen
The Daily Commercial
The Daily Courier
The Daily Democrat
The Daily Gazette
The Daily Globe
The Daily Herald
The Daily Home
The Daily Iberian
The Daily Inter Lake
The Daily Item
The Daily Jeffersonian
The Daily Journal
The Daily Ledger
The Daily Messenger
The Daily News
The Daily News-Bulletin
The Daily Oklahoman
The Daily Post-Athenian
The Daily Press
The Daily Progress
The Daily Record
The Daily Register
The Daily Reporter
The Daily Republic
The Daily Southerner
The Daily Standard
The Daily Star
The Daily Star-Journal
The Daily Statesman
The Daily Sun
The Daily Telegram
The Daily Times
The Daily Tribune
The Daily Tribune-News
The Daily Triplicate
The Daily World
The Dallas Morning News
The Dalles Chronicle
The Davis Enterprise
The Day
The Decatur Daily
The Derrick
The Dispatch
The Dothan Eagle
The Durango Herald
The Eagle-Tribune
The Elkhart Truth
The Emporia Gazette
The Evansville Courier and Press
The Evening News
The Evening Star
The Evening Sun
The Evening Times
The Evening Tribune
The Examiner
The Express-Times
The Facts
The Florida Times-Union
The Fort Scott Tribune
The Forum
The Frederick News-Post
The Free Lance-Star
The Free Press
The Fresno Bee
The Gainesville Sun
The Galveston County Daily News
The Garden Island
The Gardner News
The Gazette
The Gleaner
The Goshen News
The Grand Island Independent
The Greenville News
The Hanford Sentinel
The Harlan Daily Enterprise
The Hartford Courant
The Hastings Tribune
The Hawk Eye
The Hays Daily News
The Herald
The Herald Journal
The Herald-Dispatch
The Herald-News
The Herald-Palladium
The Herald-Sun
The Herald-Times
The Hibbing Daily Tribune
The Holland Sentinel
The Huntsville Times
The Hutchinson News
The Idaho Statesman
The Index-Journal
The Indianapolis Star
The Intelligencer
The Inter-Mountain
The Island Packet
The Item
The Ithaca Journal
The Jackson Citizen Patriot
The Jackson Sun
The Jamestown Sun
The Janesville Gazette
The Jersey Journal
The Joplin Globe
The Journal Gazette
The Journal Times
The Journal-Standard
The Kansas City Star
The Keene Sentinel
The Kent County Daily Times
The La Porte Herald-Argus
The Lawton Constitution
The Leader
The Lima News
The Logan Banner
The Lufkin Daily News
The Macomb Daily
The Macon Telegraph
The Madison Courier
The Maryville Daily Forum
The Medina County Gazette
The Mesabi Daily News
The Messenger
The Mexico Ledger
The Middletown Journal
The Mining Journal
The Modesto Bee
The Monroe Evening News
The Monterey County Herald
The Morning Journal
The Morning News
The Morning Sun
The Mountain Press
The Muskegon Chronicle
The Napa Valley Register
The Neponset Valley Daily News
The New York Times
The Newnan Times-Herald
The Newport Plain Talk
The News & Advance
The News & Observer
The News Courier
The News Gazette
The News Herald
The News Journal
The News Press
The News Tribune
The News-Dispatch
The News-Gazette
The News-Herald
The News-Item
The News-Leader
The News-Messenger
The News-Review
The News-Star
The News-Sun
The News-Times
The Norman Transcript
The North Platte Telegraph
The Northeast Mississippi Daily Journal
The Oak Ridger
The Oakland Press
The Oakland Tribune
The Observer
The Observer-News-Enterprise
The Oneida Daily Dispatch
The Orange County Register
The Oregonian
The Paducah Sun
The Palm Beach Post
The Pampa News
The Pantagraph
The Patriot Ledger
The Patriot-News
The Phoenix
The Pioneer
The Plain Dealer
The Post and Courier
The Post-Crescent
The Post-Standard & Herald-Journal
The Post-Star
The Press Democrat
The Press of Atlantic City
The Providence Journal
The Pueblo Chieftain
The Record
The Recorder
The Register-Guard
The Register-Mail
The Register-News
The Reporter
The Reporter-Times
The Repository
The Republic
The Roanoke Times
The Robesonian
The Salt Lake Tribune
The San Diego Union-Tribune
The Santa Fe New Mexican
The Scranton Times-Tribune
The Sedalia Democrat
The Selma Times-Journal
The Sentinel
The Sentinel-Record
The Shawnee News-Star
The Sheboygan Press
The Shelby Star
The Signal & Saugus Enterprise
The Sioux City Journal
The Spokesman-Review
The St. Augustine Record
The Standard-Times
The Star
The Star-Ledger
The State
The State Journal-Register
The Sun
The Sun Chronicle
The Sun Herald
The Sun News
The Tampa Tribune
The Telegraph
The Tennessean
The Times
The Times & Democrat
The Times Argus
The Times Leader
The Times News
The Times Record
The Times Reporter
The Times-Herald
The Times-Mail
The Times-News
The Times-Picayune
The Times-Press
The Trentonian
The Tribune
The Tuscaloosa News
The Union
The Union Leader
The Valley Courier
The Valley Times-News
The Vidette Times
The Virginian-Pilot
The Wall Street Journal
The Washington Times
The Westerly Sun
The Wichita Eagle
The World
The York Dispatch
The Yuma Daily Sun
Times Daily
Times Herald
Times Herald Record
Times Record
Times Record News
Times Union
Times West Virginian
Times-Gazette
Times-News
Times-Republican
Times-Union
Tipton Tribune
Topeka Capital-Journal
Tracy Press
Tri-City Herald
Tribune Star
Tribune-Herald
Tribune-Review
Troy Daily News
Tryon Daily Bulletin
Tucson Citizen
Tulare Advance-Register
Tulsa World
Tyler Morning Telegraph
USA Today
Union City Daily Messenger
Union Daily Times
Union-Recorder
Urbana Daily Citizen
Valley City Times-Record
Valley Independent
Valley Morning Star
Valley News Dispatch
Valley News Today
Van Wert Times-Bulletin
Vernon Daily Record
Vicksburg Post
Victoria Advocate
Vincennes Sun-Commercial
Visalia Times-Delta
Wabash Plain Dealer
Waco Tribune-Herald
Wakefield Daily Item
Walla Walla Union-Bulletin
Wapakoneta Daily News
Warren Times Observer
Washington Daily News
Washington Evening Journal
Washington Post
Washington Times-Herald
Waterbury Republican-American
Watertown Daily Times
Watertown Public Opinion
Wausau Daily Herald
Waxahachie Daily Light
Waycross Journal-Herald
Wenatchee World
West Central Tribune
West Hawaii Today
West Plains Daily Quill
West Virginia Daily News
Westfield Evening News
Williamsport Sun-Gazette
Williston Daily Herald
Wilmington Morning Star
Wilmington News-Journal
Winchester Sun
Winfield Courier
Winston-Salem Journal
Wisconsin State Journal
Xenia Daily Gazette
Yakima Herald-Republic
Yankton Daily Press & Dakotan
York Daily Record
. . . . .
. . . . .
. . . . .
Hispanic Newspapers




20 De Mayo
Ahora
Ahora Now
Ahora Si
Al Dia
Alianza Metropolitan News
Atlanta Latino
Azteca News
Bajo El Sol
Chicago Deportivo
Conexion
Continental
Dos Mundos
Eastern Group
Ecuador News
El Aviso
El Bohemio News
El Californiano
El Canillita
El Central
El Clamor
El Clasificado
El Conquistador
El Dia
El Editor
El Enfoque
El Especial
El Extra
El Heraldo
El Heraldo News
El Hispanic News
El Hispano
El Hispano News
El Imparcial
El Informador
El Latino
El Latino Semenal
El Lider USA
El Mensajero
El Mensajero
El Mexicalo
El Mundo
El Nacional
El Nuevo Coqui
El Nuevo Hudson
El Nuevo Patria
El Observador
El Periodico USA
El Popular
El Pregonero
El Reportero
El Salvador Dia a Dia
El Semanario
El Sentinel
El Sol
El Sol de Texas
El Sol del Valle
El Sol Latino
El Tiempo
El Tiempo Latino
El Tiempo Libre
El Torero
El Venezolano
El Vocero Hispano
Enlace
Excelsior
Exito Deportivo
Exito Deportivo
Extra Newspapers
Gente de Minnesota
Hispania News
Hispanic Guide
Hispanic Link Weekly Report
Hispanic Newspaper Group
Hispanos Unidos
Impacto Latin News
Impacto USA
La Actualidad
La Comunidad
La Conexion
La Gaceta
La Guia Familiar
La Informacion
La Luz
La Noticia
La Noticias
La Oferta Review
La Ola
La Opinion
La Palma
La Prensa
La Prensa Hispana
La Prensa Nacional
La Prensa San Diego
La Prensita
La Raza
La Semana
La Subasta
La Tribuna Hispana
La Voz
La Voz de la Calle
La Voz Hispana
La Voz Hispana
La Voz Independiente
La Voz Libre
La Voz Nueva
Las Americas Herald
Latino Midwest News
Latino Newspapers
Latino Press
Lawndale News
Libre
Mensaje
Mi Estrella
Miniondas
Mundo Hispanico
Mundo Hispano
Mundo L.A.
News Gram
Noticia Hispanoamericana
Noticiero Semanal
Novedades News
Nuestra Comunidad
Nueva Americana
Nueva Semana
Nuevo Mundo
Nuevo Siglo
Panorama de Nuevos Horizontes
Periodico Buena Suerte
Prensa Grafica
Prensa Hispana
Presidio International
Que Pasa
Reflejos
Resumen
Semanario Accion
Siglo Veintiuno
Teleguia USA
The Informador
Tiempo
Unidad Latina
Vida
Vida En El Valle
Washington Hispanic
. . . . .
. . . . .
. . . . .
African American Newspapers




African American Business & Employment Journal
African American News Link Newspaper
African Americans in Alaska Resources Guide
African-American News & Issues
Afro-American
Afro-American Times
Albany-Macon Times
Amen Outreach Newsletter
American
American Diversity
Amsterdam News
Arizona Informant
Arkansas State Press
Atlanta Daily World
AUC Digest
Bakersfield News Observer
Baltimore Afro-American
Bay State Banner
Berkeley Tri City Post
Birmingham Times
Birmingham World Newspaper
Black Focus Newsweekly
Black Miami Weekly
Black Talent News
Black Times
Black Voice News
Black Voice/Carta Boricua
Bluff City Post
Buckeye Review
Buffalo Challenger
Buffalo Criterion
California Advocate
Call and Post
Campus Digest
Capital Outlook
Carolina Peacemaker
Carson Bulletin
Central News Wave
Charleston Black Times
Chatham Citizen
Chicago Crusader
Chicago Defender
Chicago Independent Bulletin
Chicago Metro News
Chicago South Shore Scene
Chicago Standard News
Chicago Weekend
Cincinnati Herald
City News
Columbia Black News
Communicate
Compton Bulletin
Dallas Examiner
Dallas Post Tribune
Daytona Times
Decatur Voice
Denver Weekly News
Dollar Stretcher
East St. Louis Monitor
Ecorse Telegram
Firestone Park News
Southeast News Press
Fisk News
Florence Black Sun
Florida Sentinel-Bulletin
Florida Sun Review
Fort Valley Herald
Frost Illustrated
Gary Info
Georgia Sentinel
Greene County Democrat
Greenville Black Star
Hartford Inquirer
Herald-Dispatch
Houston Defender
Houston Forward Times
Houston Informer
Houston Sun
Impartial Citizen
In Touch News
Indianapolis Recorder Ink
Inglewood Tribune
Inland Style Magazine
Inland Valley News
Inner City News
Insider News
Insight News
Jackson Advocate
Kansas City Globe
La Vida News: THE BLACK VOICE
Las Vegas Sentinel-Voice
Long Beach Times Newspaper
Los Angeles Sentinel Newspaper
Louisiana Weekly
Louisville Defender
Lubbock Southwest Digest
Lynwood Journal
Memphis Silver Star News
Memphis Tri-State Defender
Metro County Courier
Metro Reporter Group
Miami Republican
Michigan Bulletin Community
Michigan Chronicle
Michigan Citizen
Milwaukee Courier
Milwaukee Star
Milwaukee Times
Mississippi Memo Digest
Mobile Beacon
Monroe Free Press
Montgomery-Tuskegee Times
New Journal & Guide
New Orleans Black Data
New Pittsburgh Courier
New York Caribe News
N'Digo
Oakland Post
Observer
Omaha Star
Orangeburg Black Voice
Our Insights Newspaper
Pensacola Voice
Philadelphia Tribune
Portland Observer
Precinct Reporter
Pure-News USA
Real News and The Business Review
Richmond Post
Rock Hills Black View
Sacramento Observer
Saint Louis American Newspaper
Saint Louis Argus
Saint Louis Crusader
Saint Louis Sentinel Newspaper
San Francisco Bay View
San Francisco Post
Seattle Medium
Shoals News Leader
Shreveport Sun
Soul of America
South End Citizen
South Suburban Standard
Spokane African American Voice
Sumter Black Post
Sun-Reporter
Take Pride Community
The Akron Reporter
The Alexandria News Weekly
The Atlanta Inquirer
The Atlanta Tribune
The Atlanta Voice
The Baltimore Times
The Black Chronicle
The Black Star News
The Black Suburban Journal
The Bridge
The Broward Times
The Bulletin
The Capitol Times
The Carolina Times
The Carolinian Newspaper
The Central Florida Advocate
The Central Texas Chronicle
The Challenger Newspaper
The Chattanooga Courier
The Chattanooga Minority Business Alliance
The City Sun
The Columbus Times
The Community Voice
The Dallas Weekly Newspaper
The Defender
The Ebony Tribune
The Evening Whirl
The Facts
The Famuan
The Grand Rapids Times
The Gullah Sentinel
The Herald
The Indiana Herald
The Inner City
The Lincolnian
The Madison Times Weekly
The Miami Times
The Minneapolis Spokesman
The Mississippi Enterprise
The Montgomery Times
The Prince George's Times
The Muncie Times
The Network Journal
The New York Beacon
The Northwest Dispatch
The Nubian Message
The Oklahoma Eagle
The Orlando Times
The Providence American
The Richmond Free Press
The San Bernardino American News
The San Diego Voice and Viewpoint
The Savannah Tribune
The Skanner
The Suspension Press
The Tennessee Tribune
The Toledo Journal
The Tribune
The Urban Leader
The Urban Spectrum
The Villager
The Waco Messenger
The Washington Capital Spotlight Newspaper
The Washington News Observer
The Weekly Challenger
The Westchester County Press
Tri-City Journal
Tribune
Twin Visions Weekly
Umoja News
View South News
Voice of the Wildcats
Washington Afro-American Tribune
Washington Informer
Watts Star Review
Western Sprint
Westside Gazette
Wilmington Beac